Creating a visually appealing and conversion-focused website is essential for businesses and online entrepreneurs. Thrive Themes, a suite of conversion-focused WordPress plugins and themes, has gained significant recognition for its comprehensive set of tools designed to optimize website performance. In this review, we will explore the features, benefits, and potential drawbacks of Thrive Themes to help you decide if it's the right choice for your website.
Overview of Thrive Themes: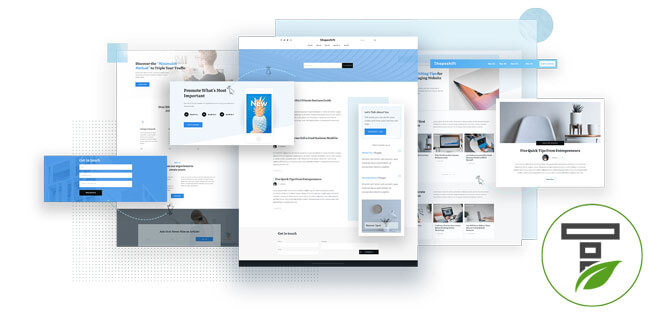 Thrive Themes is a collection of WordPress plugins and themes created specifically to help website owners maximize conversions and create engaging user experiences. The suite includes tools for lead generation, landing page creation, A/B testing, email marketing integration, and more. Thrive Themes focuses on providing a user-friendly interface and features that prioritize generating leads, increasing engagement, and driving conversions.
Features and Functionality:
Conversion-Focused Themes: Thrive Themes offers a range of professionally designed, conversion-optimized WordPress themes. These themes are built with speed, readability, and user experience in mind, ensuring your website looks great while encouraging visitors to take action.
Thrive Architect: Thrive Architect is a powerful visual page builder that allows you to create custom landing pages, sales pages, and blog posts. The drag-and-drop interface, along with a library of pre-designed elements and templates, enables you to design visually stunning pages without any coding knowledge.
Lead Generation: Thrive Leads is a feature-packed lead generation plugin that allows you to create eye-catching opt-in forms, pop-ups, sticky ribbons, and other types of opt-in offers. It integrates with popular email marketing platforms, making it easy to capture and manage leads effectively.
A/B Testing: Thrive Optimize is a conversion-focused A/B testing plugin that helps you optimize your website's performance. It enables you to test different variations of your pages to identify the most effective elements and drive higher conversions.
Clever Widgets: Thrive Clever Widgets is a plugin that lets you display targeted content and offers based on specific categories, tags, or other criteria. This helps you deliver more relevant content to your visitors and increase engagement.
Pros of Thrive Themes:
Conversion Focus: Thrive Themes is specifically designed to help increase conversions and optimize website performance. The suite of tools and features is geared towards creating engaging user experiences that drive action.
User-Friendly Interface: The visual editors and drag-and-drop functionality of Thrive Themes make it easy for users to create professional-looking websites without technical expertise or coding knowledge.
Seamless Integration: Thrive Themes seamlessly integrates with popular email marketing services, allowing for easy lead capture and management.
Support and Community: Thrive Themes provides excellent support through their knowledge base, tutorials, and active community forums. You can find assistance and inspiration from fellow users and experts.
Cons of Thrive Themes:
Learning Curve: Although Thrive Themes offers user-friendly tools, some users may find a slight learning curve in fully leveraging all the features and customization options available.
Pricing: Thrive Themes operates on a subscription-based model, which may be a drawback for those with budget constraints or smaller-scale websites.
Conclusion:
Thrive Themes provides a comprehensive suite of conversion-focused WordPress plugins and themes that empower website owners to optimize their online presence. With user-friendly interfaces, customization options, and a range of conversion-driven features, Thrive Themes offers a valuable toolkit for improving website performance, generating leads, and increasing conversions. While there may be a learning curve and pricing considerations, the potential benefits make Thrive Themes a compelling choice for businesses and individuals focused on maximizing their online success.
When considering Thrive Themes, it's important to evaluate your specific website goals and requirements. By utilizing the suite's powerful tools, you can create a visually stunning, high-converting website that engages your audience and drives business growth.