Earn, nurture, and convert more leads with a top lead generation agency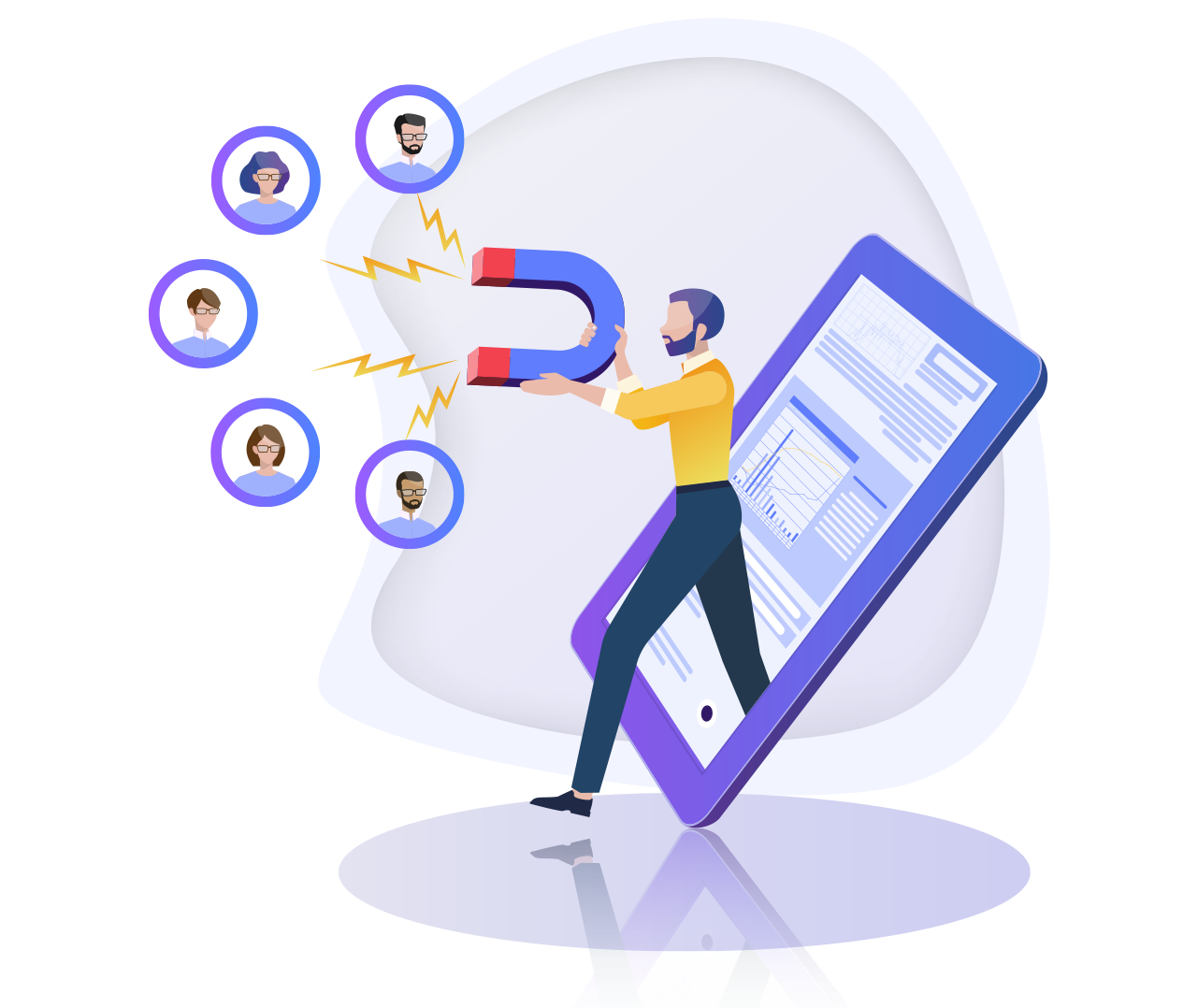 Wealth Ideas Agency is a B2B lead generation agency that focuses on generating highly qualified leads for B2B companies.
Our lead generation specialists are experts in both outbound and inbound methodologies.
We help identify relevant prospects for your sales team, increase conversion, and secure great fit customers.
Lead generation powers your business-to-business (B2B) company, which is why partnering with an experienced, top lead generation agency is critical.
At Wealth Ideas Agency, we provide a turnkey lead generation solution, helping you attract, nurture, and convert leads through digital marketing strategies like Pay Per Click advertising (PPC) search engine optimization (SEO), email marketing, and Social media marketing.
When we work with you, we ensure that the demand generation practices we put in action are multi-channel and that we innovate – in both tactics and strategy.
Personalization in lead generation is a huge aspect now, and we are obsessed with it like no one else.
All our marketing campaigns are highly personalized.
This allows you to form genuine long-term relationships with your prospects and customers.
Start attracting and converting more leads by getting in touch today!
METHODS WE USE TO GENERATE LEADS FOR YOUR BUSINESS
Facebook Ads
Google Ads
Bing Ads
YouTube Ads
LinkedIn Ads
Twitter Ads
Instagram Ads
SEO
Email Marketing
What is A Lead Generation Agency?
A Lead Generation Agency is a specialized firm that focuses on generating potential customer contacts or "leads" for businesses. These agencies employ various strategies and techniques to identify and attract individuals or companies that have shown interest in a particular product or service. The primary goal of a lead generation agency is to provide their clients with a steady stream of qualified leads, which can then be converted into customers.
What a Lead Generation Agency Does:
Strategic Planning: Develops a customized lead generation strategy based on the client's target audience, industry, and goals.
Digital Marketing: Utilizes various digital channels such as search engine optimization (SEO), pay-per-click (PPC) advertising, social media marketing, content marketing, and email campaigns to attract potential leads.
Lead Nurturing: Engages with leads through targeted content and communications, nurturing them through the sales funnel until they are ready for conversion.
Data Analysis: Monitors and analyzes lead performance data, making adjustments to the strategy to optimize lead quality and conversion rates.
Reporting: Provides regular reports to clients, demonstrating the effectiveness of the lead generation efforts and the ROI achieved.
What Makes a Top Lead Generation Agency:
Quality Leads: They focus on delivering high-quality leads that have a genuine interest in the client's offerings.
Customization: Their strategies are tailored to the specific needs and goals of each client.
Multi-Channel Approach: They utilize a combination of digital marketing channels to reach leads where they are most likely to engage.
Expertise: They have a team of experienced professionals who understand lead generation techniques and the dynamics of various industries.
Transparency: They maintain open communication and provide detailed reporting on lead performance and the outcomes of the lead generation campaigns.
Why a Lead Generation Agency is Important:
Consistent Flow of Leads: A lead generation agency ensures a steady stream of potential customers, making it easier for businesses to focus on converting these leads into sales.
Focus on Core Business: Outsourcing lead generation allows businesses to concentrate on their core products or services, leaving the lead generation efforts to experts.
Efficiency: A lead generation agency can often achieve better results in a shorter timeframe compared to in-house efforts.
Expertise: Lead generation agencies have the knowledge and experience to implement effective strategies that align with the latest industry trends.
Cost-Effectiveness: Outsourcing lead generation can be more cost-effective than building and maintaining an in-house lead generation team.
How to Get Started with a Lead Generation Agency:
Research: Look for agencies with a strong track record in your industry or a similar market.
Consultation: Discuss your business goals, target audience, and budget with potential agencies.
Strategy Development: Ensure the agency creates a comprehensive lead generation plan tailored to your needs.
Agreement: Agree on the terms, scope of work, and reporting methods.
Implementation: The agency implements the lead generation strategies.
Monitoring and Optimization: Continuously review campaign performance and work with the agency to make necessary adjustments.
Why Hire One of the Best Lead Generation Agencies:
Quality Leads: They deliver leads that are more likely to convert into paying customers.
Time and Resource Savings: Outsourcing lead generation allows you to allocate your resources more efficiently.
Expertise: They bring in-depth knowledge of lead generation techniques, optimizing your results.
Cost-Efficiency: A top agency can often achieve better results at a lower cost than building and maintaining an in-house team.
Faster Results: They have the experience to launch effective campaigns quickly, accelerating your lead acquisition efforts.
Lead Generation Service for B2B Companies
A business-to-business or a B2B company needs to be highly targeted with its lead generation initiatives.
At Wealth Ideas Agency, having worked with a number of fantastic B2B companies, we get this and thus put a lot of focus, time, and effort into really understanding what your company goals are and what your ideal customer profile (ICP) is?
This reveals a lot and allows us to build a custom lead generation strategy.
We then execute this strategy using consistent and relevant messaging across the various digital marketing channels.
Generate qualified leads with a trusted lead generation agency
Powering your lead generation strategy with the experience of a trusted lead generation agency like Wealth Ideas Agency allows your business to attract, nurture, and convert qualified leads that offer your company the best long-term value.
At Wealth Ideas Agency, our lead generation experts develop custom lead generation plans that help your business get the leads you want using digital marketing strategies like Pay Per Click (PPC), SEO, content marketing, email marketing, and Social media marketing, which target leads in every stage of the buying funnel.
With more than 3.8 million leads generated in the past five years for our clients, our B2B lead generation agency delivers results.
We don't focus on vanity metrics but on the metrics that matter to your bottom lines and overall growth, like leads generated, conversion rates, and more.
Lead generation service that drives revenue.
Wealth Ideas Agency is a digital marketing agency specialising in B2B lead generation.
Our demand generation consultants work with you to fill your team's sales pipeline with quality leads.
We work with you to structure and implement a lead generation strategy that is built upon marketing automation.
It allows us to scale it fast and optimize it on the fly.
It's well established that businesses need leads to survive.
But to build a machine that consistently generates leads that turn into sales is easier said than done.
Buyer behaviour has changed, and the lead generation strategies can no longer be old school.
Lead generation practices must be innovative and continuously adapt to delight the highly aware and educated customer.
That said, we've got you back.
How our lead generation agency generates leads
Each day your sales team is looking for warm and qualified leads to work with.
Wealth Ideas Agency can help.
We generate a ton of them and route those to your sales team.
Think of us as your extended team of demand generation and sales enablement experts.
You order leads, we deliver them.
Frequently Asked Questions
Some Frequently Asked Questions We Get