LinkedIn Advertising Agency
Partner with Wealth Ideas Agency as your LinkedIn Advertising Agency. Our LinkedIn Ads expert can help you connect with your customers and achieve meaningful results. We create fully optimized LinkedIn ads to connect with other businesses and boost your growth and reach your B2B marketing goals on LinkedIn.
Are you looking to expand your reach and increase customer engagement? Partnering with Wealth Ideas Agency as your LinkedIn Advertising agency is the perfect solution. Our team of LinkedIn Ads experts can help you connect with customers, build relationships, and achieve meaningful results.
Wealth Ideas Agency has a proven track record in helping businesses grow through effective marketing on LinkedIn. We understand that every business is unique, so we take the time to tailor our services according to each client's individual needs. This includes creating customized campaigns based on target demographics and budget size that are sure to get noticed by potential customers who are actively searching for what you have to offer online.
Our experienced professionals will work closely with you throughout the entire process – from campaign creation all the way through post-launch analysis – ensuring maximum ROI for every dollar spent on advertising efforts via social media channels like Facebook Ads, Twitter Ads etc. Additionally, we provide detailed reports which allow us to identify areas of improvement while tracking performance metrics over time.
With Wealth Idea Agency's expertise in leveraging advanced targeting capabilities provided by the Linkedin Ad Manager platform, businesses can easily create highly targeted campaigns tailored specifically towards their desired audience – whether it be B2B (businesses)or B2C (consumers). As a result, this leads more qualified leads into their sales funnel at an efficient cost per acquisition rate compared too many other forms of digital marketing techniques out there today.
In conclusion, partnering up with Wealth Ideas Agency as your go-to source for all things related to LinkedIn advertising allows companies access top tier talent without having to worry about managing internal resources needed to run successful ad campaigns across multiple social networks efficiently & effectively! Contact us today to learn how our team put together a winning strategy meeting goals!
Text Campaigns
Dynamic Ad Campaigns
Video Campaigns
Sponsored Content Campaigns
Remarketing Campaigns
Ads A/B Testing
Custom and Lookalike Audiences
Dedicated Account Manager
Creative Ad Copy
Full Ongoing Optimizations
Weekly Reporting
Customer Support
What is A LinkedIn Advertising Agency?
A LinkedIn Advertising Agency is a specialized marketing agency that focuses on creating and managing advertising campaigns on the LinkedIn platform. LinkedIn is a professional social networking site that caters to businesses, professionals, and job seekers, making it an excellent platform for B2B (business-to-business) advertising and targeted marketing.
What Does A LinkedIn Advertising Agency Do?
Strategy and Campaign Planning: The agency will work with clients to understand their business objectives, target audience, and advertising goals. They will develop a comprehensive advertising strategy tailored to the client's needs.

Ad Creation and Management: The agency will design and create ad content, including text, images, and videos, that align with the campaign strategy. They will also manage and optimize the campaigns to ensure maximum performance and return on investment (ROI).

Targeting: LinkedIn offers sophisticated targeting options, and a top LinkedIn Advertising Agency will know how to leverage these to reach the right audience based on factors like job title, industry, company size, skills, and more.

Budget Allocation: The agency will allocate the advertising budget effectively across different ad formats and targeting options to get the best results.

Performance Tracking and Reporting: They will monitor the campaign's performance, analyze data, and provide regular reports with insights and recommendations for improvement.
What Makes A Top LinkedIn Advertising Agency?
Expertise and Experience: The best agencies will have a proven track record of successful LinkedIn advertising campaigns and a team of skilled professionals with expertise in digital marketing and LinkedIn's advertising platform.

Targeting Capabilities: They will have a deep understanding of LinkedIn's targeting options and how to utilize them effectively to reach the client's desired audience.

Creativity: Top agencies will be able to create compelling and engaging ad content that resonates with the target audience.

Data-Driven Approach: They will rely on data and analytics to make informed decisions, optimize campaigns, and deliver measurable results.

Client-Centric Focus: A top agency will prioritize understanding the client's unique needs and tailor their strategies accordingly.
Why is a LinkedIn Advertising Agency important?
Specialization: LinkedIn Advertising Agencies have specialized knowledge and experience in leveraging the unique features of the platform, ensuring that your ad campaigns are well-targeted and effective.

Reach a Professional Audience: LinkedIn's user base consists of professionals and businesses, making it an ideal platform for B2B marketing. An agency can help you tap into this audience effectively.

Efficient Budget Allocation: With their expertise, an agency can allocate your advertising budget wisely, maximizing the impact of your campaigns.

Time-Saving: Managing LinkedIn advertising campaigns can be time-consuming. By outsourcing to an agency, you can focus on other aspects of your business while experts handle the marketing.
How to get Started with a LinkedIn Advertising Agency
Research: Look for LinkedIn Advertising Agencies with a good reputation and track record. Check their client testimonials and case studies.

Initial Meeting: Schedule a meeting with the agency to discuss your advertising goals and objectives. Make sure they understand your target audience and industry.

Budget and Proposal: Share your budget with the agency and ask for a detailed proposal outlining their strategy, deliverables, and expected results.

Agreement: Once you're satisfied with the proposal, finalize the agreement with the agency.
Why Hire One Of The Best LinkedIn Advertising Agency?
Expertise: Top agencies have the knowledge and experience to create highly effective LinkedIn ad campaigns that drive results.

Better ROI: Their expertise and data-driven approach can lead to higher return on investment compared to handling campaigns in-house.

Access to Tools and Resources: The best agencies often have access to premium tools and resources that can further enhance campaign performance.

Industry Insights: They stay updated on the latest LinkedIn advertising trends and best practices, giving your campaigns a competitive edge.

Time and Resource Savings: Hiring an agency frees up your internal resources, allowing your team to focus on core business activities.
Overall, a LinkedIn Advertising Agency can be instrumental in helping your business reach a relevant and professional audience, drive leads, and achieve your marketing objectives on the platform.
We have the tactics To Run a Fully Optimized and Data Driven LinkedIn Ads Campaign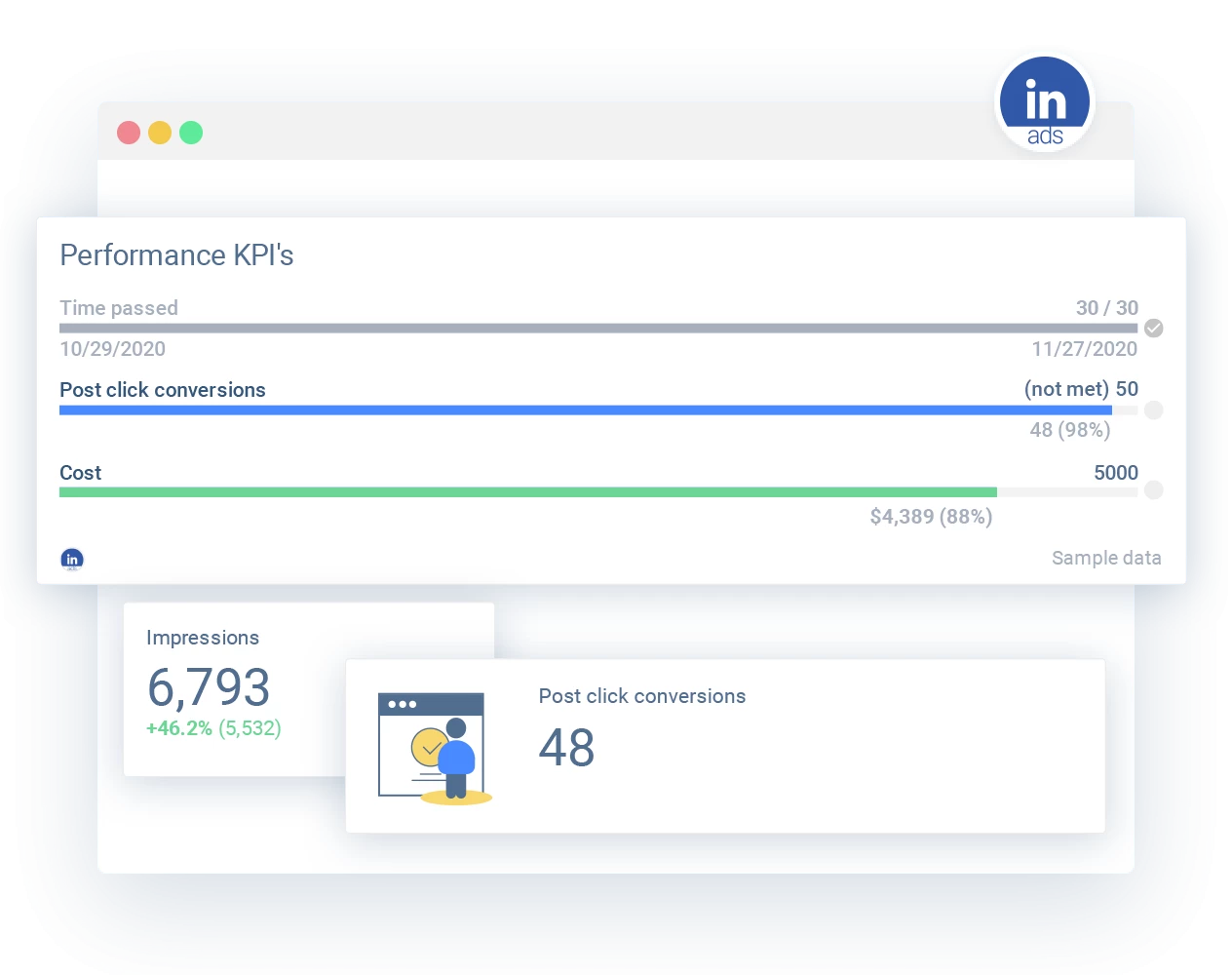 We take care of the day-to-day management and improvement of your LinkedIn Ads account, leaving you free to concentrate on running and expanding your business. 
Our dedicated LinkedIn Ads Account Manager takes responsibility for your campaign and experience to get the most from your Ads budget
Benefits of Working with a Certified LinkedIn Ads Agency
A successful LinkedIn Ads campaign requires a great deal of time and resources to be spent on optimizing and testing strategies as well as staying up-to-date on the latest LinkedIn updates.
Small business owners wear many hats and already dedicate every spare minute to running their businesses.
Working with a dedicated LinkedIn Ads Agency takes the responsibility from you and places it in the hands of trusted and experienced professionals.
Wealth Ideas Agency has been helping small businesses grow their online presence and visibility for over 10 years with our extensive digital marketing services.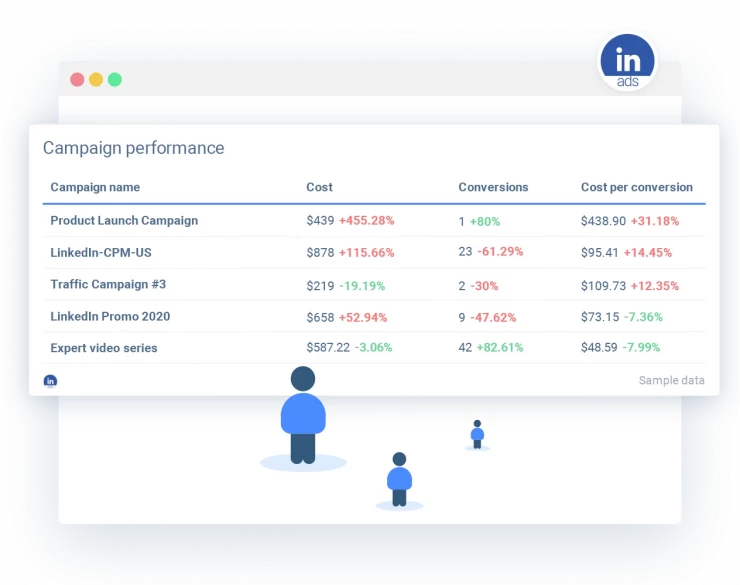 Some benefits of our LinkedIn Ads Management package:
Our Results Turn To Testimonials That Speak For Us
The guys who run Wealth Ideas Agency are gurus when it comes to marketing on the web. That's why we trust them with our work.
Helped me get my business up and running with some great marketing tools. Definitely will be keeping this great company in mind for future boost.
Our Goal Completions from organic searches increased by 250%, Impressions 285% and we saw an incredible 478% increase in clicks with their guidance. Would highly recommend. They took the time to really understand our audience and ensure we were meeting and exceeding our goals.
These guys are by far the best marketing guys I have worked with and know, they do everything they say...no BS.
4x ROAS from a $10K/month ad spend. Melissa had been through five different agencies before coming to us and was highly skeptical that we could generate results. Using our unique process we were able to generate 4x ROAS within four months.
The Pan African Sanctuary Alliance (PASA) has been the beneficiary of Wealth Ideas's expertise in search engine optimization, Google analytics and more. Through their nonprofit grant program, they have helped us develop a more effective digital footprint. Now people with an interest in African primate welfare and conservation can connect with us much more easily - and we can track the impact of these interactions. The Wealth Ideas team is professional, clear, and super responsive in resolving issues. Highly recommended.
How Our LinkedIn Ads Management Works
These are the steps you need to follow to get started with LinkedIn Ads Campaign Management.
First, book a call so we can get to know more about your business and recommend the best advertising strategy for you.
Second, sign up for our LinkedIn Ads Management subscription. It can be either monthly, quarterly, or bi-annual.
Third, fill out a small survey with all the information we need, share all the access needed and we get started on your onboarding process.
After that, we will: 
Do the onboarding process for your business.
Do the research, and analyze your website & competitors.
Create a custom ads strategy tailored specifically for your needs.
Launch your killer LinkedIn Ads Campaigns.
All of our services begin with a thorough onboarding process.
We will audit, optimize, and configure over 50 touchpoints for your website for better marketing insights & success, such as installing & configuring Google Analytics to track & report, creating audiences to improve targeted traffic, configuring dynamic remarketing, and setting up goals & eCommerce transactions for ROI & result visibility.
This process helps us ensure everything is set to run on our end and yours so we can get to work.
Before purchasing our LinkedIn Ads management package, please be sure you meet the following requirements:
Have an active website 
Have a budget of at least $1-3K per month (not including our management fee)
Have an active LinkedIn Ads account with a valid credit card
With our LinkedIn Ads Management service, there is not a lot you need to think about.
Our packages include everything you need to run a fully optimized campaign. 
There are only 2 quick steps you need to follow.
1. Decide on a billing plan
2. Click the button below to contact us with your selected plan and our accountant will be in touch with you to process your payment.
To serve you as effectively as possible, we focus on services provided rather than hours worked only.
Instead of paying us an hourly rate, you pay us a fixed rate, and then we allocate our time, people, and resources that make the most sense for your strategy at that point in time.
Monthly Plan
No discount
One-Time Onboarding and setup fee
Automatic renewal once a month
Cancel anytime
Refunds up to 3 days after a renewal
20% off the monthly price
Click this button below to contact us with your selected plan and our accountant will be in touch with you to process your payment.