PLEASE NOTE!
If you find yourself in need of assistance with starting your own
money-making niche blog
. Our team is here to help you get your blogging business up and running quickly and start generating revenue. 
Click here to get started
. Nevertheless, should you choose to do it on your own, this blog post offers strategies that can still yield satisfactory results for you, though not as impactful as having our expert guidance.
Why you should start your blogging journey now
Have you thought about why you want to start a blog?
What made you want to read this guide and learn more about blogging?
There are many different reasons why you may want to start a blog.
I started my blog purely as a hobby, and it all grew from there!
There are others who start their blog as a way to make money right from the very beginning.
There is no right or wrong answer for why you should start a blog, and many people start blogs for all kinds of reasons.
What is a WordPress blog?
A WordPress blog is a blog that is powered by WordPress software. This software makes it easy to create and manage your blog, without having to learn to code or hire a web developer. All you need is a web hosting account and a domain name, and you can be up and running in minutes.
What is a blog?
A blog is a website.
Google's definition of a blog is, "a regularly updated website or web page, typically one run by an individual or small group, that is written in an informal or conversational style."
A blog is content that is written on a website.
It usually consists of articles.
What is a blog used for?
Blogs can vary from person to person.
You may create a blog to journal, to teach on a topic, to sell something, to tell a story, and so on.
There are no exact rules about what your blog has to be used for.
Below are reasons you may want to think about starting a blog.
1. To Have Fun
Before I started blogging, I never gave it a single thought.
Now that I've been blogging for many years, I couldn't imagine not blogging.
I like reading posts on other blogs, finding new people to talk to, and especially writing.
Blogging is a fun hobby and business to have, regardless of the subject that you are writing about.
2. To Blog For Others
No matter what type of blog you have, you are helping others.
Someone may be motivated by your blog posts, they may learn something new, they may find enjoyment from reading your writing, and so on.
I like to talk about digital marketing so that I can help others.
For me, I have learned a lot (and I'm still learning) about blogging, extra income, entrepreneurship, and everything else — all from other bloggers.
Hopefully, my blog posts help and motivate others to be awesome with their businesses as well.
For example, I hope that all of my business marketing posts help motivate others to create a great marketing strategy for their business.
3. To Be a Part of an Awesome Community
I've made a lot of good friends through my blog.
And, I love receiving emails from readers and blog friends that I've made.
Being able to connect and learn from others is one of the biggest positives of blogging.
4. To Grow
A blog can help you grow in so many ways.
You will most likely become even more passionate about the topics that you love, you will constantly learn new things, you will meet many new people, and more.
5. To Build a Business
Of course, I have to include this as a reason to start a blog.
Blogging can be a great way to improve the business you already have, or to create a business all on its own.
I know several successful bloggers and they all say the same thing, that blogging is the best thing that has ever happened to them. I agree!
How to decide what to blog about
Determining what to blog about can seem difficult at first, but I promise it's not!
I always recommend creating a blog around a topic that you are passionate about, that you are an expert in, that you like, or something else along those lines.
This can make blogging more fun instead of a chore.
You can blog about several topics or you can blog about one specific thing such as marketing for small businesses.
I even recently had someone email me about starting a blog about sex toys.
Yes, your blog can be about anything and/or everything.
It's entirely up to you.
You can monetize any type of blog too, so do not let that fear hold you back.
There are many, many ways to monetize blogs, even the most unique ones!
Here are some possible blog topic ideas.
The list doesn't end here either.
Choose one, all, or some.
It's all up to you.
Lifestyle;
Home;
Family;
Parenting;
Finance;
Crafts;
DIY;
Small business;
Outdoors;
Fitness and health;
Food;
Inspiration and advice;
Animals;
Travel;
Games;
Music;
Relationships;
School;
Electronics; and more!
That's the beauty of having a blog.
It can be anything you want it to be.
Should a person be an expert or have a degree in the niche they choose?
A question I often receive is if a person should be an "expert" in their niche before they start a blog.
I receive this question all the time and, due to that, I definitely think it's something that needs to be discussed.
I don't think you need to be an expert or have a degree in most cases when it comes to blogging.
I know many personal finance writers with blogs that track the financial mess they got themselves into.
They don't have financial degrees but are doing very well for themselves and helping many people with their blogs.
Many times readers just want to hear from you, follow a real person's journey, read about how a real person made it through a problem, and so on.
This is a great example of why degrees are not always needed.
However, if you are wanting to give advice about legal or tax matters where you could get someone in a lot of trouble if you tell them the wrong information, then, yes, you should probably be an expert.
How do you come up with a blog name?
Make it easy. My blog name isn't the easiest for a person to spell, and even I sometimes jumble it when I'm spelling it to someone. So, my top tip would be to make sure that it is easy to type. I've seen blog names that are extremely long, contain words that are difficult to spell, and so on. Instead, you should make it as easy as possible for your reader.
Think about what you'll be writing about. You should think about the topics you want to write about on your website, who your target audience is, and more, and jot down descriptive words that are related to what you want your website to be about. Brainstorming this way can help you to think of a blog name!
Use a thesaurus to think of similar words. Sometimes, your first choice for a blog name may not be available, or perhaps you want to see if other words catch your attention better. A thesaurus can make this task easier.
Make it catchy. You may want to think of something funny, use alliteration, or something else to make your blog name catchy and memorable.
Use your name. If you don't want something catchy and/or if you think you're not creative enough, then just use your name. It's super easy that way and more and more people are starting to do this.
How To Create A Blog On WordPress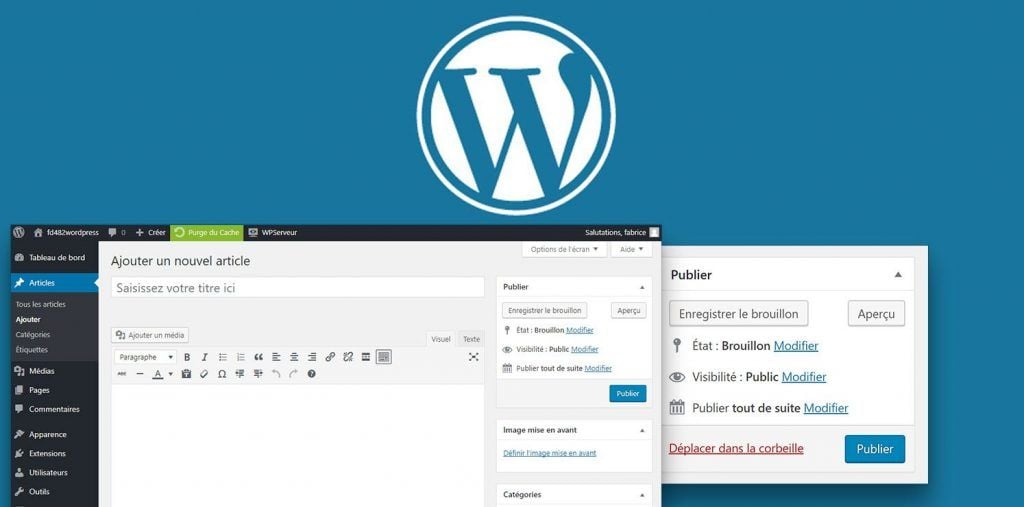 The WordPress Blogging tutorial to get started
In this section, you will learn all about easily creating a WordPress blog on your own and actually launching your new WordPress blog.
Blogging is what changed my life and allowed me to make thousands of dollars a month, all by doing something that I love.
And, this tutorial will teach you the step-by-step process.
Plus, you can start a money-making blog for just a few dollars a month!
Blogging is a super affordable business, hobby, or side job to start, which is a great thing.
First Of All, Get A Hosting Account On NameCheap
Before creating your WordPress blog you need a hosting account if you don't already have one.
If you are interested in starting a blog of your own, I created a tutorial that will help you start a blog of your own for cheap, starting at only $2.18 per month (this low price is only through my link) for blog hosting.
In addition to the low pricing, you will receive a free website domain (a $15 value) through my Namecheap link if you purchase, at least, 12 months of blog hosting.
You can start your blog for just $2.18 per month through my special pricing that I've negotiated for my readers, plus you get a free domain name.
I recommend you hop on this soon as this is just special pricing and it'll be increasing soon!
Trust me, you don't want to miss this deal.
How To order a hosting package with Namecheap
Please Follow The Step-By-Step Process And Screenshots Below.
This Is Simply The Best Way To Go Live With a WordPress Website Or Blog In Less Than 10 Minutes.
If you would like to purchase a hosting package, this guide is just for you.
Please follow these simple steps to purchase a hosting plan.
1. Go to the Namecheap homepage.
2. Click on the Hosting tab.

3. Choose the service/package you require, the billing cycle (monthly or yearly), and datacenter location (US, UK, or EU) and click Get Started: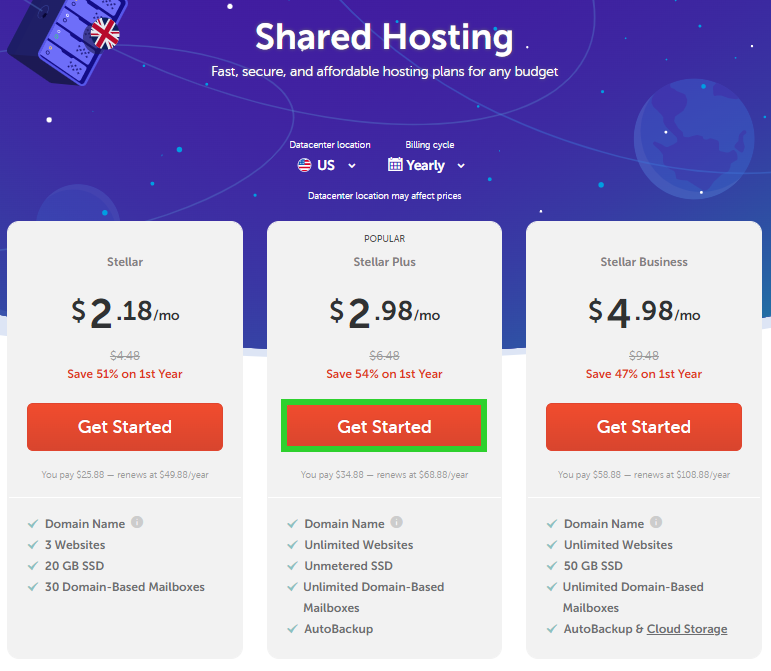 4. Once the plan is selected, you will be redirected to the Domain Name Connection step: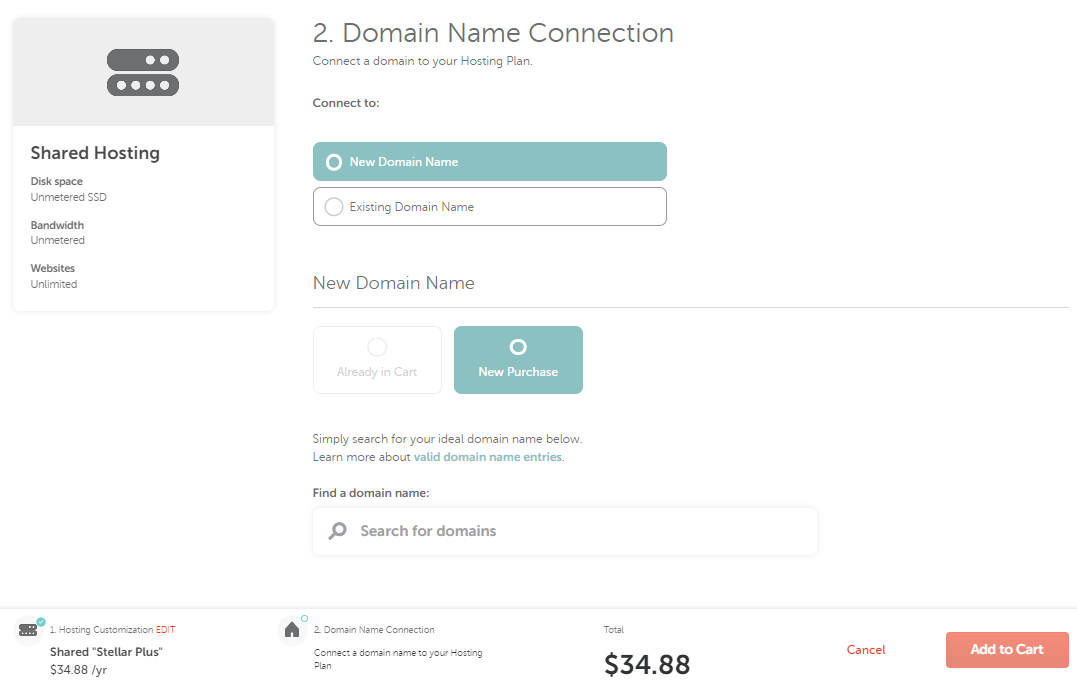 Here you have the ability to connect an already existing domain (Namecheap or third-party) or register a new one.
The New Domain Name option provides a possibility to search for a new domain on that step or connect a domain that might be already present in one's Shopping cart.
NOTE: The Already in Cart option will be greyed out and not clickable if there is no domain in the Cart.
If you choose the New Purchase option, the domain selection will be within one page.
Type the domain into the Search field and then select one of the offered domains or click View All TLDs to select one of them.
5. Click Connect To Hosting to proceed: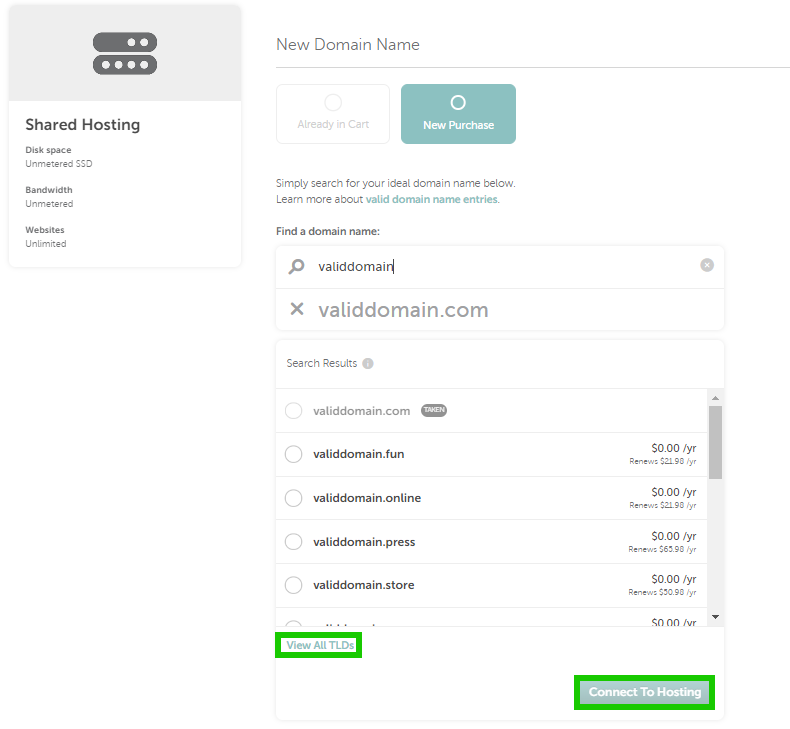 NOTE: In case you decide to change the hosting billing cycle to a monthly one, the price for the domain will be changed. In this case, you will get the corresponding warning: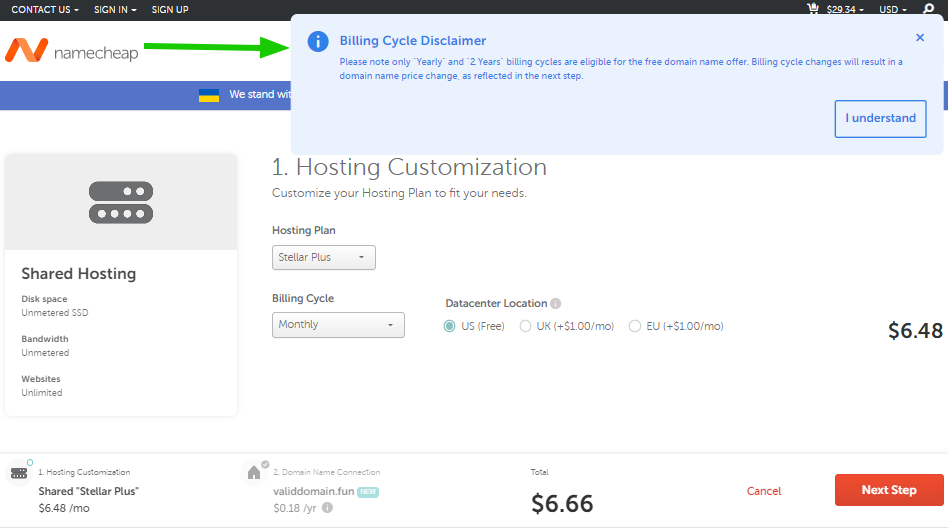 If you have added one or more domains to the Shopping Cart and want to have one of them as the main domain for their hosting, you can use the Already in Cart option.
If there are two or more domains, you will be able to choose which of the domains should be the main domain for the hosting package: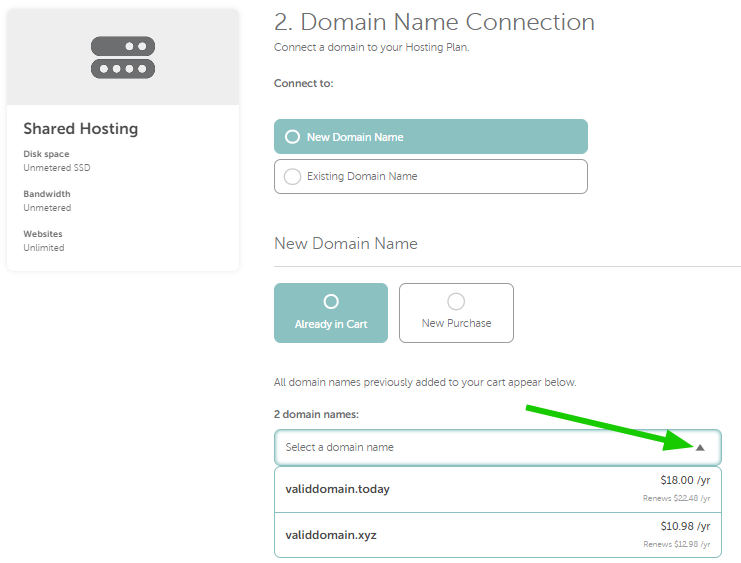 6. After the domain and a hosting package are added, you can proceed with the purchase by clicking on the Add to Cart button: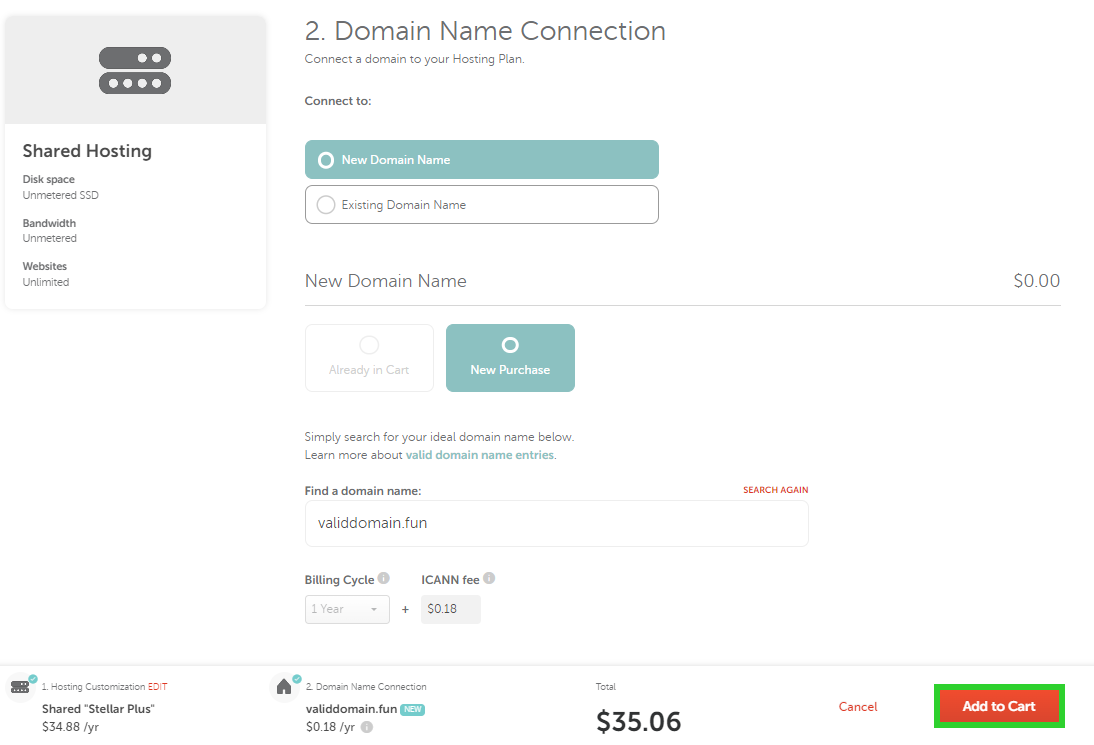 7. On the next step, you can review your order details and apply a coupon if you have one. Click on Confirm Order to proceed to the checkout: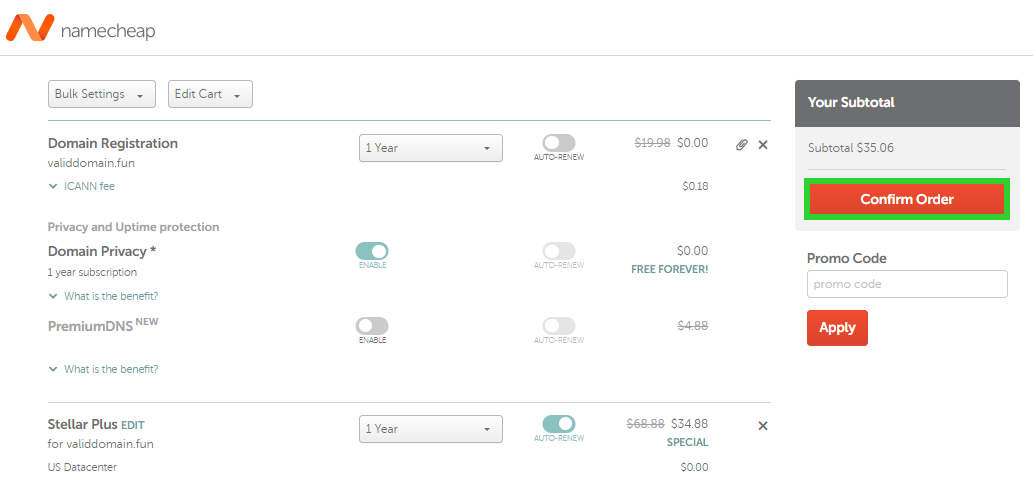 8. Once done, choose the payment method for your hosting package. You can choose one of three payment methods – Credit Card, Paypal or Account Funds: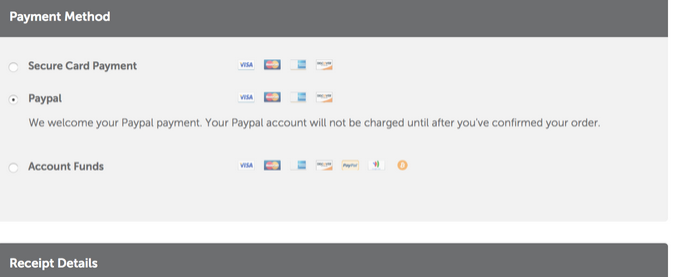 9. On the next page, you will see the final order listing and will need to agree to our Terms and Agreements. When ready, click on Pay Now:

A Shared hosting account is usually activated instantly, however, in some cases it might take 30 – 60 minutes.
Once your account is activated, you will receive your Hosting Welcome Email – it will have all your account's login details, settings, and instructions.
That's it! Once you've completed this process, you are now on your way to becoming a wordpress blog Master
One last thing.
As a bonus for using my tutorial to create your blog, send me an email afterward and I'll help you promote your new blog on my social media accounts as a thank you.
This can help you start your blog with some new readers!
Even if your blog isn't ready yet, simply send me an email and I'll add it to my list of blogs to keep an eye on.
Thank you,
How to start a WordPress blog: Step By Step Guide
Let Me Walk You Through The Next Step So You Can Create Your First Blog Post And Customize Your Blog.
Starting a WordPress blog might look like a daunting task for many, especially those who haven't done it before. The truth remains that it might be scary at first but by the time you ease into the process, you will discover you had absolutely nothing to worry about in the first place.
In order to help aspiring bloggers start a WordPress blog, we have decided to not only put together a comprehensive guide on how to start a WordPress blog but also how to walk beginners through the initial setup and posting of their first blog content as well. Irrespective of your age and even if you have no technical knowledge you can easily follow this guide because the process is easy.
(follow these steps ONLY after you have created your domain and hosting account through the steps laid out above)
Step 1: Install WordPress
The Cpanel is home to so many small icons which has different services and features attached to them. For a beginner, this can be a bit scary, so the best advice is to ignore about 95% of them because you will never need to use them.
To install WordPress follow the steps below;
Scroll down to the website section and click on the WordPress icon
This will take you to the "Softaculous Marketplace Quick Install" screen for WordPress. Click on the Get Started button.
Step 2: Selecting Your WordPress Theme
When you're done installing WordPress, the first appearance of your blog is not appealing to the eyes, because it's plain and unattractive. When you visit your blog for the first time, it will look something like this:
The visual appearance of WordPress is controlled by themes. Customizing the look and feel of your blog is one of the most fulfilling parts of creating your WordPress site. There are several thousands of pre-made WordPress themes available that you can install on your site. Some are free, while others will cost you a few dollars.
To change your WordPress theme to something more attractive and appealing follow these steps;
Go to your WordPress dashboard and click on Appearance
Under appearance, click on themes
Then go ahead and click on the "Add New" button
On the next screen, go ahead and search from the 4100 free WordPress themes available in the official wordpress.org themes directory. (You can sort by popular, latest, featured, as well as other featured filters.)
When you find the theme you like, hover the mouse icon on it and it will show the install button. Click on it and wait for the theme to be installed.
By now the install button should be replaced with an Activate button. Click on it to activate the theme.
After installing the theme, you can customize it by clicking on the customize link found under the appearance menu.
Step 3: Creating Your First Blog Post
Once you have succeeded in selecting and customizing your desired theme, you should get started on creating your blog posts. To write your first blog post follow these easy steps;
Click on the "posts". Under "posts" click on "Add New" menu on your WordPress dashboard.
An editor will come up where you write your blog post.
On the post screen, use sections such as categories and tags to organize your post after writing.
When you're done writing and organizing your post, click on the publish button found on the right-hand side to publish your blog post.
Step 4: WordPress Plugins & Customizations
After you must have published your first blog post, you should add other elements to your site that will make it look professional and well-organized. Elements such as a contact form, an about page, and more are a must.
To customize and add several features to your site, such as galleries, sliders, etc, you would need to use WordPress plugins. WordPress plugins are apps that support you in adding new features to your websites and there are over 46,000 of them available.
Follow these steps to install WordPress plugins;
Go to your WordPress admin area and click on "plugins". Under "Plugins" click on "Add new"
On the next screen, type the plugin name or the functionality you're looking for into the search bar
Select the plugin that is best for you from the bunch of listings provided and click on the "Install Now" button. WordPress will download and install the plugin for you. As in our search, we searched for Floating Social Bar, which happens to be the first in the search results, we will click the "Install Now" button.
After installing you will see a success message with a link to activate the plugin or return to the plugin installer.
Click on activate plugin link to activate the plugin on your WordPress site.
NOTE: If you need help setting up your blog, kindly contact me. I would be more than happy to help you get started. blogging can be a great way to share your thoughts and ideas with the world, and I would love to help you get started on your journey.
Click here to get in touch with me.
What WordPress Theme Should You Use?
Let's be clear.
Deciding the "look" of your blog doesn't have to cost you over $1000.
Most people think it does….
But that's very far from the truth, and that's important to understand when you start a blog.
As I've talked about on my website and in my email list previously, I build all of my websites on WordPress.
And with WordPress, there's a nifty little trick or "shortcut" you can use to get a unique look to the site with very little effort.
This shortcut is choosing to use a theme to build your site on.
What Exactly is a Theme?
A theme is a number of files that dictate the appearance of your site.
When it comes to a theme for your blog, you can either choose a free theme (that provides a generic look with limited design options) or a paid theme (that'll look much better and allow you to customize the look without hiring an expensive web designer).
Here's a screenshot of the default WordPress free theme:
Here's a screenshot of the paid theme that I use:
So, what do I recommend when starting a site?
Let's get one thing clear out of the gate.
The design of your blog will NOT determine if the site is successful.
It's a common distraction for people to spend days/weeks or even months trying to make their blog look perfect.
I get it….
You want to have something presentable to the public.
But before you spend countless hours figuring out the site design let me ask you a question.
What is the point of making your blog look nice if no one ever visits it?
At the end of the day, if you do this you're simply building something only you will look at and enjoy.
Now I know, some of you will say "But Chris, I want to make it look good before people visit."
And that's fair.
I took this approach myself when I launched my first few blogs because I wanted people to be impressed with the design.
But what do I do nowadays?
I launch with the simplest blog design I can find and focus most of my time on the content of the site itself.
And this is what you should do too.
This is a much better use of your time in the beginning because it'll let you focus on generating traffic.
And that's the key to your blog being successful…..traffic to your website. NOT whether or not your blog looks pretty.
So, what theme should you use to get started?
I'm going to explain this in two ways.
First will be what you SHOULD do, and second is what most of you will do instead.
I'd love to believe all of you will follow my advice and make an ugly blog and focus on content….
But I also understand that you want to create a blog that looks good and that you're proud of building.
In other words, you're looking for people to react like this:
1) Here's What You SHOULD Do
Start your blog on WordPress, launch with the free default WordPress theme that comes with your install named "twenty-twenty-two" and run with it.
You should focus 100% on creating great content, as much as possible, and revise the look of your blog once you have traffic.
You can use the WordPress default Gutenberg editor to compile your posts. This will allow you to create posts, insert images, and format the posts.
Again, this is what you should do.
But here's the thing….
Most of you want to make a blog that looks cool. Something that you're proud of and that you'd love to share with others.
So….for those of you that are in this camp (which is also how I started my first few blogs) let's discuss option #2.
2) Here's What You Can Do if You Want a REALLY Cool Looking Blog
Before we go down this route, let's make a rule first.
If you decide to purchase a theme to make your site look pretty, I want you to spend no more than three days focused on it.
This will make it so that you don't work on this task too long and distract yourself from growing your blog, which is the only thing that'll actually make you successful with your blogging business.
That said…
Every single blog I own including wealth-ideas.com, uses Thrive Themes.
The cool thing is that this "theme" is actually an entire theme builder.
So, by purchasing it, you get access to a number of different theme templates that are fully customizable.
When I recommend the Thrive Themes platform to people, I always advise them to get the Thrive Suite membership.
This video will explain how it works a little bit better:
While it isn't free, it includes a ton of helpful tools to help market your blog as it grows which is crucial to growing your blogging business.
But, if you are looking to save a few bucks, at a bare minimum you should get the Thrive Theme Builder + Thrive Architect combo.
This will give you a nice theme to start with, a ton of templates, and the ability to click and drag elements so that you can design your blog the way you'd like.
Have questions? Thoughts? Wondering what my favorite apple is? The best way to reach me is to click here
How to make money with your WordPress blog
FYI, if you are asking yourself "can you make money blogging?" — my top tip is to be self-hosted.
This is essential if you want to monetize your blog as you will appear more professional and this will help you monetize your blog tremendously.
My blogging income did not take off until after I switched to self-hosted WordPress.
I'm sure this is a popular topic that many of you have been waiting for.
There are several ways to make money blogging, and I am going to discuss them all today.
Below are common questions about making money blogging.
Where does blog income come from?
This is a question I have received many times lately.
Many of you are interested in blogging, but you are not sure where the income actually comes from.
You receive blogging income from whoever is paying you.
If it is affiliate marketing you are providing, then you get paid through the company whenever someone buys or signs up for something through your link.
If someone is paying you to place an advertisement on your website, then you get paid by them.
If you have display ads on your website such as with Google Adsense, then you get paid from Google or one of the many other thousands of companies.
There are many companies and blogging networks out there who are looking to pay for things on blogs!
You usually get paid either through PayPal or by receiving a check in the mail.
Can new WordPress bloggers make money blogging?
There is plenty of room for new WordPress bloggers to make money.
I've had many tell me that they started a WordPress blog because of my income reports and that they are able to make money blogging (awesome, right?!), this is proof that new bloggers are still making money.
I also personally know bloggers who started a year or two after I did, yet they are making double, triple, or even 10 times the amount I am earning.
The world is a huge place, and the online world is just going to keep growing.
Every blogger earns a living online in a slightly different way, and everyone has a different message/story.
Plus, there are TONS of different ways to make money through a blog, and I expect this to keep growing.
Due to the reasons above, I believe there will always be room for more bloggers.
How long does it take to start making money blogging?
There is no one answer to this question.
As you can tell from my past income reports, I started earning a few hundred dollars a month from my blog less than one year after I started.
After just two years of blogging, I was earning several thousand dollars from blogging, which was all on the side of my day job.
I know some who started making thousands of dollars a month after just a few months of blogging.
There are bloggers out there who began a year or two after me and are making hundreds of thousands of dollars a month.
There are also other bloggers who aren't making any money.
As you can see, blogging is not a get-rich-quick scheme.
However, if you are serious about it, you never know what it may turn into.
It all depends on you, the effort you put into it, whether you have the time to learn how to monetize your blog, and more.
In what ways can a person start making money blogging?
There are several ways to make money blogging.
These include:
Affiliate marketing (this will be discussed in detail later on)
Blog sponsorships
Display advertising
Ebooks
Staff Writing
Can blogs get sponsored?
Paid blog posts and advertisements are when you place an advertisement on your blog in exchange for money.
This might be in the form of a sponsored review, a guest blog post, a sidebar link, an advertisement within a newsletter, and so on.
There are many different forms of paid advertisements on websites.
You can either reach out to advertisers yourself, sign up for advertising networks (some include Izea, Find Your Influence, or companies/advertisers may find you.
There are many, many companies out there who are looking to advertise on blogs, so it is usually relatively easy to find blog sponsorships once you have a website.
What is display advertising?
Display advertising is when you place an advertisement on your blog in the sidebar, below a blog post, below your header image, or in some other location on your blog.
Then, for every so many view that advertisement sees, you will earn a certain amount of money.
It's an easy way to make money blogging as all you have to do is insert the code provided to you.
In general, the more page views you receive, the higher your income from ad networks will be.
You can receive display advertisements for your blog from companies such as Media.net (this is a very popular one), Adsense, Mediavine, AdThrive, and many others.
What is Adsense exactly?
Adsense is what many bloggers use, as it's very easy and you can input Adsense advertisements on your blog starting from the very beginning.
AdSense is an advertising network within Google that allows website owners to place advertisements on their websites.
These ads are picked out by Google, and you just place the size and type of ad widget you want on your website.
You are then paid per click and per impression.
Is making money from an ebook realistic?
If you are an expert in an area or have something to share that you know others will read, then an ebook may be something you are interested in writing.
There are quite a few people making thousands and tens of thousands of dollars each month from writing an ebook.
Can a blogger make money writing for others?
Lastly, your blog can also be used as a platform for other projects, such as freelance writing for other blogs.
If you want to staff write for others, I highly recommend having a website of some sort so others can find your work and hire you.
It's much more difficult to get your name out there without your own website.
Staff writers usually start out around $25 per article, and as you gain more experience, you can usually command higher prices.
I know some writers who are making thousands of dollars a month from writing for others, and it all started because of their blog.
In fact, I recently secured a staff writing gig for $1,500 per article, which equates to around $2.50 per word.
I never would have received this offer if it wasn't for my blog.
When Will Your WordPress Blog Make Money?
How do you feel about working 40 hours and not getting paid for it?
What about 60 hrs?
Heck, how about 100 hrs?
You probably aren't a big fan of it. Why would you be?
When you work on something, you expect to get paid for your time.
But here's the bad news.
When you start a new WordPress blog, it's common to work a ton of hours before you see a deposit in your bank account.
Now, if you look at the online business "gurus" out there, they'll tell you that you can go from nothing to over $10,000 in your first month or over $100,000 in your first year.
In other words, they sell you a dream.
Why do they do this?
Simple.
They want you to buy their course or consulting or whatever else they can sell you.
But I'm going to be the guy to tell you the truth.
Most people who start a blog never make any money.
Do you know why?
Because they quit too early.
We live in a time where people love instant gratification
Want food?
After clicking six buttons on your smartphone, the food arrives in 20 minutes.
Want something for your house?
Open up Amazon, click four buttons, and it'll arrive tomorrow or the day after.
Looking for a Date?
Grab your phone, swipe right a few times, and POW. Your Friday night is booked.
Blogging is NOT going to give you instant gratification.
In fact, I'd argue that the only part of blogging that provides instant gratification is getting your WordPress blog launched.
And while launching your WordPress blog is a moment to be celebrated, it's temporary. Once you do that, well, that's when your work really begins.
So, let's assume that you've already taken my free niche blogging course and launched your blog using Kinsta, how long will it take for you to make money?
Like most things in life, it depends.
Let's explore a few blog models and you'll see what I mean:
If you're starting a blog and have plans to be a consultant in an industry that you already have connections in, it may only take a month after launching your blog to make money.
If you're starting a blog and want to focus on selling online courses and already have people willing to pay you for your knowledge, it may take a couple of months.
But that's not the type of blog I create myself, so let's assume that you want to make blogs like mine.
We'll call these "Content blogs".
A content blog is one where you write articles and try to rank on search engines. These search engines then bring free traffic to your blog day after day, month after month, and year after year.
For me, this is the best type of business there is for a few reasons:
It can become completely passive
It makes money while you sleep
It has a low start-up cost
It can be fully outsourced
You can work on it whenever you want
All you need to work is a computer and an internet connection
Without a doubt, I think this is the best business model type.
My tips for passive income from blogging
Affiliate income is my favorite way of earning a living online.
Not too long ago, I was barely earning anything from affiliate income, but now I'm earning around $50,000 a month from it!
Affiliate income is when you place an affiliate link in a blog post and try to earn money from people buying the product through your link.
This can be a good way to make money because if there is a product out there that you love, all you have to do is review the product and hopefully, others will be interested in buying it as well.
Affiliate income is great because you can create a post, review, etc., and that post may earn you money years down the line with minimal work needed to maintain the article. It can be somewhat passive, which is what I love about it.
Yes, this means that you may be able to earn money while you are sleeping, on vacation, out dancing with friends, and more.
What could be better than that?
Here are some of my tips for increasing your affiliate income:
Use the Pretty Link plugin. I use this for all of my affiliate links. It makes them look cleaner when it looks like "wealth-ideas.com/bluehost" instead of the long links that affiliate programs usually provide.
Provide real reviews. You should always be honest with your reviews. If there is something you don't like about a product either don't review the product at all or mention the negatives in your review.
Ask for raises. If you are doing well with a particular affiliate program, ask for a raise. The worst thing that can happen is that your affiliate manager says no. The best is that they say yes!
Form a good relationship with your affiliate manager. Your affiliate manager can supply your readers with valuable coupons, affiliate raises, and more.
Publish tutorials. Readers want to know how they can use a product. Showing them how to use it and how it can benefit them can be very helpful.
Have a recommendations page. I always like checking out recommendation pages on blogs. It can be a great way to list valuable products and services that readers may need or want.
Join affiliate programs. There are many different affiliate programs to check out. These include Max Bounty, Shareasale, Commission Junction, Amazon's Affiliate Program, and so on. If you enjoy a product, there is probably some sort of affiliate out there for it.
Don't go overboard. There is no need to include an affiliate link 1,000 times in a blog post. Include them at the beginning, middle, and at the end, and readers will notice them.
How to get traffic for your WordPress blog
You do not need millions of page views per month to make money blogging, but it is something you will want to increase if you want to improve your income.
Every blog is different, but once you understand what your readers want, understand how to effectively reach out to companies for partnerships, and know how to charge the correct rate, you can make a good income online in many cases, regardless of the number of page views you receive.
There are many different ways to increase the number of page views you receive so you can make money blogging.
Here are my tips:
Publish high-quality blog posts — Your blog posts should always be high-quality and helpful. This will lead to readers coming back for more and more. I always recommend that a blog post be at least 500 words, but more wouldn't hurt either. The majority of my blog posts are around 1,500 to 3,000 words.
Be active on Pinterest — Pinterest is one of my top traffic sources. I recommend creating great images, making sure the description and title of your images are catchy, pinning regularly, and only pinning long images. In case you are wondering, I use Picmonkey to edit all of my images and Tailwind to schedule them.
Find other social media sites to be active on as well — Besides Pinterest, there are several other social networking sites you may want to check out. This includes Facebook, Twitter, StumbleUpon, Periscope, Instagram, Snapchat, Youtube, and others.
Post regularly — For most blogs, you should publish something at least once a week if you want to make money blogging. Going for weeks or months at a time without a blog post can lead to readers forgetting about you.
Network with other bloggers — Too many bloggers see other bloggers as competition. However, you should see them as friends and colleagues. This means you may want to interact with them on social media, reach out to them via email, attend conferences, and more. Of course, be genuine with it all, and give more than you take.
Guest post — Guest posting can lead to new readers checking out your blog and subscribing to it. This can be a great way to reach a new audience.
Make sure it's easy to share your content — I love sharing posts on social media, however, it gets frustrating when some blogs make it more difficult than it needs to be. You should always make sure it's easy for readers to share your content. This may mean making your social media icons easy to find, having all of the info input that is needed for sharing (title, link, and your username), and so on. Also, you should make sure that when someone clicks on one of your sharing icons the title isn't in CAPS (I've seen this too many times). No one wants to share a blog post when it sounds like you're screaming at them.
Create catchy headlines — The title of your post is a major factor influencing whether readers click over or not.
Learn SEO — SEO (search engine optimization) is not something I could teach in such a small section of post. I recommend doing your research and learning more about what it is and how it can help you.
Make it easy for readers to browse — If you want more pageviews, you should make it as easy as possible for readers to read other blog posts of yours. You will want to make it easy for readers to find your blog homepage, categories, tags, search bar, and so on. Also, I recommend including links in every single one of your blog posts, so readers can easily find related topics.
Miscellaneous WordPress blogging tips that will help you be successful
Today, I want to share miscellaneous blogging tips that will help you be successful.
Read below to learn more of my top blogging tips.
Be Yourself
When starting your blog, be yourself!
Don't try to pretend you're someone else.
I love reading real blogs where I can tell who the writer is just by reading what they have written.
No one wants to read bland, boring posts.
Inject all of your personality into them!
Have fun with it and determine why you really want to blog.
Have an About Page
Something that I am currently working on is improving my About page.
I personally mainly enjoy reading blogs that have a fun or interesting personal view.
Corporate blogs and blah blah blah don't really interest me as much (nothing wrong with them, everyone enjoys different things).
I like to read about the author and see where he or she is coming from.
Having an About page lets me learn more about you, all in one easy page.
You can include a picture, a bio about yourself, and possibly links to other posts that will describe you and your life even further.
Reply to Comments
Something that I always put major effort towards is always making sure to reply to comments. Sometimes the comments are just a "thanks," but I honestly enjoy knowing that an author has actually read the comment that I have left.
I LOVE when I leave a comment on a blog that contains a question, and the writer will answer it.
I almost always go back to blogs that I comment on to see what was written back.
Interacting with readers is always important.
Get Rid of Captcha
Captcha, oh captcha. I go nuts when I try leaving a comment and I see this.
For some reason, I can never get it on the first try.
I'm fine with the "tests" right before you leave a comment that asks for what "1+1" is, but when it says to decipher what "32097 dfg fdgjh3 4" and it's super blurry and all of the letters seem to go in different directions?
Sometimes I feel like I'm trying forever and have given up on leaving a comment before.
Instead, install a good comment spam plugin that doesn't make your readers jump through hoops.
I like the free WordPress plugin "Akismet."
Make it Easy to Subscribe
I cannot tell you how many times I have gone to a website and they have made it impossible for me to subscribe.
Either none of the links work, or there are no links altogether.
No links for e-mail, Twitter, Facebook, subscribing, etc?
Please make it easier for readers to subscribe!
We want to be able to find you more easily in the future.
Make Friends
One of the best things that I love about blogging is the awesome community that it brings.
I have made many friends through my blog, and a lot of you I talk to nearly every single day.
I really cannot say enough about making blogger friends.
Reach out by commenting on their blogs, interacting on Facebook, tweeting on Twitter, and so on.
Of course, be yourself, and don't force a relationship to happen.
Be natural and make friends just like how you would in "real life."
Link Your Twitter Account to Your Posts
A lot of the time I like to tweet posts that I really enjoy.
I've been to a couple of blogs where when you click on the tweet button, the person's Twitter handle does not automatically show up.
Fix this! Make it easier for people to show you recognition.
This is something that I didn't do for a long time until a couple of other bloggers told me that I was making life too difficult for them (joking of course).
P.S. A good sharing plugin for your blog is "Shareaholic." It's what I use and it's free!
Have Fun!
Yes, different people start a blog for different reasons.
But if you do decide to start one, have fun with it! I feel that the best blogs out there are by writers who are having fun with it.
I enjoy having a blog, and it has turned into a great hobby and business.
Build a Loyal Following
That is the end of this blogging course.
I hope you learned a lot over the past week and have a successful blogging journey.
Whenever a good blogging tip or resource comes across my plate, I'll make sure to send you an email and share it with you ASAP.
Have fun and good luck blogging!
Starting a new WordPress blog is a lot of fun.
However, you may have many questions about what to do next so that you can make money blogging, attract readers, and have a great blog.
I never had an official blog launch, but it probably would have helped things go a little more smoothly in the beginning!
Here are my quick tips for a successful WordPress blog launch:
Start a self-hosted blog. If you want to start a blog the correct way, you must be self-hosted. This can help you grow a following, improve your traffic, make money, attract advertisers, and more.
Produce high-quality content. If you don't want to read your blog posts, I doubt anyone else does! Luckily, this isn't as hard as it sounds. This is one big reason why I recommend blogging about a topic that you enjoy. This way, you can pour passion into your writing and it's much more enjoyable.
Have blog posts already published. I recommend having at least a few blog posts already published on your blog so that new readers can have a sense of what your blog will be like. This way, they may be more likely to subscribe.
Have blog posts scheduled. As a new blogger, you may feel overwhelmed in the beginning. This is a normal feeling. Having blog posts ready and scheduled for future dates can take a lot of the stress off.
Create social media accounts. There are many social media outlets that exist. I recommend looking into creating an account for Facebook, Twitter, Pinterest, Instagram, Snapchat, and more. While that may seem like a lot, you can automate a lot of it.
Have an About page. New readers will want to know more about you and who the writer is.
Network with other bloggers. Many new bloggers see other bloggers as competition. You should not feel that way! Instead, make friends with other bloggers, attend conferences, help other bloggers if you can, interact on social media, and more.
Publish a blog post at least once per week. If you disappear for 6 months at a time, readers may forget about you.
Guest post on other blogs. This can help get your name out there, bring new readers to your blog, meet other bloggers, and more.
As you can tell, there are many things you can do in order to launch your blog successfully. The best thing you can do, though, is to have fun!
Do you need help setting up your new blog?
If you're thinking about starting a blog, you may be wondering if you need help setting it up.
The answer is: it depends!
If you're comfortable working with technology and are confident in your ability to follow instructions, then chances are you won't need help setting up your blog.
However, if you're not as familiar with the technical aspects of blogging or don't feel comfortable taking on the task yourself, there's no shame in seeking out assistance.
There are plenty of resources available to help you get started with your new blog.
For example, WordPress offers extensive documentation and support forums where users can ask questions and get advice from more experienced bloggers.
Additionally, many web hosting providers offer easy-to-use tools for creating and managing a WordPress site.
If you use one of these services, they may also have helpful guides or customer support staff who can assist you if needed.
In short, whether or not you need help setting up your new blog is entirely dependent on your own skillset and comfort level.
If DIY isn't really your thing, don't hesitate to reach out for assistance from those who know more than you do — after all, that's what we are here for!
Let us help in setting up and launching your new blog
If you're thinking about starting a blog, congratulations!
Blogging can be a great way to share your thoughts and ideas with the world.
But where do you start?
There's a lot that goes into setting up a new blog, from choosing a platform to picking a domain name.
And if you're not familiar with web design or coding, it can all seem pretty daunting.
That's where we come in!
At Wealth Ideas Agency, we specialize in helping people get their blogs up and running.
We'll take care of all the technical stuff for you so that you can focus on writing great content for your readers.
We have over 10 years of experience in the blogging industry, so we know what it takes to get things done right.
Plus, we offer affordable rates and fast turnaround times so that you can get started on your blogging journey as soon as possible!
Click here to get in touch with me.