WhatsApp Ads are an effective and efficient way to reach a large audience. With over two billion monthly active users, WhatsApp has become one of the most popular messaging apps in the world. It is no wonder why businesses are looking for ways to leverage this powerful platform for their own marketing efforts.
In this blog post, we will discuss how you can create WhatsApp Ads that will help you engage your target audience and generate more leads and sales.
Why Does WhatsApp Business Matter?
With 2 billion users across the globe, WhatsApp is the world's most popular mobile messaging app. WhatsApp users aren't shy about leveraging the app's messaging features, either. Every day, they send 100 billion messages and spend an average of 38 minutes chatting via the app.
So how can your business (or your agency's clients) tap into WhatsApp's massive and highly engaged user base? WhatsApp Business—which launched in January 2018—is your ticket to connecting with customers on the popular chat app.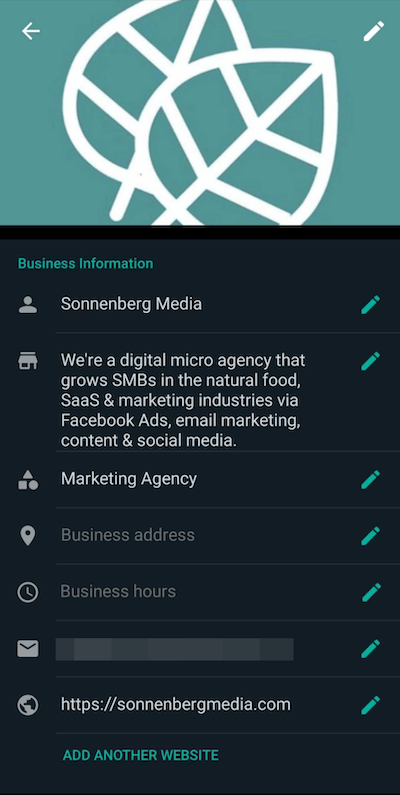 Some of the biggest perks of using WhatsApp Business include:
Communicate with customers.
Showcase your products and services.
Offer customer service.
Leverage marketing and advertising tools.
If you're just getting started with WhatsApp Business, building a customer base in the app may take time. Fortunately, you don't have to rely on organic methods alone. To connect with customers more efficiently and leverage this tool more effectively, you can integrate WhatsApp Business with Facebook Ads.
How to Set Up WhatsApp Business
Are you new to WhatsApp Business? You can create a WhatsApp account for your company in about 5 minutes. All you need is the WhatsApp Business app, a smartphone, and a phone number. Here's what to do:
If you don't already have WhatsApp Business, download it from the App Store or Google Play. Then enter and verify your business phone number.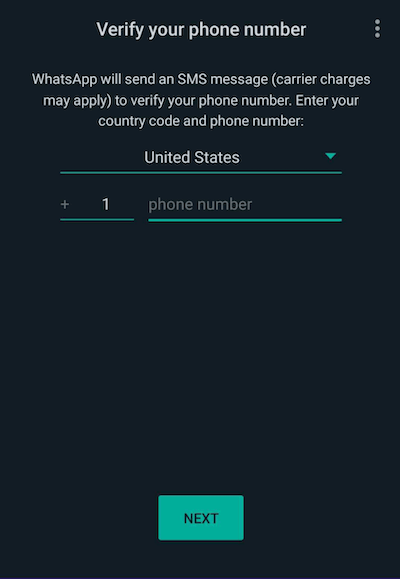 If you also use WhatsApp for personal messaging, keep in mind you can't use the same phone number for individual and business accounts. Instead, you need a separate phone number for WhatsApp Business.
Are you already using your personal WhatsApp account mostly for customer communication? You can migrate your account to WhatsApp Business to maintain your conversations and keep using the same phone number.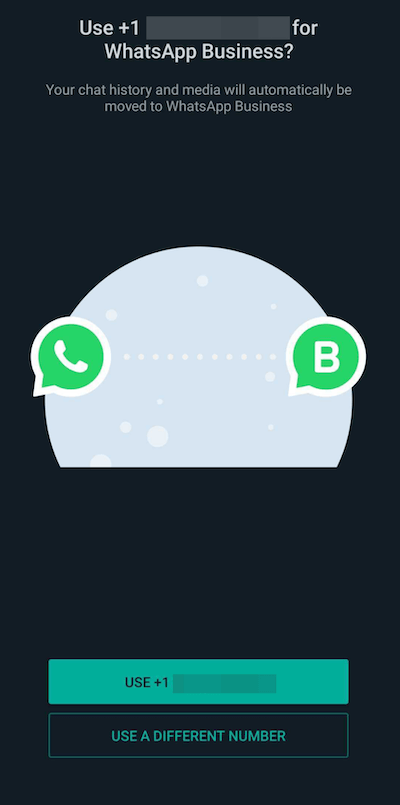 After verifying your phone number, add all of the basics about your business. Type your business name and use the drop-down menu to choose the most relevant category for your company.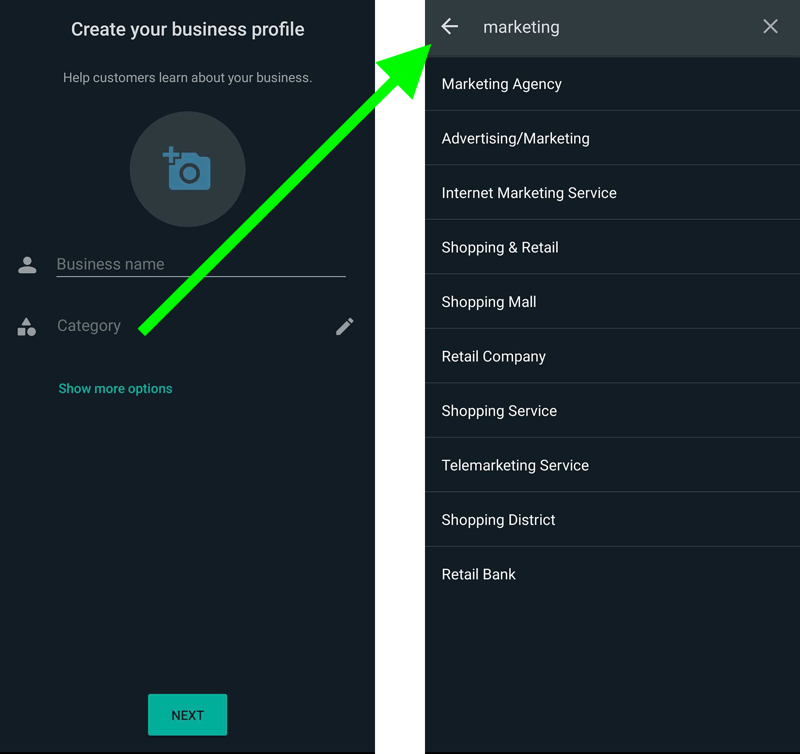 Upload your company logo so customers can easily identify your business. Then add more details about your company, including your physical address and a description of what you offer.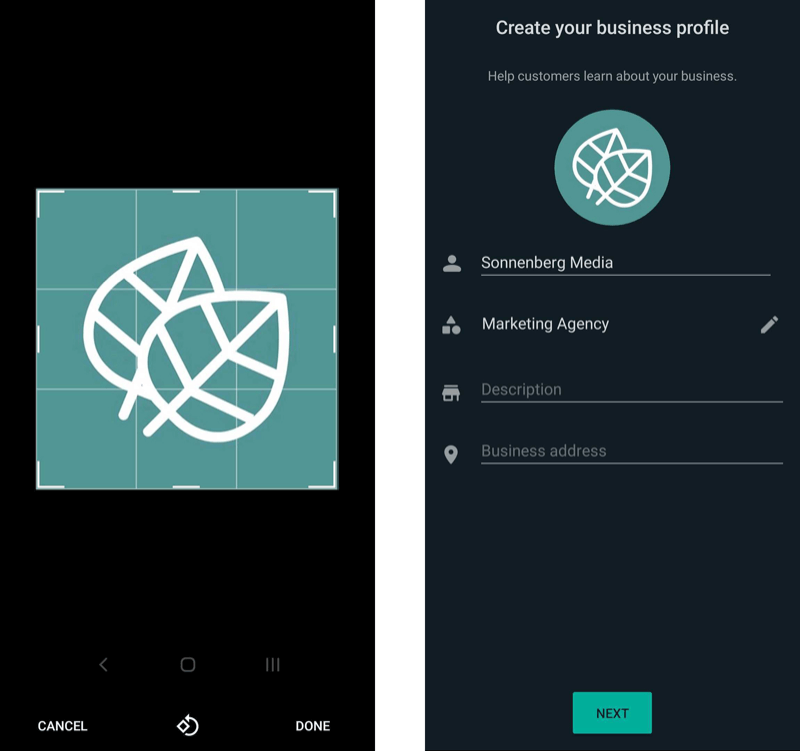 Connect Your WhatsApp to Your Facebook Business Page
Once you've set up a WhatsApp Business account, you can use it in your next Facebook ad campaign. Follow these steps to start running ads with WhatsApp.
Go to Facebook Business Manager and open your business' Facebook page. You should receive an automatic prompt to connect your WhatsApp Business account. If you don't see the prompt in Business Manager, click Page Settings and scroll down to WhatsApp.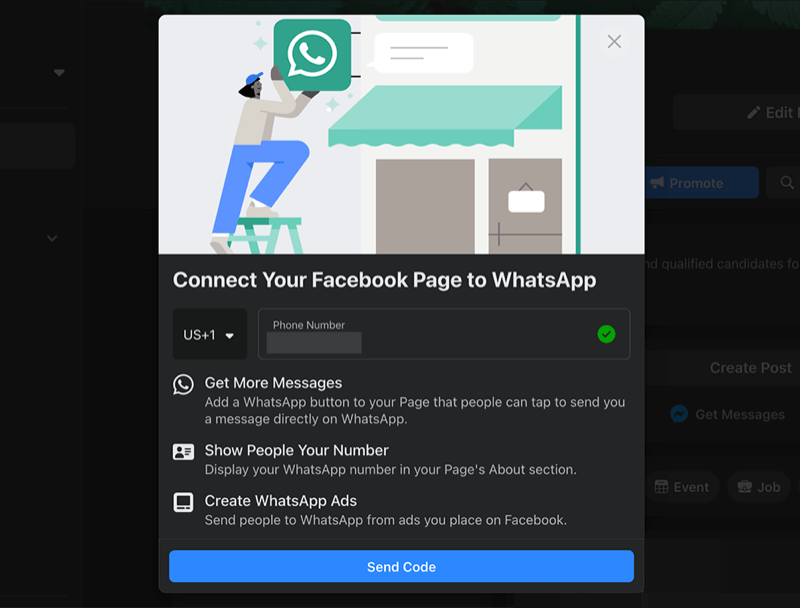 To link the two apps, confirm that you're connecting the right WhatsApp Business phone number with your Facebook page. Then click the blue Send Code button. Check your WhatsApp Business notifications and enter the five-digit code in Facebook Business Manager. Now you're ready to run ads on WhatsApp.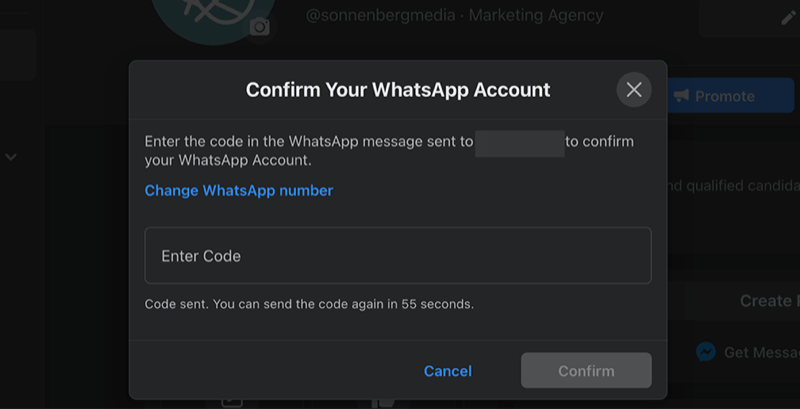 How to Set Up Your Whatsapp Ad Campaign On Facebook Ad Manager
There are two ways to run ads from Facebook on WhatsApp: create a dedicated campaign or boost an existing Facebook post. Both options are explained below.
Create a Facebook Ad Campaign
Navigate to Facebook Ads Manager and click the green Create button. Then choose the campaign objective you want to target.
Only a handful of the available campaign goals work with WhatsApp. You can choose from these objectives:
Traffic: Encourage as many people as possible to click through to your WhatsApp Business account.
Messages: Start as many new conversations as possible in WhatsApp, Messenger, and/or Instagram Direct.
Conversions: Get people to message you in WhatsApp and then track related website and app conversions.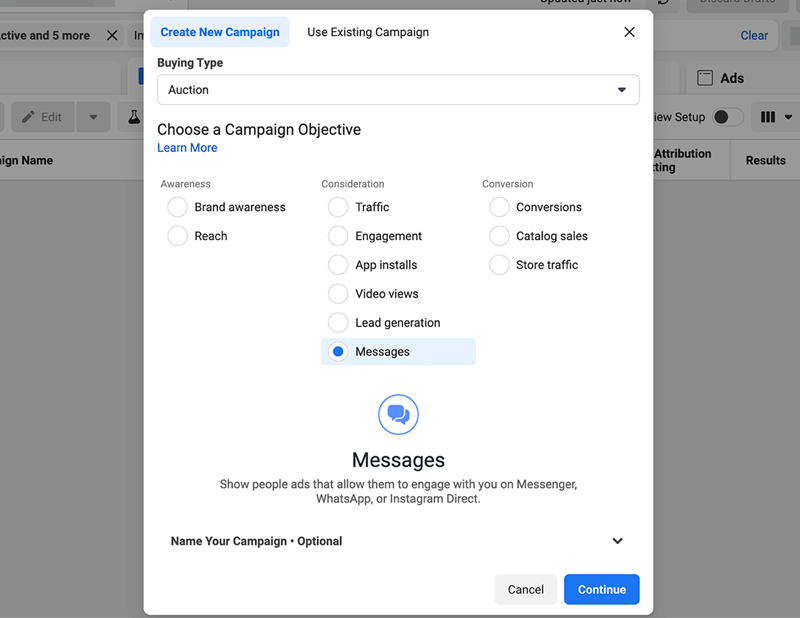 After choosing an objective, set a daily or lifetime budget for your ad campaign. Take a moment to review the available campaign bid strategies, too. Depending on the objective you selected, you may be able to choose bid strategies like:
Lowest Cost: Drives the maximum results for your budget.
Bid Cap: This lets you control your bids.
Cost Cap: Gives you bidding control while maximizing results.
Minimum Return on Ad Spend (ROAS): Ensures you get the ROAS you need.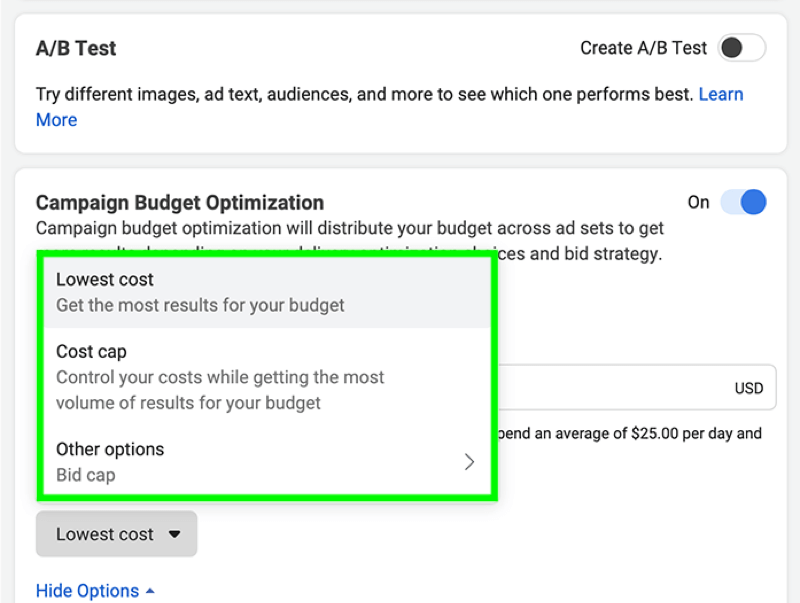 At the ad set level, choose where to send traffic, get messages, or start tracking conversions. With the Traffic and Conversions objectives, you can only choose one location per ad set so be sure to select WhatsApp.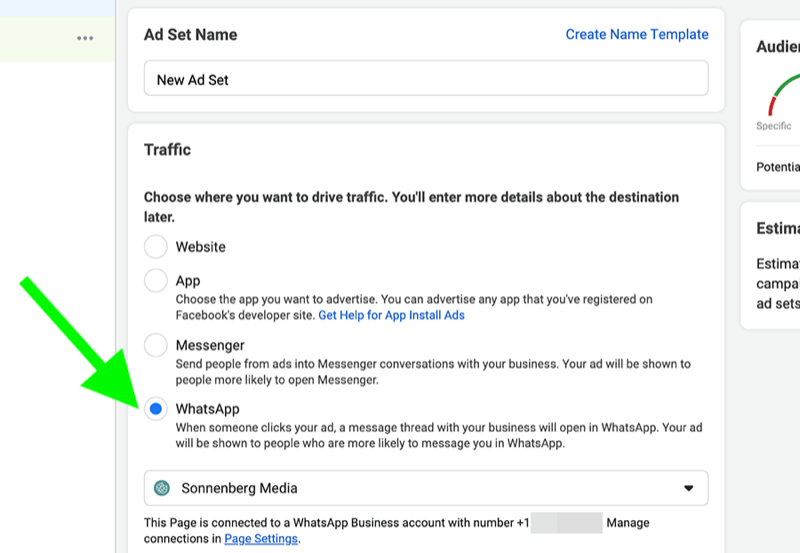 With the Messages objective, you can choose up to three destinations: WhatsApp, Messenger, and/or Instagram Direct. If you truly want to test WhatsApp's potential for your business, consider selecting this app only. If you're still working to identify the best messaging app for your audience, you may want to try out all three apps instead.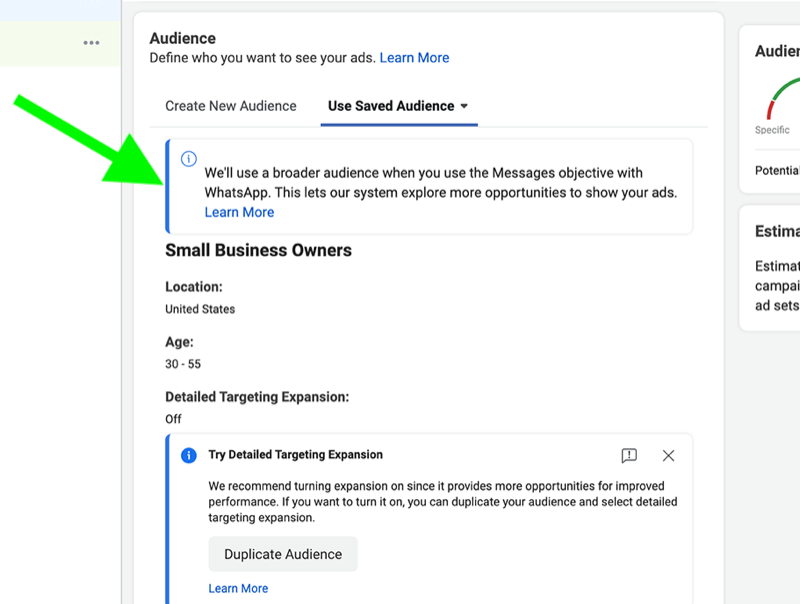 Then decide where to place your ad and create or choose your target audience. Note that WhatsApp targeting isn't as precise as other options. Facebook Ads automatically broadens your targeting parameters, making it difficult to limit delivery to a niche audience. Keep a close eye on your campaign analytics to make sure you get the results you want.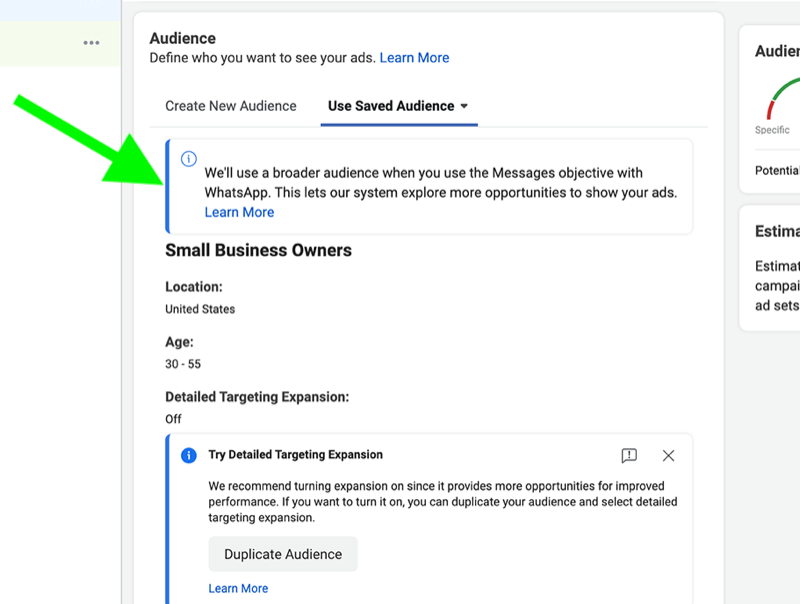 Do you want more control over where your WhatsApp ad appears? Scroll down to open Facebook's brand safety options. With these controls, you can:
Upload block lists to prevent your ad from appearing on certain domains.
Exclude it from appearing alongside certain content or topic types.
Select an inventory filter for in-stream videos and IGTV.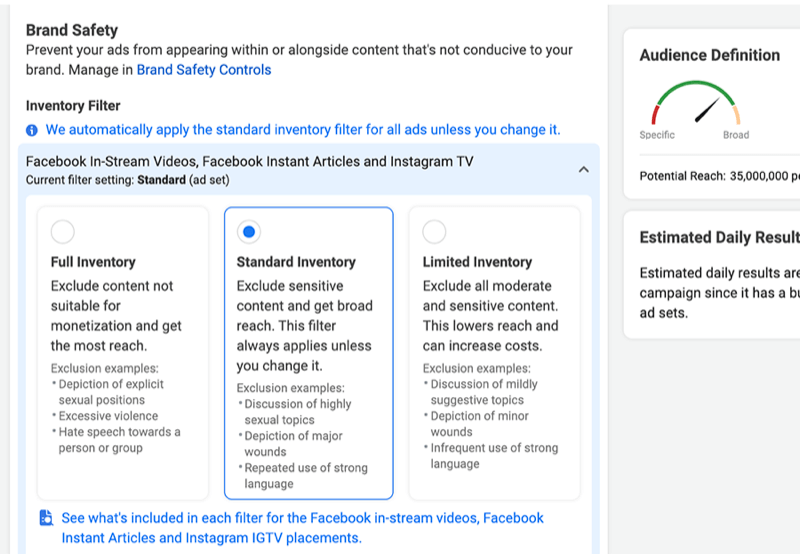 At the ad level, upload at least one image or photo and write a compelling headline, description, and primary text. If you want to put your ad copy to the test, select Optimize Text Per Person. This feature allows Facebook to shift ad text between fields. For instance, your description could appear in the primary text field to improve performance.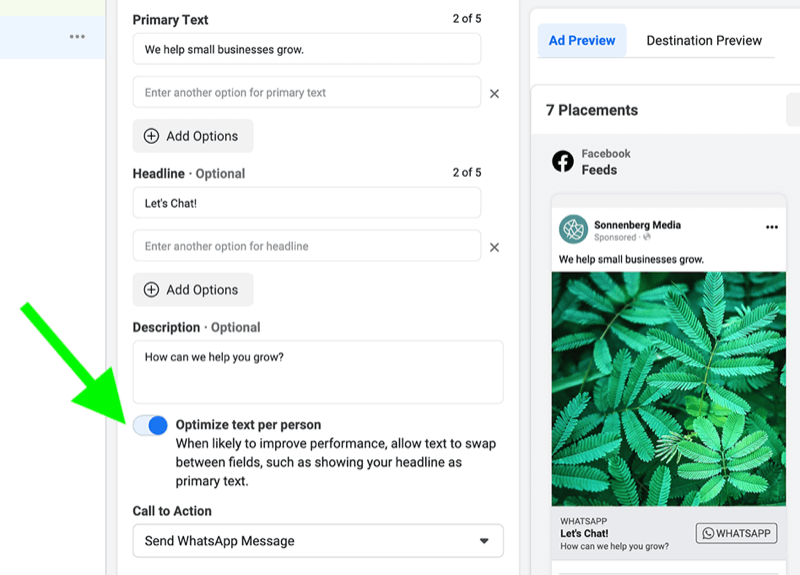 If you chose the Messages objective, take a moment to select a messaging template or create a new one. Your audience will see this template after clicking on your ad and use the prompts to start a conversation. Write a short welcome message and add a few questions that users can choose from to start chatting.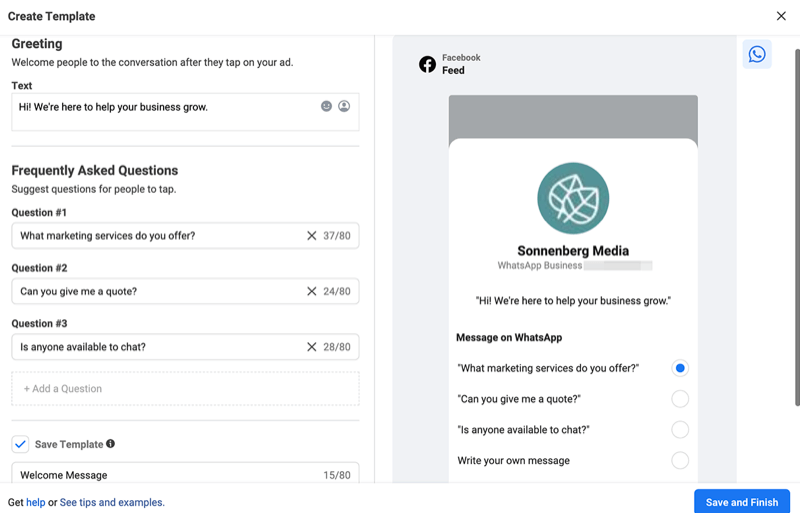 Then review the call-to-action (CTA) options for your ad. Finally, click the green Publish button to launch your campaign.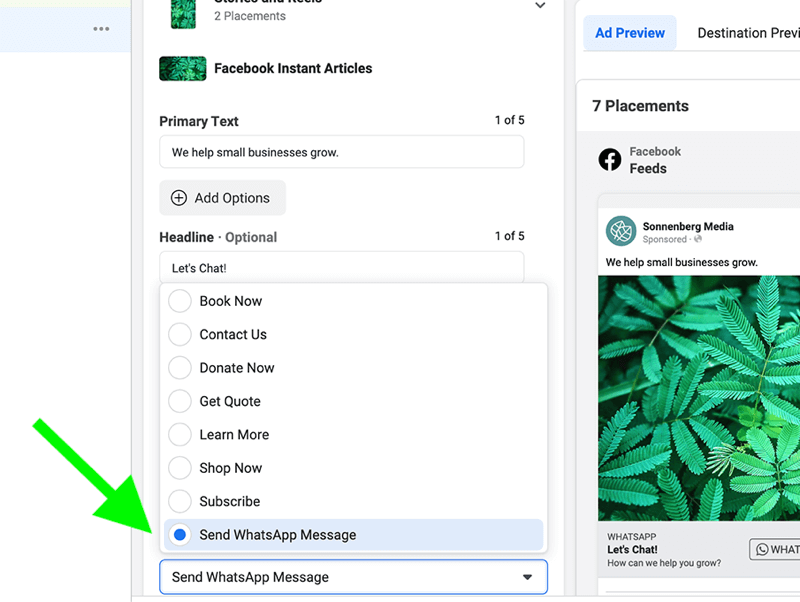 Tips To Creating Ads That Click to WhatsApp
Ads that click to WhatsApp can be placed across Facebook and Instagram (News Feed, Stories, and Marketplace) and help support business objectives across lead generation, sales, and marketing.
First things first: before creating any ads on WhatsApp, it's important that you have a clear understanding of who your target market is so that your ad campaign can be tailored accordingly. Once you know who exactly it is that you want to reach out to with your message, then it's time to start crafting the perfect ad copy! Make sure all relevant information about what services or products being offered is included in each advertisement as well as any special offers or discounts available at certain times during the month/year etc., This should be done in order to ensure maximum engagement from potential customers when they see these ads on their phones!
Next step would be deciding which type of media format best suits our needs – image-based (such as GIFs) video-based (like Boomerangs), or text-only messages? Each option comes with its own benefits depending upon what kind of content works best for our particular product/service – so make sure we choose wisely here too!
After selecting an appropriate format, now comes designing & developing creative assets such as logos & banners, etc., We need these visuals not only because they look attractive but also because they help us stand out amongst other advertisers competing against us within same space i..e; mobile advertising platforms like Whatsapp!.
Last but not least; don't forget to set up tracking links if needed – since analytics data plays a crucial role while optimizing campaigns later down the line..!!
Finally; once everything's ready just hit publish button & let those amazing WhatsApp advertisements do wonders by engaging more prospects toward business growth 🙂
Run ads across Facebook and Instagram
Connect with new and existing customers where they're already spending their time.
Reach
Find prospects with Meta ads targeting.
Geo/location
Age and gender
Custom/lookalike audiences
Engage
Engage potential customers with a variety of ad formats.
Develop
Drive better business outcomes through conversation.
Multi-product messages/reply buttons
Personalized, guided selling
Loyalty/promotions
What to know about Ads that Click to WhatsApp
Businesses can create an ad that clicks to WhatsApp directly from the WhatsApp Business App in the catalog section of the WhatsApp Business app.
The business must have at least 1 approved item in their catalog and have the WhatsApp account linked to a Facebook page.
Ads that click to WhatsApp can also be created through Meta ads manager, Facebook page, and Instagram
Get started
Ads that click to WhatsApp help support business objectives across lead generation, sales, and marketing. Get in touch to Start creating your ad today.