In the world of eCommerce, creating compelling product descriptions, titles, and other content is essential for capturing the attention of potential customers and driving sales. However, crafting engaging and persuasive content can be a time-consuming and challenging task. This is where Copysmith comes to the rescue.
What is Copysmith?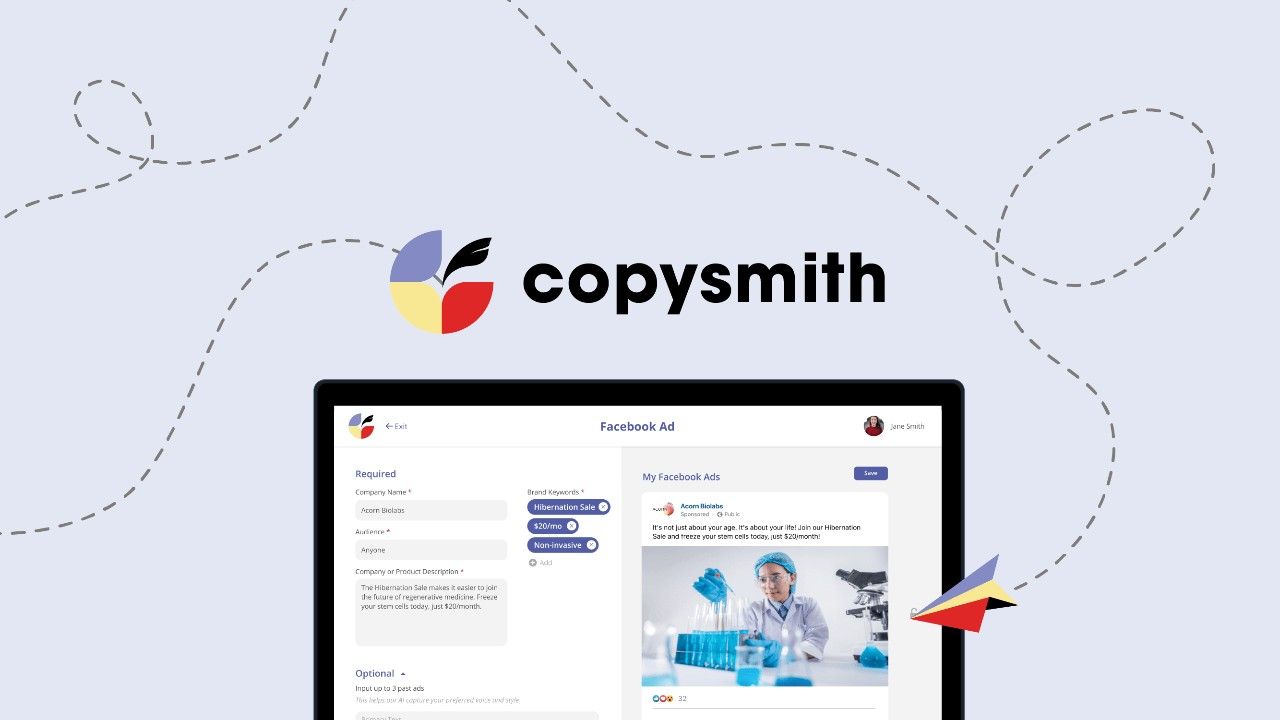 Copysmith is a powerful AI-powered product content creation software trusted by smart product and eCommerce marketers. In this blog post, we will explore the features and benefits of Copysmith, uncovering how it revolutionizes the way eCommerce professionals approach content creation.
Copysmith Review: How Does It Work
Copysmith simplifies the art of creating content by giving you an AI assistant to help with all kinds of writing. You can choose what kind of content you want by picking a template from the service. Just choose the template from the huge selection available, then type the keywords you want to include in the copy. The AI system will examine your information and transform it into copy.
The important thing to remember here is that AI can only be so accurate. For the most part, the content will be pretty good straight away, but you might need to edit the resulting content from time to time. There is an option to edit whatever you create.
You can also revise your keywords and the information you provide to the AI system if you find that you're not getting the right results.
In general, we found that we were more likely to get great results straight away using the system to create small pieces of content. However, you can get the skeleton or foundations of a good blog post with the blog post generation system too. To use this feature, you'll need to type a few opening sentences, and keywords before the system will fill your template with an accurate copy.
AI-powered Product Content Creation
Copysmith leverages the power of artificial intelligence to generate high-quality product descriptions, titles, and other eCommerce content. With its advanced natural language processing algorithms, Copysmith understands the unique characteristics and benefits of your products. By inputting basic information about your product, such as its features, specifications, and target audience, Copysmith generates compelling and persuasive content that captivates potential customers. The AI-powered software takes the guesswork out of content creation, providing you with accurate and effective copy in a fraction of the time it would take to write manually.
Time and Resource Efficiency
Creating product content manually can be a time-consuming and resource-intensive process. Copysmith streamlines the content creation process, saving you valuable time and effort. By automating the generation of product descriptions, titles, and other eCommerce content, Copysmith allows you to focus on other important aspects of your business. Whether you're launching new products or managing a large inventory, Copysmith empowers you to create high-quality content efficiently, helping you stay ahead in the competitive eCommerce landscape.
Consistent and Persuasive Copy
Maintaining a consistent and persuasive tone across your product descriptions and other eCommerce content is crucial for building trust and enticing customers. Copysmith ensures consistency in your copy by generating content that aligns with your brand's tone and style. The AI-powered software understands your target audience and crafts compelling narratives that highlight the unique selling points of your products. With Copysmith, you can create persuasive copy that resonates with your customers and drives conversions.
Versatility for Different Product Categories
Copysmith offers versatility when it comes to generating content for different product categories. Whether you sell clothing, electronics, home goods, or any other type of product, Copysmith can cater to your specific needs. The AI algorithms are trained on vast amounts of data across various industries, allowing Copysmith to adapt to different product categories and create content that speaks directly to your target audience. No matter what products you sell, Copysmith has the capability to generate accurate and compelling content that enhances your product listings.
Real-time Collaboration and Editing
Collaboration and editing are essential aspects of content creation, especially in eCommerce where multiple stakeholders may be involved. Copysmith offers real-time collaboration and editing features, allowing teams to work together seamlessly. You can easily share drafts with colleagues, make edits, and provide feedback, all within the platform. This collaborative approach enhances productivity and ensures that the final content meets the desired standards.
Copysmith Review: Pros and Cons
Pros ????
Convenient and easy to use
Simple user interface
Backs up content for you
Optimized content for SEO
Tool constantly updates to be more effective
Affordable pricing in most cases
Time-saving functionality
Good customer support
Easy content exporting
Cons ????
Credits do expire
New company with room to grow
Copysmith Review: Plans and Pricing
There are various plans you can choose from if you want a little help from Copysmith for your social media, copywriting, and content marketing strategies. Like with many software solutions, hiring your AI copywriter will cost less if you sign up for an annual subscription. Ecommerce marketers with a lot of content types to produce might consider this route.
If you want to pay on a monthly basis, you'll have four plans to choose from:
Starter: The starter plan begins at $19 per month, with 50 credits, 20 plagiarism checks, a Chrome extension, access to 35+ templates, copy in more than 60 languages, and email support.
Professional: At $59 per month, the Professional plan comes with all the features of Starter, but you get unlimited credits, 100 plagiarism checks, and 100 long form blog generations. There's also in-app chat support and third-party integrations.
Teams: $118 per month: This package supports 2 users and has all the features of Professional. You can add more users for $49 per month, and you get 500 long-form blog generations, project and file sharing, team collaboration tools, and more.
Custom: The custom enterprise plan allows users to choose the features they need, with access to things like custom templates, an account manager, account white labelling, bulk data export and import, and more.
Conclusion
Copysmith is an AI-powered product content creation software that empowers eCommerce professionals to generate compelling and persuasive copy efficiently. With its AI-driven capabilities, Copysmith streamlines the content creation process, saving time and resources. By providing consistent and persuasive copy, Copysmith helps build trust and drive conversions. The software's versatility allows it to cater to different product categories, ensuring accurate and engaging content for any eCommerce business. Embrace the power of AI with Copysmith and elevate your eCommerce content creation to new heights. Stay ahead of the competition and attract customers with compelling product descriptions, titles, and more.
FAQs
What is Copysmith used for?
Copysmith is a GPT-3 powered AI copywriter that can draft product descriptions, taglines, SEO metatags, and Instagram/Facebook/Google ad copy in the blink of an eye.
Who is the founder of Copysmith?
Jasmine Wang is the Founder & CEO of Copysmith.
Copysmith has 3 current employee profiles, including Co-Founder & CTO Anna Wang. Copysmith has 2 board members and advisors, including Matt Pru.
Where is the headquarters of Copysmith?
Copysmith is located in San Francisco, California, United States.