In the digital age, creating persuasive and compelling copy is essential for businesses to effectively communicate their brand message and drive conversions. However, crafting high-quality copy can be a time-consuming and challenging endeavor. This is where CopyGenius comes in.
What is CopyGenius?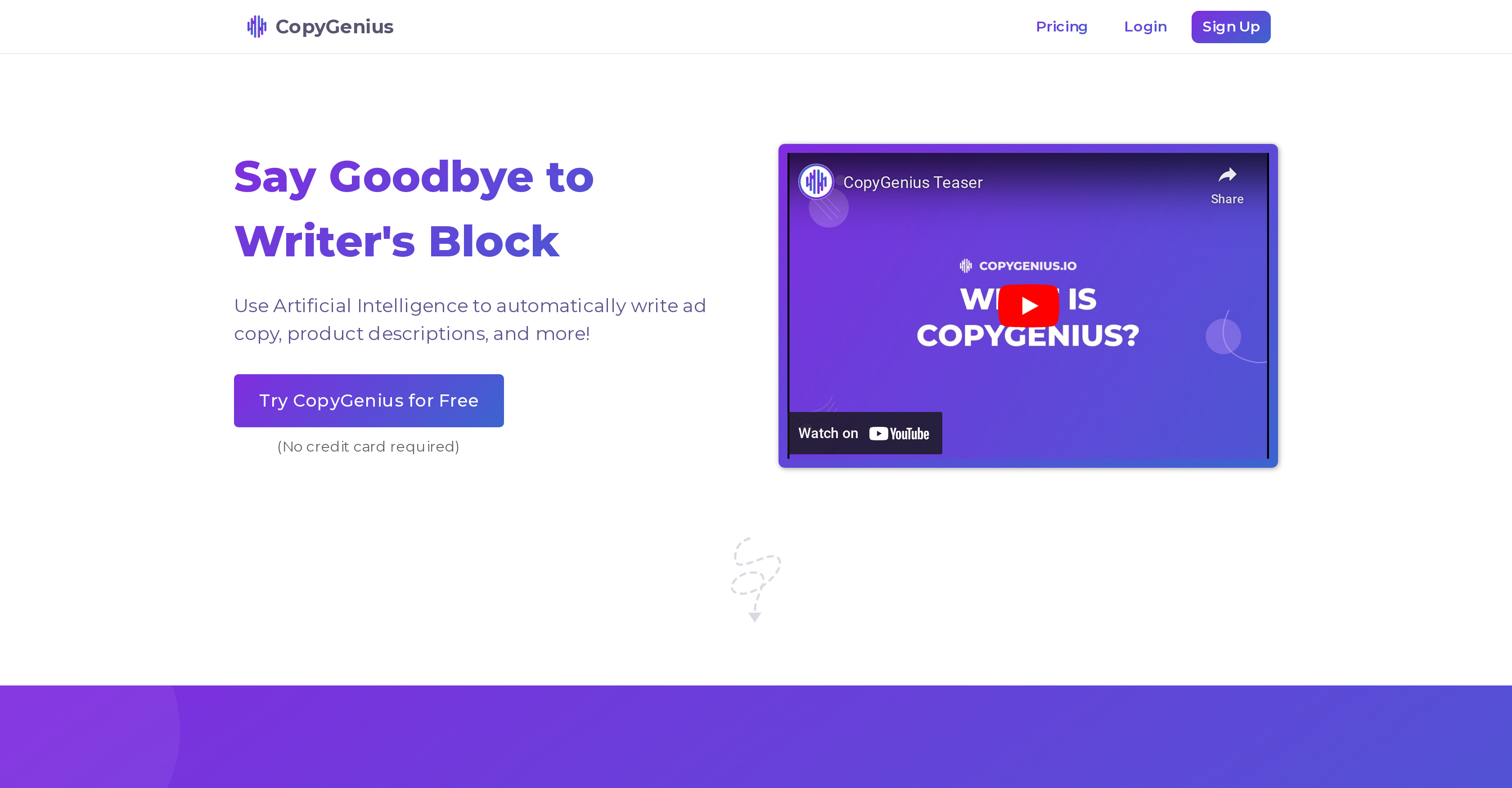 Copygenius is an innovative artificial intelligence tool designed to automate important copywriting tasks. With its advanced AI algorithms, CopyGenius empowers businesses to streamline their copywriting process, from writing product descriptions to creating high-converting ad copy and blog outlines. In this blog post, we will delve into the features and benefits of CopyGenius, exploring how it revolutionizes the way businesses approach copy automation.
HOW IT WORKS
Step 1: Select a template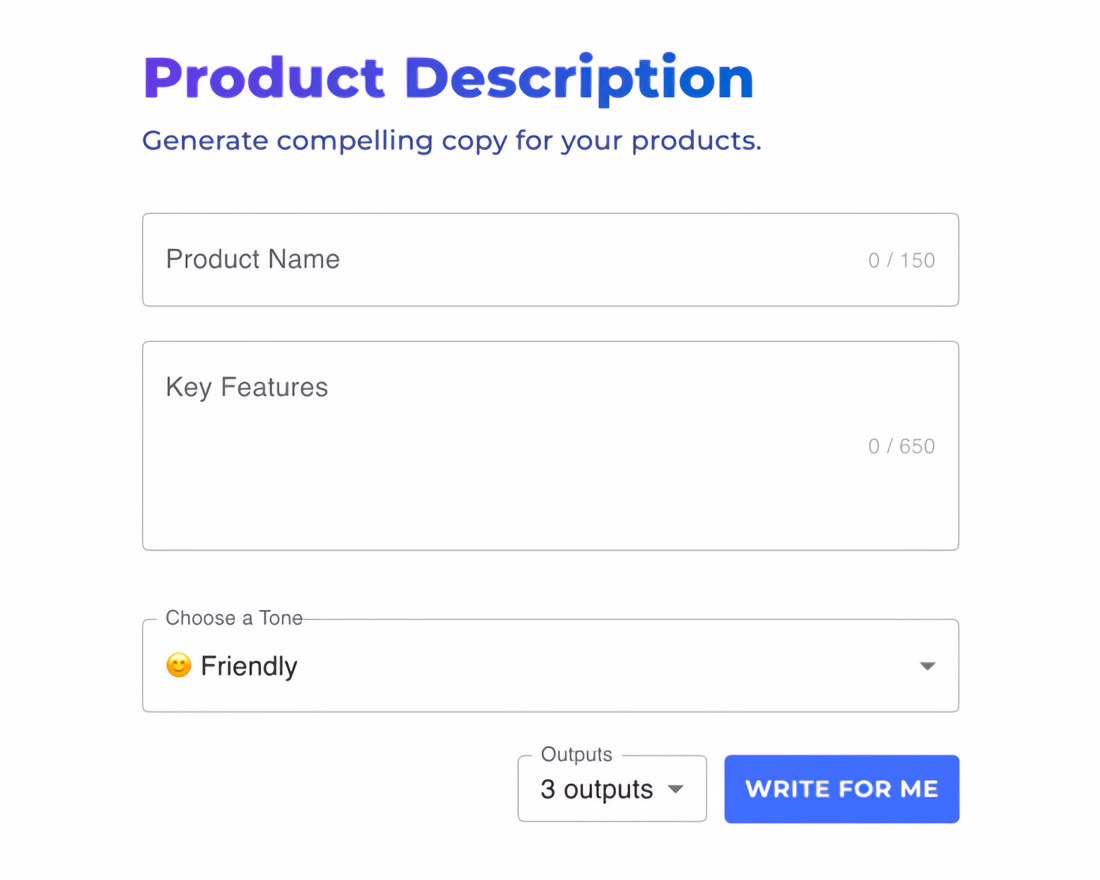 In one click, write compelling copy for descriptions, ads, articles, emails, and more!
Step 2: Provide some details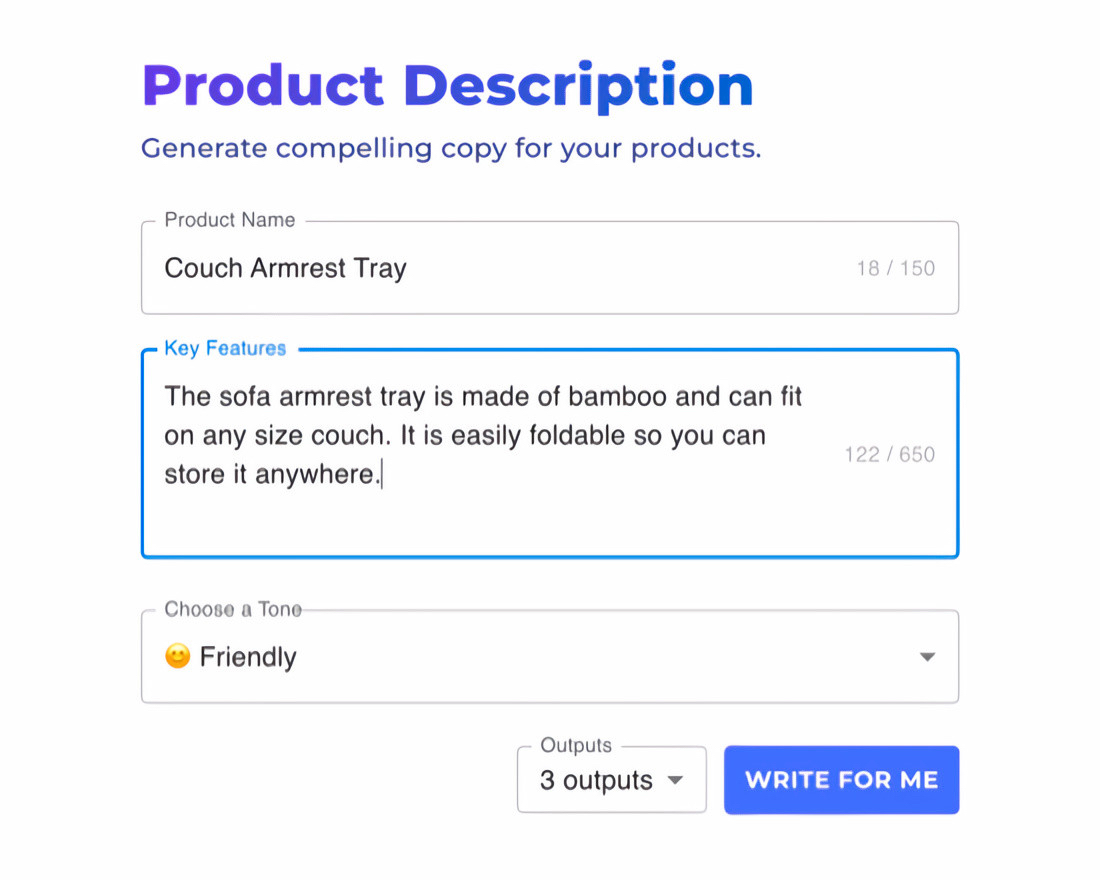 Enter a few basic details that CopyGenius will use to write your copy.
Step 3: Get the results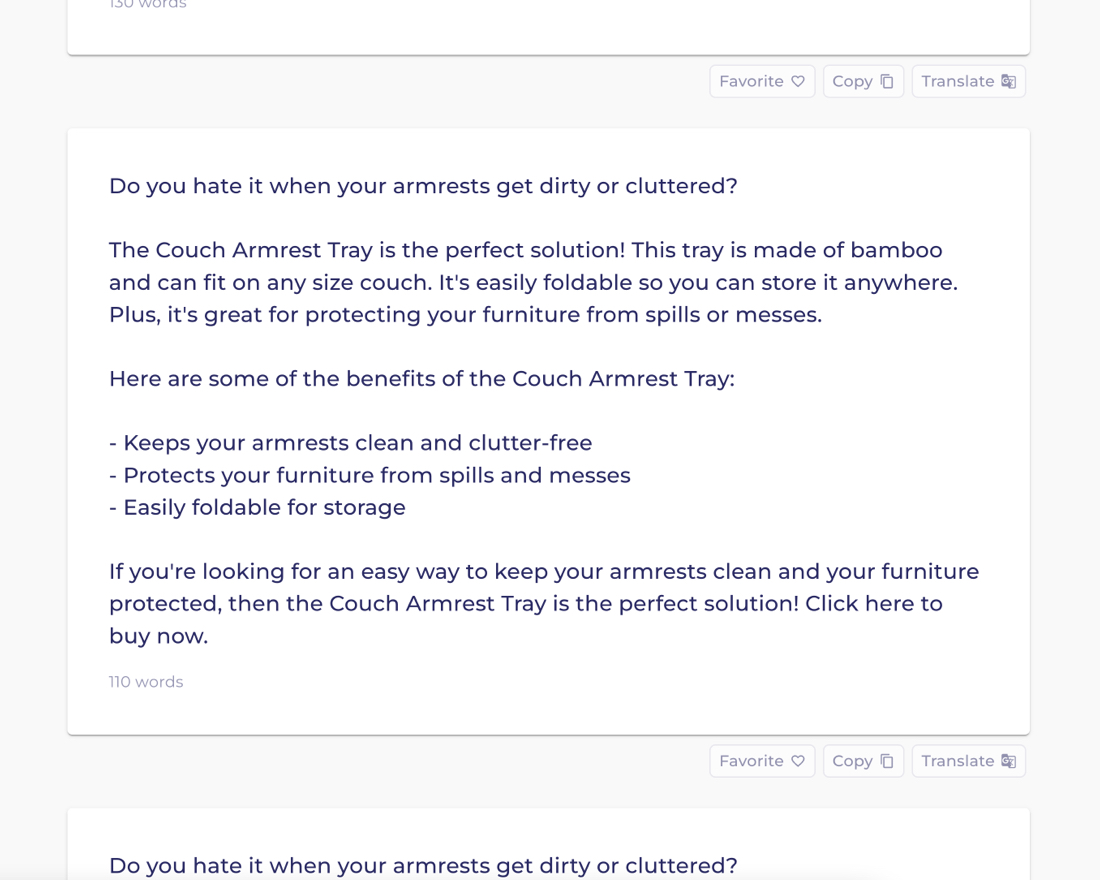 In a few seconds, copygenius A.I. will generate amazing results that you can copy, paste & publish.
AI-Powered Copywriting
CopyGenius harnesses the power of artificial intelligence to generate high-quality copy for various marketing purposes. By leveraging advanced algorithms and natural language processing capabilities, CopyGenius can understand your specific requirements and desired outcomes. Whether you need engaging product descriptions, persuasive ad copy, or well-structured blog outlines, CopyGenius can automate these tasks, saving you time and effort.
Time and Resource Savings
One of the most significant advantages of CopyGenius is the time and resource savings it offers. Copywriting can be a labor-intensive process, requiring extensive research and writing skills. With CopyGenius, businesses can automate the copywriting process, significantly reducing the time and resources spent on creating compelling content. By leveraging AI-powered automation, you can free up valuable resources to focus on other critical aspects of your business.
Consistent Quality and Tone
Maintaining consistent quality and brand voice across various copywriting tasks can be challenging. CopyGenius addresses this issue by ensuring that the generated copy maintains a consistent tone and quality. The AI algorithms are trained to understand your brand's voice and style, allowing CopyGenius to produce cohesive and on-brand copy for different marketing channels. This consistency helps strengthen your brand identity and ensures a cohesive customer experience.
Improved Conversion Rates
Effective copy is crucial for driving conversions and maximizing the impact of your marketing efforts. CopyGenius is designed to generate persuasive and high-converting copy that resonates with your target audience. By analyzing industry best practices, successful marketing campaigns, and consumer behavior data, CopyGenius can generate copy that is optimized for conversion. Leveraging the power of AI, CopyGenius helps businesses craft compelling messages that motivate their audience to take action.
Versatile Copy Automation
CopyGenius offers versatility in automating various copywriting tasks. Whether you need short and impactful ad copy, informative product descriptions, engaging blog outlines, or attention-grabbing headlines, CopyGenius can handle it all. The AI-powered tool is trained on vast amounts of data, allowing it to adapt to different writing styles, tones, and formats, ensuring that the generated copy meets your specific needs.
User-Friendly Interface
CopyGenius features a user-friendly interface that simplifies the copy automation process. With clear instructions and an intuitive design, the platform makes it easy for users to generate copy effortlessly. Whether you are an experienced marketer or a novice in the world of copywriting, CopyGenius provides a user-friendly experience that streamlines the copy automation process.
CopyGenius Review: Pros & Cons
CopyGenius Pros
Cost: CopyGenius's unlimited plan caps at $79/month, whereas other AI copywriting tools can cost $600+ for unlimited words.
Numerous Templates: They have tons of unique and genuinely valuable templates for E-commerce and other businesses such as YouTube, email, and blogs.
Genius Editor Tool: This tool unleashes the full potential of their AI. You can write anything much faster and more efficiently with this tool.
CopyGenius Cons
Not Perfect: You'll still have to manually make changes for longer form templates because the results aren't perfect.
CopyGenius Pricing
CopyGenius pricing is straightforward. The more words you want to write, the more you'll have to pay. There are 4 tiers, starting with the Free Plan.
Free Plan – $0
500 Word Trial
Unlimited Logins
100+ Languages
Starter Plan – $19
40,000 Monthly Word Limit
Unlimited Logins
100+ Languages
Genius Editor Tool
Newest Features
Premium Plan – $39
120,000 Monthly Word Limit
Unlimited Logins
100+ Languages
Genius Editor Tool
Newest Features
Unlimited Plan – $79
UNLIMITED Monthly Word Limit
1 User Seat
100+ Languages
Genius Editor Tool
Newest Features
How To Get Started With the CopyGenius Premium Plan?
The CopyGenius Premium plan, which costs $39 per month, can be accessed in the following 5 steps!
Step 1: Click here to get to the CopyGenius.io platform's official home page. Please familiarise yourself with each function and try to understand how you may use it efficiently.
Step 2: Select the Premium plan, and CopyGenius will ask you to create a new account or you can use your existing CopyGenius account.
Enter your email address, choose a password, and then click the Sign-Up button to register for a new account.
Step 3: Enter your credit card information, first and last name, email address, and billing information here. All relevant fields must be filled out!
Commonly, CopyGenius offers three payment options such as PayPal, Stripe, Credit card, and Debit card.
So, I'm adding my card to get started with the Premium plan! It requests payment information (credit card or Paypal), which may annoy some users but is required to prevent spam.
After entering all of the necessary information, click the Subscribe button!
Congratulations! You've been successful in purchasing CopyGenius' Premium package. Use this strategy carefully to comprehend this AI-powered article-creating tool.
CopyGenius Review Conclusion
CopyGenius is an AI-powered copy automation tool that empowers businesses to streamline their copywriting processes and drive better results. With its AI-driven copy generation, time and resource savings, consistent quality and tone, improved conversion rates, versatile copy automation, and user-friendly interface, CopyGenius revolutionizes the way businesses approach copy automation.
Embrace the power of AI and unlock your copywriting potential with CopyGenius. Elevate your marketing efforts with persuasive, high-quality copy that captivates your audience and drives conversions in the digital landscape.
CopyGenius Review: FAQ
Is CopyGenius legit?
Yes. CopyGenius is legit and safe to use.
Is there a CopyGenius free trial?
Yes. You are given 500 words on their Free Plan to test their artificial intelligence.
How much does CopyGenius cost?
CopyGenius's pricing is pretty reasonable, with their most expensive plan being $79/month (unlimited writing.)
Is CopyGenius hard to use?
Not at all! It's easy to use, even for people who are not technically savvy.
Is CopyGenius only for E-commerce?
No. While they have tons of templates for an e-commerce store, their AI can be used for any business needing writing.