Content creation is an essential aspect of digital marketing and communication strategies. However, crafting high-quality content can be time-consuming and resource-intensive. This is where Rytr comes into play.
What is Rytr?
Rytr is an AI writing assistant designed to streamline the content creation process. With its advanced algorithms and natural language processing capabilities, Rytr helps users create compelling and engaging content in a matter of seconds, and at a fraction of the cost. In this blog post, we will delve into the features and benefits of Rytr, exploring how it revolutionizes the way we approach content creation.
Getting Started with Rytr
Language
Rytr supports 30+ languages:
Arabica, Chinese, Czech, Danish, Dutch, English, Finnish, French, German, Greek, Hebrew, Hindi, Indonesian, Italian, Japanese, Korean, Norwegian, Polish, Portuguese, Romanian, Russian, Spanish, Swedish, Tha, Turkish, etc.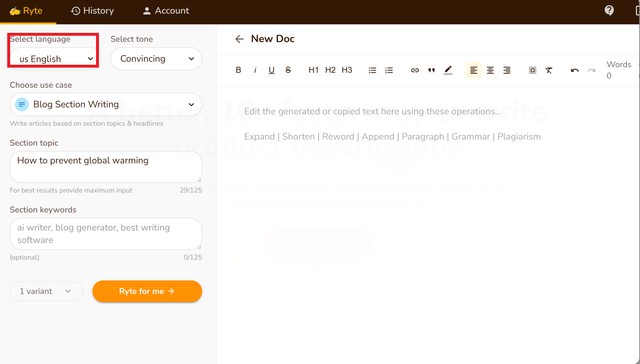 The language has to be selected from the 'Select Language' drop-down list which will appear on the left side of the Rytr screen.
Unlike other similar tools, rytr has a proprietary approach for supporting multiple languages that are not dependent on GPT3 limitations, allowing it to deliver a much better quality of output. 
Rytr is adding new languages regularly.
Tone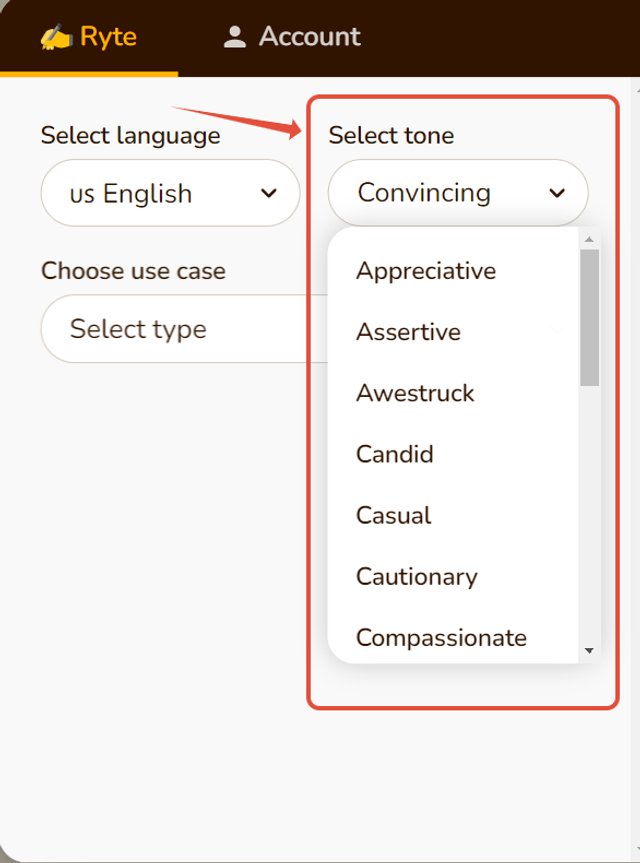 As a user, you have 18+ tones you can select from (convincing, awestruck, inspirational, etc.) to add personality to your content.
It can be selected from a drop-down list next to the languages screen. To understand more about what Tone of Voice is and how it can be used check out our article on the Importance of Tone in Content Marketing.
Here are a couple of examples using different tones: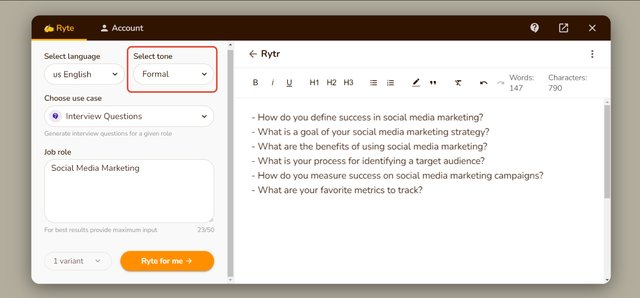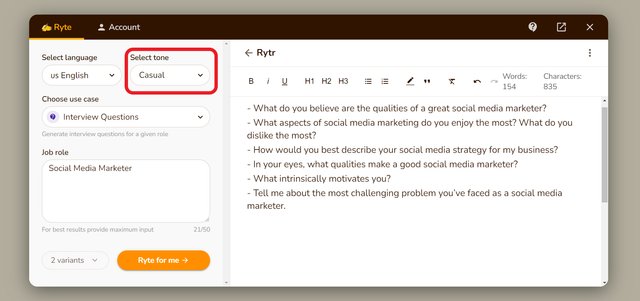 Effortless Content Generation
Rytr simplifies the content creation process by providing users with an effortless way to generate high-quality content. Whether you need blog posts, social media captions, email newsletters, or product descriptions, Rytr can assist you in crafting killer content with ease. By simply inputting a few details and guidelines, Rytr's AI engine generates well-written content that aligns with your desired tone, style, and message. This feature saves you valuable time and resources, allowing you to focus on other crucial aspects of your business.
Versatile Writing Styles
One of the standout features of Rytr is its ability to mimic various writing styles. Whether you're looking for a formal and professional tone or a conversational and friendly approach, Rytr has got you covered. The AI assistant can adapt to different writing styles, ensuring that the generated content resonates with your target audience. This versatility makes Rytr a valuable tool for individuals and businesses across different industries and niches.
Enhanced Creativity and Inspiration
Rytr serves as more than just an AI assistant; it can also inspire creativity and generate fresh ideas. By providing users with multiple suggestions and variations, Rytr expands your thought process and triggers new perspectives. You can use these prompts to spark creativity, overcome writer's block, or explore unique angles for your content. With Rytr by your side, you can tap into a vast well of ideas and inspiration.
Cost-Effective Solution
Hiring professional writers or outsourcing content creation can be expensive, especially for individuals and small businesses operating on a tight budget. Rytr offers a cost-effective alternative that allows you to create high-quality content without breaking the bank. With its affordable subscription plans, Rytr provides access to a powerful AI writing assistant that can produce engaging and polished content at a fraction of the cost of traditional writing services.
Grammar and Language Support
Content that contains grammatical errors or awkward phrasing can damage your brand's reputation and credibility. Rytr addresses this concern by ensuring that the generated content is grammatically correct and flows naturally. It offers real-time grammar and language support, alerting you to any potential errors or inconsistencies. This feature allows you to confidently produce error-free content that captivates your audience and enhances your brand image.
Privacy and Security
Rytr places a strong emphasis on privacy and security. All user data and content generated through the platform are treated with the utmost confidentiality. Your information and content remain secure, protecting your intellectual property and ensuring peace of mind.
Rytr Use Cases
Rytr supports 20+ use cases already and new ones are added regularly.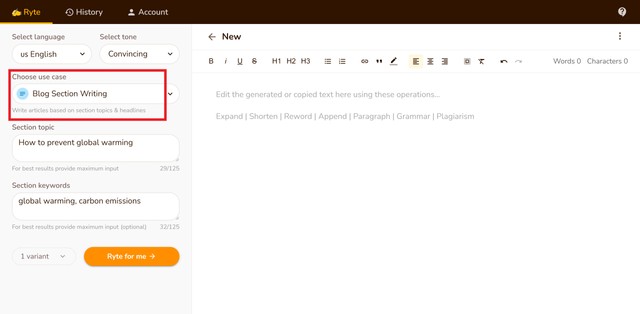 Once you select a use case, you will see a caption under each use case to understand what each use case is for. Please read these captions to get a better idea.
Here is an example:

Input
Each use case offers an input field where the user is expected to type some text to give some context to the AI. Small and informative phrases / key points to the AI tool will act as a hint and helps the tool understand your needs efficiently.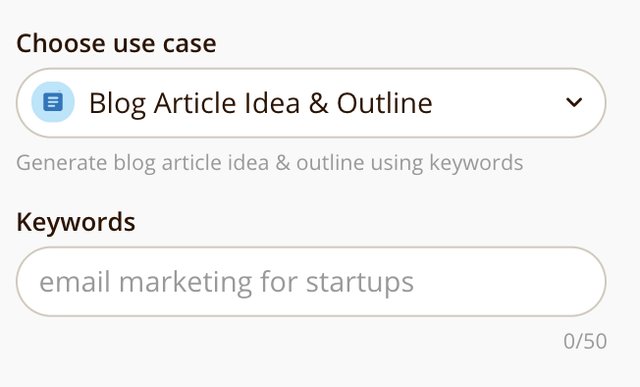 ????Useful tips
Follow the format shown in the placeholder text  
Placeholder text gives you an idea about the kind of text you should provide to get the best results from the AI.
Follow the suggested character limit 
The input text has a character limit that ranges from 25-200 characters depending on the use case selected by you. Please provide as much input as you can to get specific and high-quality results.
The limit is there to comply with OpenAI guidelines but we'll keep fine-tuning/optimizing it based on usage patterns.
Incomplete or strange phrases  
Try to avoid giving short, incomplete, or wrongly punctuated phrases such as:
– "email marketing for"
– "best software in marketing,"
– "support"
Variants
You can select the number of variants you want in your output.
At any given point, you can generate a maximum number of 3 variants. It is recommended that more than 1 variant should be used in cases where more creativity or ideas are required such as blog ideas, taglines, video ideas, ad copies, etc.
Choosing the right set of variants is essential for streamlining your work and keeping things organized.
Even though this is a free-flowing AI tool, the less cluttered it is, it is easier for you as a user to locate and work on the content that is needed.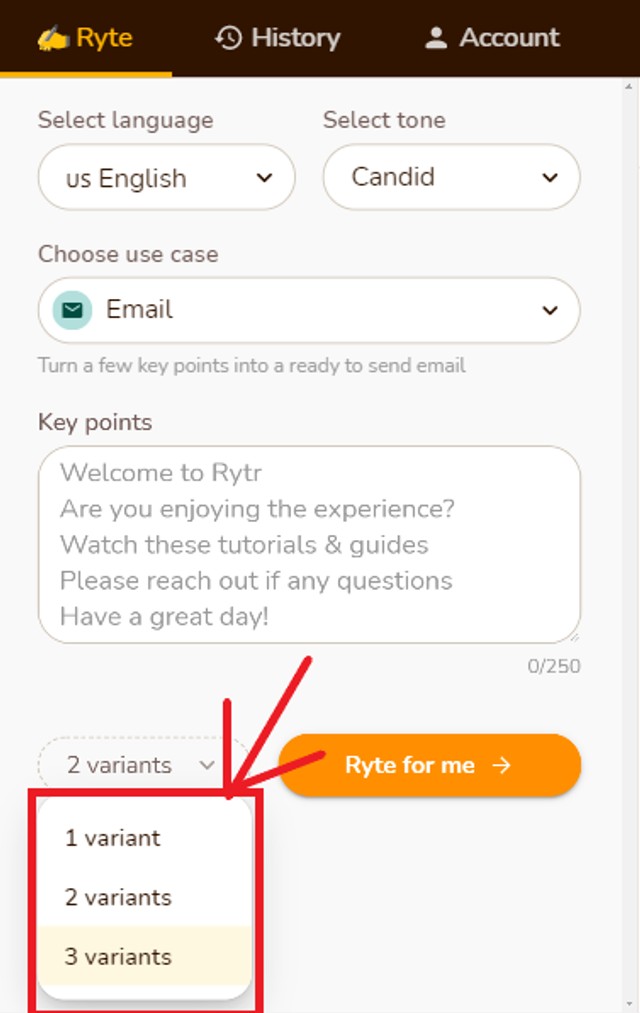 Creativity Level
You can select the creativity level of your text from our menu of 6 options ranging from 'no creativity' to 'maximum creativity' (applicable to all use cases). This function gives Rytr more power to control the kind of text our AI is generating. Please note that if you're opting for 'max creativity', you might want to spend some time tweaking the factual accuracies of your generated text.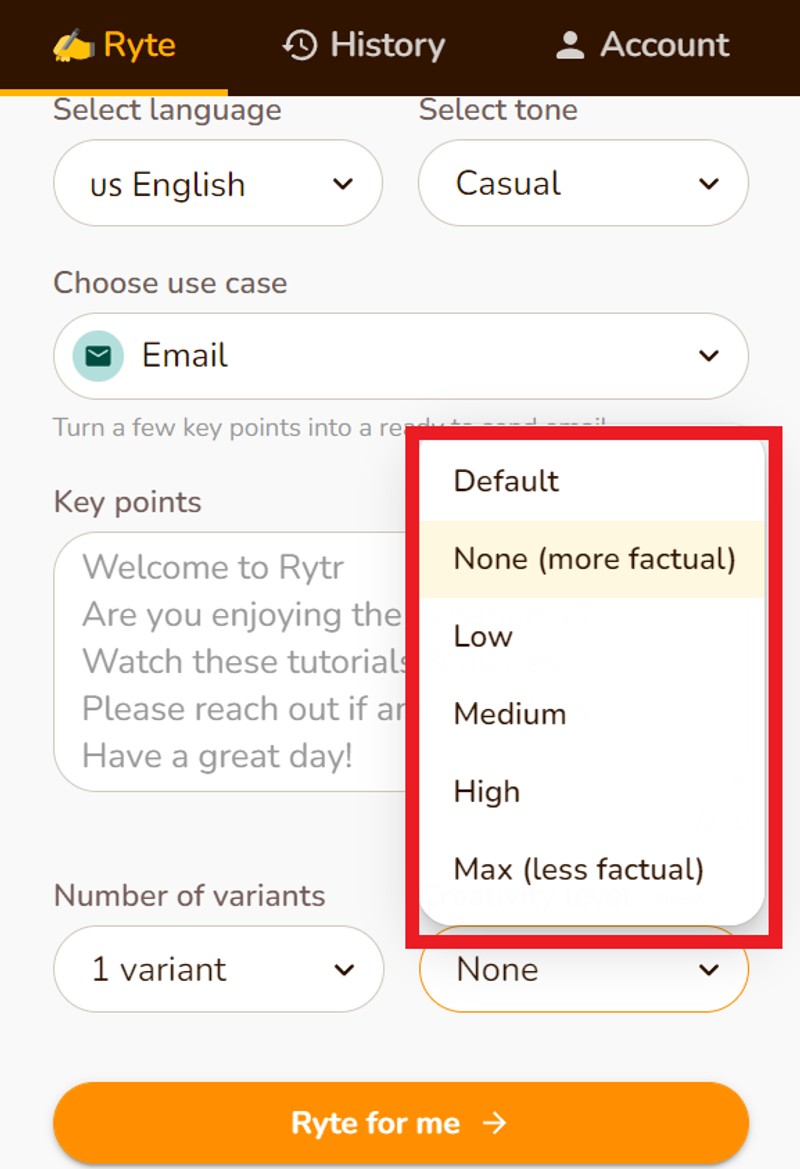 Let's understand the variations with an example:
– Here we have selected 'none' in the creativity level and can find AI talking about veganism in a pretty straightforward way with maximum factual accuracy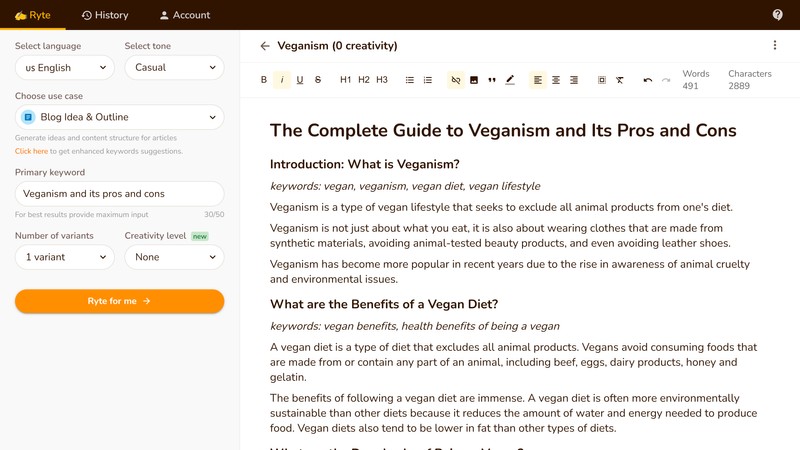 -Here we have selected 'max' in the creativity level and we can see that while the text looks creative, there are a few inaccuracies here n there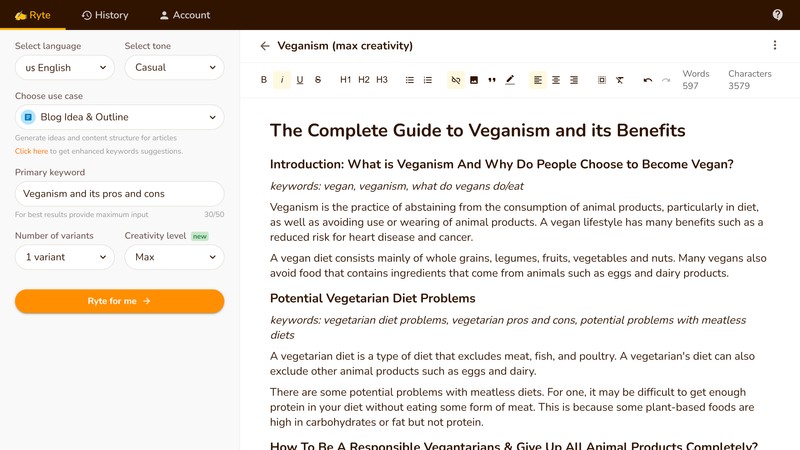 Output
Once you click "Ryte for me" the AI will take your inputs and do its magic.
Within a few seconds, you'll see the output results in the right-hand side editing panel.
Each variant is demarcated with the "—" symbol.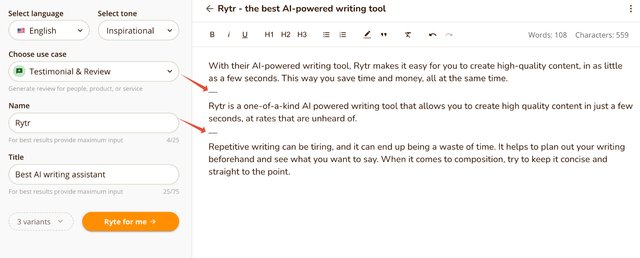 The output appears in the blank document on the right, and it is ready for changes within the same document.
If you are not happy with your results – maybe there are blank outputs, repetitive phrases, or just sub-optimal results – you can always click the orange button that now says "Ryte more" to generate more results.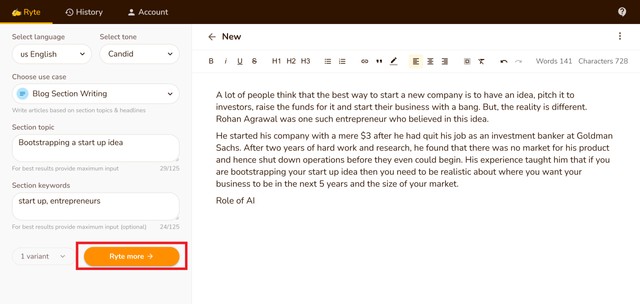 When you select Ryte more the content is added at the cursor's last position, so be careful where you place the cursor. If you wish to append text in the middle of the sentence, place your cursor there. Similarly, if you want it at the start or end, change the cursor position accordingly.
You can also tweak your input text (for example, change your key points) or modify the tone settings a little bit to get desired results. You'll be surprised by the quality of results you'll see using a combination of different input text and tones.
Rytr Pricing: Flexible And Affordable
Rytr has three plans you can choose from: 
The free plan may look like a great AI writer on a budget, but it's not. You get a very small limit on the characters you can generate, which comes down to about 800-1000 words.
So really, the free plan is just a trial.

The starter plan isn't perfect either. For $9/month you only get around 10.000 words. Much better, of course. But still not enough if you want to justify using an AI writing tool.
You need to understand, this thing takes some time to master.
If you want to create your own custom use cases, generate creative content, and really take it for a ride, you'll need to pump out a lot of content.
So the most expensive plan is really the only viable option if you want to invest in Rytr. Simply because it lets you generate unlimited characters.
Not to mention, it's extremely affordable, at only $29/month. Much less than what you'll spend on Rytr's competition.
Conclusion
Rytr has emerged as a powerful AI writing assistant, revolutionizing the way we approach content creation. With its effortless content generation, versatile writing styles, and enhanced creativity features, Rytr simplifies the process of crafting high-quality content. Moreover, it offers a cost-effective solution for individuals and businesses looking to optimize their content creation process.
Whether you're a blogger, marketer, or small business owner, Rytr is a tool that can save you time, money, and resources while elevating the quality of your content. Embrace the power of AI and unlock your content creation potential with Rytr.