TubeBuddy is an essential tool for anyone looking to grow their YouTube channel. It is easy to use and provides a wealth of features that can help you improve your videos and grow your audience. I highly recommend using TubeBuddy to take your YouTube channel to the next level.
What is TubeBuddy?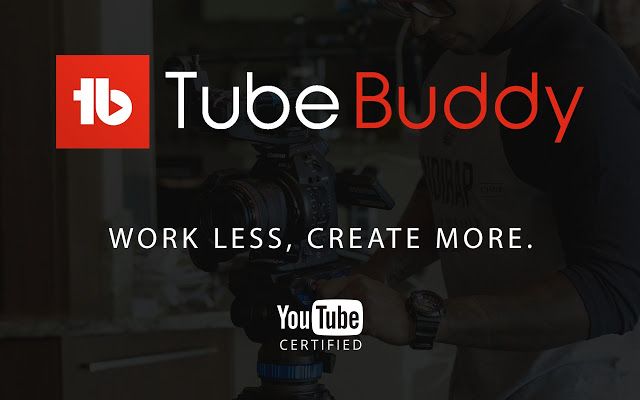 TubeBuddy, built for YouTube, is a video management software that helps businesses create, run, and optimize channels via keyword research, search result rank tracking, thumbnail generation, and more. It lets staff members schedule the date and time to automatically publish videos as well as update processes across public channels and specific playlists.
Built for YouTube creators, TubeBuddy is a video marketing and management solution with tools for publishing and promoting videos on YouTube. The platform helps managers create embed codes for adding playlists, respond to comments in bulk, identify comments from new subscribers, and add emoticons to descriptions or titles using a unified dashboard. The system also enables administrators to plan topics and schedule videos to be published and removed or hidden from the playlist in the future. Learn more about TubeBuddy
TubeBuddy Review: TubeBuddy Features
Works Inside YouTube – TubeBuddy adds a menu inside of your YouTube account for easy access.
Tag Explorer – Find the best & most popular tags for your videos.
Publish to Facebook – Automatically publish your videos as native Facebook videos.
A/B Testing – A/B test titles, descriptions, tags, and thumbnails.
Best Time to Publish – Automatically find the best time to publish videos for your specific audience.
GIF Generator – Automatically create a GIF for a specific portion of your video.
Brand Alerts – Get notified whenever someone mentions your channel.
Competitor Scorecard – Keep an eye on your competition.
Description Promotion – Promote one of your videos in the descriptions of all your other videos.
Lots more – TubeBuddy seriously has too many features to list.
TubeBuddy's video SEO tools let employers track search engine ranking, find keywords based on Google trends, create video tags, and conduct A/B testing to identify high-performing titles, descriptions, or tags. It also lets users automatically receive alerts on competitor video uploads and product review uploads.
TubeBuddy's video topic planner enables team members to create and track idea topics and descriptions based on suggestions from co-workers and audience members. Administrators can create a video upload checklist to define processes and ensure consistency across the channel. The comment management tool allows users to highlight Patreon supporters or recent subscribers and reply using bold, italic, or strikethrough text formats. The promotion tool allows marketing professionals to track milestones, run contests, and publish content across social media platforms such as Facebook and Twitter. With the health report tool, users can track traffic scores and monitor channel performance based on a number of views, subscribers, and overall engagement.
How to Get started with Tubebuddy
Here I'll show you how to install the TubeBuddy Google Chrome extension. They also have a Firefox extension. The process should be fairly similar for both browsers.
First, you need to go to the TubeBuddy website.
Create an account on TubeBuddy
Click on the "INSTALL FREE ON CHROME" button:
That will take you to the Google Chrome extension site.
On this page, click on "ADD TO CHROME":
You should now see a new TubeBuddy icon in the top right of your screen:
Now, you need to go to YouTube. If your YouTube channel isn't linked properly, you might see this warning:
If you do, TubeBuddy will guide you through the process of linking your account.
Once your channel is properly linked, you should see a new TubeBuddy drop-down panel when you go to YouTube:
This panel adds lots of new powerful features to YouTube. I'll go through some of the most popular features…
Tag Explorer – Make your YouTube videos Rank higher
You probably know how important the Google Keyword Planner tool is for traditional SEO. Well, Tag Explorer brings that same power to YouTube. It lets you research to find the absolute best tags to add to your videos.
YouTube tags are an important part of ranking your YouTube videos, so being able to quickly find the best tags is a huge advantage and will directly lead to more views.
To access Tag Explorer, all you need to do is click on your TubeBuddy icon. Then select "Tag Explorer":
Enter one of your main keywords and TubeBuddy will do all the work to give you the best-related tags:
Publish to Facebook – Take Advantage of Native Facebook Videos
TubeBuddy makes it simple to publish your video to Facebook. But the best part of this feature is that TubeBuddy shares your video as a native Facebook video, not a YouTube video.
This gives you all the benefits of native Facebook videos, most notably auto-playing.
It's also incredibly easy to publish a video on Facebook. All you need to do is click on the "Bulk" button and select "Bulk Publish To Facebook":
A/B Testing – Find the Best Title, etc.
Another powerful optimization tool included in TubeBuddy is A/B testing. You can use the same A/B testing principles you implement on your website to also maximize your YouTube views:
You can A/B test video titles, tags, descriptions, and thumbnails to find the most effective options for your videos. That means more views and ad revenue for your channel.
Best Time to Publish – Maximize Your Views
When you publish a new video, you should always try to schedule it for the time when most of your viewers are online. With TubeBuddy, you don't have to try to guess what time that is.
TubeBuddy will tell you the exact days and hours when you should publish your videos:
By publishing your videos at the right time, you'll maximize the number of views you get on a new video.
Brand Alerts – Find Out When You Get Mentioned on YouTube
You can easily set up alerts about you or your competitors so you can stay on top of all the mentions going on. By setting up alerts, you can take advantage of the times when people mention your channel, or you can get ahead of your competition.
Tracking YouTube mentions is just as important as tracking any other social media mention.
TubeBuddy Review: TubeBuddy Pricing
TubeBuddy Pricing details
TubeBuddy is available for free and across three more pricing plans, outlined below.
Pro: $9/month (billed monthly) or $7.20/month (billed annually)
Star: $19/month (billed monthly) or $15.20/month (billed annually)
Legend: $49/month (billed monthly) or $39.20/month (billed annually)
TubeBuddy offers four different pricing tiers. They have a free version with some limited features, as well as three different premium plans. TubeBuddy is definitely worth the investment and depending on your level of vlogging, you should pick the plan which is suitable for you.
The free plan is missing out on some key features like Facebook publishing and bulk processing. Its version of the Tag Explorer is also limited, which makes it less effective for YouTube SEO.
Still, it's a good option if you're just starting your YouTube channel.
If you already have a popular channel, you'll get more value from one of the premium plans. These plans will give you a better Tag Explorer, bulk processing tools to quickly manage all of your videos, and lots more, depending on the specific plan that you choose.
If you want to save money on one of the premium plans, I have a TubeBuddy coupon code that will save you 25% on your purchase.
TubeBuddy Review: Pros And Cons
Pros
Keyword research
Keyword Tracking
Free Plan
Add YouTube Tags conveniently
Get paid plans for free (Eligible channels)
Cons
Keyword rank checker available in higher plans
VidIQ vs TubeBuddy: Which is Best and Why?
TubeBuddy and VidIQ are both fantastic and efficient channel management toolkits, but are they really that different? We'll be comparing TubeBuddy vs VidIQ, to ultimately help you decide which is the best solution for you.
Both VidIQ and TubeBuddy are excellent tools for YouTube channel growth management, but Tubebuddy stands out with more useful features (over 60 vs 25) and a more affordable pricing plan for all tiers. The only area where VidIQ stands out is for in-depth channel analytics and revenue tracking.
Main Differences Between VidIQ vs TubeBuddy
The main difference between VidIQ and TubeBuddy is:
TubeBuddy is available as a Chrome extension, Firefox, and Safari browser extensions, while VidIQ extension is only available for Chrome browser extensions
TubeBuddy provides more advanced analytics and data, whereas VidIQ's analytics are more basic
VidIQ's paid plans start at a lower price point of $7.50 per month, whereas TubeBuddy starts at $9 per month
My Final Thoughts: TubeBuddy review
TubeBuddy is one of the most popular YouTube tools for a good reason. It's packed with powerful features to help you manage and grow your YouTube account. It's also incredibly easy to use because everything is integrated into your existing YouTube dashboard.
What do you think of TubeBuddy? Let me know your experiences in the comments below!
Did you like this TubeBuddy review? Share it with your friends on Facebook, Twitter, and YouTube!
Need Help Setting Up And Optimizing Your Youtube Channel?
I Can Help
If you're like most people, you've probably watched a YouTube video or two in your lifetime. But have you ever thought about creating your own channel? It's actually not as difficult as you might think, and I can help!
There are a few things you need to do to get started: first, create a Google account if you don't already have one. Then go to www.youtube.com and click on the "Create a new channel" button. You'll be prompted to enter some information about your channel, including its name and description. Once that's all set up, it's time to start uploading videos!
To make sure your videos are seen by as many people as possible, it's important to optimize them for search engines using keywords that describe what they're about. I can help with this process and also offer tips on how often to upload new content and other ways to grow your audience. Contact me today and let's get started growing your YouTube channel!