How To Start A Profitable Custard Powder Production Business
In starting custard powder production, required raw materials are cornflour, arrowroot starch, food colours and essence. Easy availability of raw materials made this business lucrative and profitable. A small scale unit can also be established with some simple machinery. Custard powder is one of the popular food considered as the desert.
Recession may still be here with us and entrepreneurs finding it difficult to survive, but one sector that has weathered the storm with a track record is the food industry. Food Beverage and Tobacco sector was reported by Manufacturers Association of Nigeria (MAN) to have accounted for more of the estimated 1.63 million historical cumulative jobs created in the manufacturing sector in 2016. Food business is undoubtedly a huge industry in Nigeria and the world over.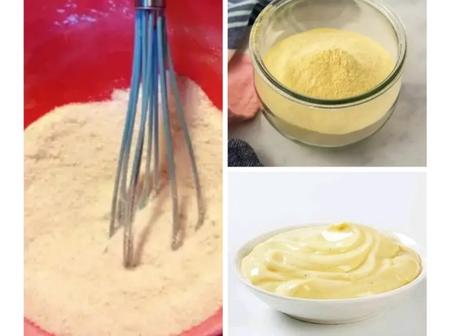 Therefore, with an estimated population of 180 million people, Nigeria is a potential market for investors who want to venture into small, medium and large scale food processing business like custard powder production.
Custard is a treated form of pap, a corn-base food product consumed by many Nigerians living in the urban area.
Custard is an edible powder-like substance that can be prepared and consumed (eaten) in liquid form like pap. custard is usually white when it is raw but turns yellow when water is added and prepared for consumption. There are so many varieties of custard now in the market, for instance, the chocolate custard, vanilla custard, strawberry custard, yellow custard, among others.
Custard is a very common food in Nigeria today. It can be prepared and eaten with beans, bean-cake (akara), moimoi and can also be eaten ordinarily with milk and sugar added to it once prepared. Custard can be taken specially in the morning before rushing to work, after work, on weekends and during times like the Christian lent and the Islamic fasting period.
Custard has a long shelf life, which means it can stay for a very long period of time without getting spoilt. The product is in great demand in the urban areas because of the ever busy lifestyle of most Nigerian households. It is easy to make and comes handy for very busy and career minded couples who have to get to work as well as prepare children for school early. Hence, it is a common product at home with its affordability, good taste, easy and short preparation time.
Custard is also more nutritious than pap because it contains some additional nutrients. Custard is made of 100 per cent powdered edible corn starch (used also for pharmaceutical products), which is produced mainly from Holland, China and India. Investigation has equally revealed that it has high turn over as investors can actually double their investment with low risk.
Custard production
There is nothing much involved in the production of custard. No special knowledge or degree is required to engage in custard production. Anybody can produce custard. The materials required to start off the production are cheap and readily available in the market and can be started with small capital and at home. Below are requirements for setting up custard production venture:
Cost
A small scale home-based custard production business can be started in any part of the country with less than N250, 000, with the entrepreneur making well above double the amount invested.
Raising this kind of fund may also not be difficult but for those who want to start big, the banks may grant loan with good business plan.
Registration
Registration of the business with Corporate Affairs Commission (CAC) and NAFDAC are necessary but investors can go ahead to setup and start producing while processing NAFDAC number. But it is important to do the registration to prevent production being stalled by NAFDAC at any stage of the business. Meanwhile, the registration with the CAC has become easier with the Federal Government Ease of Doing Business programme and can now be processed within 48 hours.
Equipment
The following machines and equipment are needed for custard production: electric oven, milling machine, mixing machine, weighing instruments, drying machine and sealing machine. All these machines and equipment can be procured locally from machine and equipment fabricators in Nigeria.
However, setting up a very small custard production business can be done without some of the machines listed above but the machines are invaluable as the business grows and there is need to expand production capacity.
Raw materials
The raw materials needed for custard production include edible corn starch, flavour, concentrated vitamins and plastic containers for packaging. All the above materials are available in any major market here in Nigeria.
Below are the measurement you can follow for a small production:
Corn starch – 4 kg
Sunset yellow– -0.5 kg
Flavour – -1 ml
Tertrazine – -0.5 kg
Vitamins (essential ones) – 1-3 %
Skimmed milk (optional) -2 – -4%
Salt (optional) – -0.1-0.5%
Sugar (optional) – -3%
Production process
The production process involves measuring a certain proportion of the entire ingredients needed and then thoroughly mixing them in a mixing machine before packaging it for sale in the market.
For example, take aside like 30 per cent of the entire corn starch, add the sunset yellow, flavour, vitamins, skimmed milk, sugar, salt and tertrazine to it (that is to the 30 per cent corn starch set side). Blend very well together, then pour into the remaining corn starch and mix properly together. Then package for sale.
Marketing
After production, the next stage is to hit the ground running. The market for custard is everywhere and you can actually start with your neighbours, church or mosque, supermarket and other outlets. It is important to have a good packaging, which will no doubt attract customers. Ensure that your product is of high standard, which will make you to stay around for a long time. You can also make use of the opportunity available to sell your products to Nigerians in diaspora and earn good foreign exchange as long as the product is good and the packaging is excellent.
So take advantage of this business opportunity that is capable of pumping regular cash into your bank account and also make you an employer of labour. The success rate is quite high in this production venture as custard is a food that is eaten across the length and breadth of the country.
If you need any help starting this business we can help increase your chances of success even before you start, we will assist you regarding this business.
We will conduct feasibility study highlighting every important detail you need to know about this business; and present it to you in a comprehensible format at a negligible cost. CLICK HERE TO SEND US A MESSAGE.
Do well to join our Facebook group to relate with hundreds of like-minded people about investment, business and money matters.
You can also follow us on Facebook,  Twitter or  Instagram for frequent updates with vital information on entrepreneurship, business, investing, inspiration and wealth creation from time to time.
Thanks for reading How To Start A Custard Powder Production Business. If this article was of help to you,  kindly share with friends using any of the social media platforms at the top or bottom of the article
Whether you're starting a new business, repositioning your existing business, or targeting outside investors, getting a clearly detailed business plan can make the journey to your business goal easier, faster, and less costly. CLICK HERE TO GET A PROFESSIONAL AND DETAILED CUSTARD MANUFACTURING BUSINESS PLAN TODAY