In the fast-paced digital world, having a website with advanced functionality and seamless user experience is essential for businesses and individuals alike. However, developing complex features from scratch can be time-consuming and technically challenging. This is where Codecanyon comes into play—a leading marketplace for premium code snippets, scripts, and plugins. In this blog post, we will explore the features and benefits of Codecanyon, highlighting how it empowers users to enhance their websites with ease.
Wide Range of Code Snippets and Plugins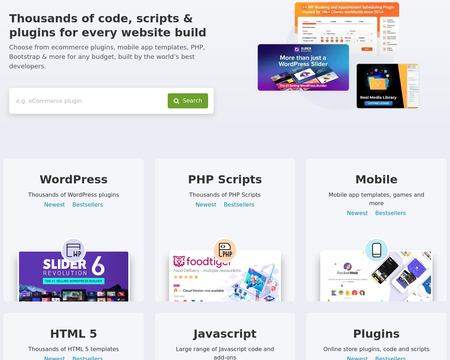 Codecanyon offers an extensive collection of code snippets and plugins that cater to diverse needs and industries. Whether you require an image gallery, a booking system, a social media integration, or an e-commerce solution, Codecanyon has you covered. The marketplace boasts a vast range of high-quality code snippets and plugins created by experienced developers from around the world. Each item undergoes a thorough review process to ensure quality, security, and compliance with industry standards, ensuring that you have access to reliable and well-maintained code.
Enhanced Functionality and Customization
The code snippets and plugins available on Codecanyon enable users to add advanced functionality and features to their websites without the need for extensive development work. These pre-built solutions are designed to seamlessly integrate with popular content management systems (CMS) such as WordPress, Joomla, Drupal, and more. With Codecanyon, you can easily extend the capabilities of your website, whether you need a robust contact form, a sophisticated payment gateway, or a powerful search engine optimization (SEO) tool. Furthermore, many plugins offer customization options, allowing you to tailor them to your specific requirements and brand identity.
Time and Cost Savings
One of the primary benefits of using Codecanyon is the significant time and cost savings it offers. Instead of starting from scratch or hiring developers to build specific functionalities, you can leverage the ready-to-use code snippets and plugins available on the platform. This eliminates the need for extensive coding and testing, enabling you to expedite your website development process and launch your project sooner. Additionally, the pricing structure of Codecanyon is often more cost-effective compared to custom development, making it an affordable option for businesses of all sizes.
Reliable Support and Updates
Codecanyon understands the importance of providing reliable support to its users. Each item on the marketplace comes with documentation and support channels, allowing you to seek assistance from the authors and the broader community. If you encounter any issues or have questions regarding the implementation and customization of a code snippet or plugin, you can rely on the helpful resources available. Additionally, Codecanyon authors regularly release updates for their items, addressing bugs, adding new features, and ensuring compatibility with the latest web technologies. This commitment to support and updates ensures that your website remains secure, functional, and up-to-date.
Conclusion
Codecanyon is a valuable resource for individuals and businesses seeking to enhance their websites with advanced functionalities and features. With its wide range of code snippets and plugins, easy integration, time and cost savings, reliable support, and regular updates, Codecanyon provides a convenient and efficient solution for website development. Whether you're a developer looking to streamline your workflow or a non-technical user in need of specific functionalities, Codecanyon empowers you to take your website to the next level. Explore the vast possibilities of Codecanyon and unlock the potential of your website today.