PLEASE NOTE!
If you require assistance with your
Amazon marketing
campaigns, please
reach out
to us for professional help. However, suppose you decide to handle it independently. In that case, this blog post provides strategies that can help you achieve satisfactory results for your business, although not as effective as when experts like us are involved. We are eager to collaborate with you and contribute to the growth of your business.
Amazon marketing is the process of promoting your brand and products on Amazon. Marketing on Amazon can include ad campaigns, search engine optimization, monitoring reviews, and answering questions. Keep reading to learn more about Amazon marketing!
What is Amazon Marketing?
Amazon Marketing is a form of online marketing that involves promoting products on the Amazon marketplace. This can be done through a variety of means, such as using Amazon's pay-per-click advertising program, Amazon Associates, or through product reviews and listings. Amazon Marketing can be an effective way to reach a large audience of potential customers and can be a good complement to other forms of online marketing.

As an eCommerce platform, Amazon is a powerful tool for marketing your products and services. By utilizing Amazon's various marketing features, you can reach a wide audience of potential customers and drive traffic to your online store.
Some of the most effective ways to market on Amazon include using keywords to optimize your product listings, running ads on the platform, and leveraging customer reviews. By taking advantage of all that Amazon has to offer, you can boost your sales and visibility online.
Why do you need an Amazon marketing strategy?
Now that we've covered what Amazon marketing is, let's look at why you should invest in building an Amazon marketing strategy.
The answer boils down to one word: Visibility. If you don't market your Amazon products, people will struggle to find them. When people can't find your products on Amazon, they can't buy from you, and you miss out on revenue for your business.
For your Amazon presence to be of benefit to you, you must market your products on the platform. With a solid marketing campaign, you'll drive more people to your product pages and increase sales.
Amazon Marketing Channel Types
PPC advertising on Amazon can be put into three groups:
1. Headline Search Ads
If you want to get your brand out there, it's best to use headline search ads. Amazon now has two ways to promote brands, especially during the holiday season:
Headline Search Ads
Amazon Stores
Title and Amazon Stores Together, Search Ads can help people know more about your brand and the products you sell. It also builds trust with customers and makes sure that your products are shown in the right way.
By combining Headline Search Ads, Amazon Stores, and Sponsored Products into a single Pay-Per-Click (PPC) marketing campaign, you can easily reach many shoppers in less time.
2. Product Display Ads
Another type of effective PPC ad is a "Product Display Ad," which is placed next to the product or in the "similar items" section on the product page. This kind of ad is only meant to be self-service. It is linked to the ASINs of the products, which gives sellers many options for focusing on different types of customers based on how they act.
3. Sponsored Product Ads
One of the best ways to get more people to see and buy your product is to pay for an advertisement. Sponsored product ads appear on the top when you search for something on Amazon.
How can you start with online Amazon marketing?
Marketing on Amazon involves more than just one strategy. There are several tactics you can use to promote your Amazon store.
Here are the three best ways to market yourself on Amazon!
Amazon SEO
Amazon Search engine optimization (SEO) is one of the most effective ways to increase product visibility. People search related terms in the Amazon search bar and drum up results relevant to those terms.
If you want people to find you, you need to get your product pages as close to the top of those search results as possible.
You can do that by optimizing your product pages for relevant searches by writing plenty of copy about your products, which will give Amazon's ranking algorithms more helpful information to rank your products.
Additionally, you can incorporate relevant keywords to help your products appear in the right searches.
With SEO-driven product pages, you'll rank higher in Amazon searches, helping more people find and buy your products.
Amazon PPC
In addition to helping your product pages rank organically, you can display pay-per-click (PPC) ads on Amazon to advertise your products.
Introducing Amazon ads
If you're an Amazon seller, you know that product ads are a great way to increase your visibility and sales. But what if you're new to Amazon advertising? In this post, we'll give you a crash course on everything you need to know about Amazon ads, from setting up your campaign to optimizing your ad spend.
First things first:
What is Amazon advertising?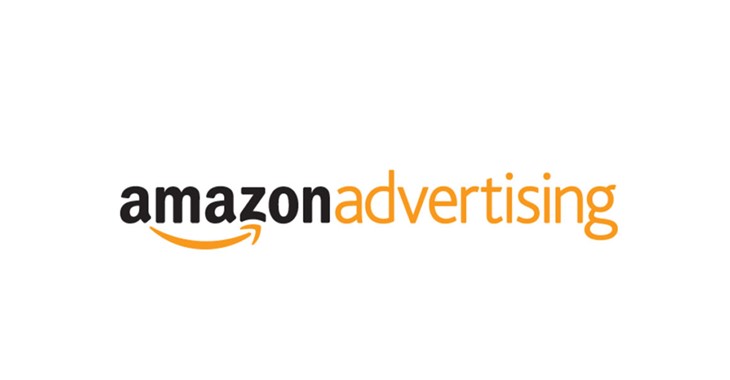 They're basically like any other online advertisement, except they appear on Amazon.com instead of sites like Google or Facebook. When a customer searches for a product on Amazon, your ad will show up as one of the sponsored results at the top of the page. If they click on your ad and purchase the item, you'll pay Amazon a commission (usually around 10%).
Now that we've got that out of the way, let's talk about how to set up an effective campaign. The first step is choosing which products you want to advertise. You can either promote items that are already in your inventory or create new listings specifically for advertising purposes (we recommend doing both). Once you've selected your products, it's time to write some compelling copy and choose some eye-catching images.
Benefits of Amazon Advertising
Advertising on Amazon comes with many benefits:
The quality, brand-safe environment that advertisers want
Reducing the sales cycle
Improving sales history & product visibility
Improving brand awareness
Gaining valuable insights on changing consumer habits & optimizing campaigns to reach a more targeted audience
Tons of shopping journey data about who your shoppers are and how they shop
Learning the best ways to acquire customers at a given time
Tracking your results & being able to make data-driven decisions.
Getting Started with Amazon Ads
To start advertising on Amazon you'll first need to sign into your seller or vendor account.
If you don't have either of these accounts you can check out their various pricing and plans to fit your needs here. If you're a first-party seller then you'll want to sign-up as a vendor, which is unfortunately by invitation only. If you're selling via Amazon Seller Central you're considered a third-party seller. Seller Central has pricing options for pay-as-you-go for independent sellers vs. a pro option for those with higher sale volume. Pro merchant sellers also have the option of letting Amazon manage shipping, returns, and customer service, which is not a bad perk! Lastly, Amazon has a Vendor Express option that might be worth exploring if you're interested in going the vendor route, but are lacking an invitation.
Once you're logged in you're signed up for the correct plan, you can log in to your Amazon account you start setting up your ad campaigns!
Amazon's Advertising Model
Amazon Advertising is a pay-per-click model (PPC) that differs from some other marketplaces, e.g. Promoted Listings on eBay supports the PPS (pay-per-sale) funding model.
Relationship Between Ads and Organic Search on Amazon
There's a relationship between ads and organic search on Amazon. The platform's goal is to make sales by showing high-converting and best-selling products relevant to the query. So Amazon wants to prioritize the products that are likely to sell the most, i.e. products with good sales and feedback history.
So when sales and the amount of feedback improve, products climb in organic rankings. To learn more, download the full Amazon Advertising Guide.
Types of Amazon Ads
When selecting types of ads for campaigns, Amazon sellers have a variety of ad formats and placements to choose from, e.g. Amazon Sponsored Product, Sponsored Brand, and so on. Below you'll find more information about the given ad types.
1. Sponsored Products.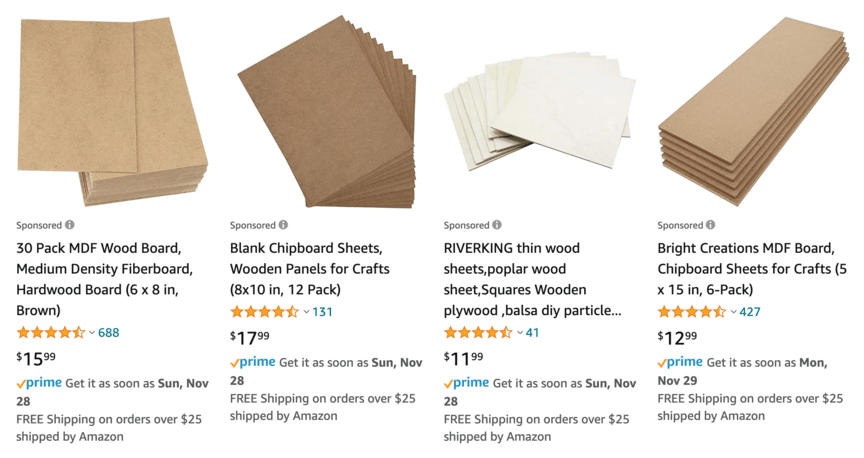 Sponsored Products are the standard product listings that appear on the search results and product detail pages. They're pay-per-click, keyword-targeted display ads for individual products. The link leads to the product details listing page.
To measure the performance of your Sponsored Product Ads, use a reporting tool that displays your ads' clicks, spend, sales and advertising cost of sales (ACoS).
2. Sponsored Brand Campaigns.

Sponsored Brand Campaigns enable you to promote keyword-targeted ads of multiple products above, below, and alongside search results. They're based on a pay-per-click, auction-based pricing model. You can direct the shopper specifically to your customized product page or your Amazon Store.
You can feature up to three unique products in your ads, customize and test your ads' image, headline, and landing page.
To check the performance of your advertisements, there's a reporting feature that displays your ads' clicks, spend, sales, estimated win rate for keywords, and ACoS (Advertising Cost of Sales).
3. Product Display Ads.

Product Display Ads are pay-per-click ads whose main objective is to cross-sell or upsell to your customers. This type of inventory, unlike the rest, is available to all advertisers, not just those selling on the platform. Amazon breaks down this category into display, video, and custom.
Display ads appear on product detail pages, customer review pages, on top of the offer listing page, and below search results. You can also find them on abandoned cart emails, follow-up emails, and recommendations emails.
To measure your performance, you can use a reporting tool that displays your campaigns' clicks, spend, sales, advertising cost of sales (ACoS), detail page views, average cost-per-click (ACPC), etc.
4. Video Ads.
Video Ads can be placed on Amazon-owned sites like Amazon.com and IMDb, Amazon devices like Fire TV, and various properties across the web. To buy Amazon video ads, you don't have to sell products on Amazon.
5. Amazon Stores.
Users can promote their product or brand on their own multi-page Amazon Store. Brands get an Amazon URL and can view traffic analytics.
6. Amazon Native Ads.
Amazon Native Ads can be placed on a brand's own website. These include recommendation ads, search ads, and custom ads.
Amazon Advertising Costs
So how much do ads on Amazon run?
According to Rob Sieracki at Practical Ecommerce, the average cost per click on Amazon is rarely more than $0.35, making it more cost-effective on a CPC basis than search ads on Google ads or Bing Ads and comparable to some of the lowest CPCs on Facebook ads or Google display. Considering that Amazon searches show a lot of commercial intent, those are promising numbers.
Amazon Self-Serve Ads vs. Premium Ads
When you begin exploring Amazon's public advertising information pages you might be a bit confused about the difference between self-serve and premium ads in the two sidebars shown below: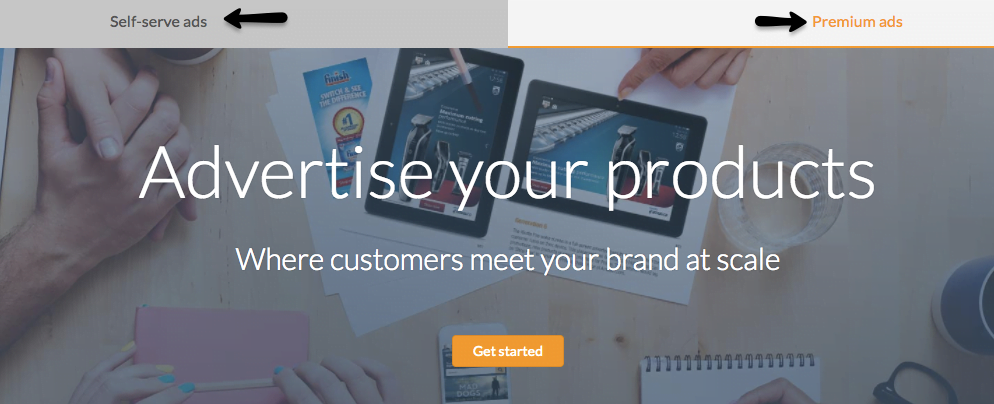 The simplest way to explain the difference is that self-service ads function like Google search ads displaying on the search result pages (like the screenshots I included above), whereas premium ads function more like display ads. While premium ads can still be found on Amazon, they show up as more visual banners and sidebar ads like the one below. They can also appear on other websites, similar to how Google's Display Network works.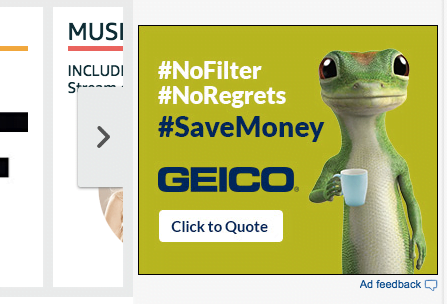 Other ways to reach non-amazon users with your marketing
As an Amazon seller, you know the importance of getting your products in front of as many potential customers as possible. But what about those who don't use Amazon?
There are still plenty of people out there who don't use Amazon, or who only use it for certain things. That's why it's important to reach them with your advertising as well.
Here are some tips for creating Amazon ads that will reach non-Amazon users:
Use other platforms to reach your target audience.
There are a number of other platforms where you can reach potential customers, such as Facebook, Google, and even TV and radio. Make sure you're targeting your ads on these platforms as well.
Use creative messaging.
Your ads should be attention-grabbing and memorable. Use creative messaging and visuals to make your ads stand out.
Use a call to action.
How to advertise your business on Amazon-owned sites
In this section of the blog post, we'll discuss how to advertise your business on Amazon-owned sites like Amazon.com and IMDb, Amazon devices like Fire TV, and various properties across the web.
If you're looking to advertise your business on Amazon-owned sites and devices, there are a few things you need to know. First and foremost, Amazon is one of the largest online retailers in the world – so advertising on their platforms can reach a large audience. Secondly, Amazon has a number of different properties that you can advertise on, including Amazon.com, IMDb, Fire TV, and more. And finally, when it comes to actually placing your ads, there are a few different options available to you depending on your budget and goals.
To get started advertising on Amazon-owned sites and devices:
1) Decide which platform(s) you want to advertise on. You can choose from sites like Amazon.com or IMDb; devices like Fire TV; or other properties across the web that are owned by Amazon (including Goodreads).
2) Figure out what kind of ad format would work best for each platform – for example banner ads or video ads – and create your ad content accordingly.
3) Choose how much money you want to spend on each campaign as well as any targeting options (like demographics or interests).
4) Place your ad(s), sit back & wait for results!
Conclusion: Amazon Marketing
The constantly growing eCommerce industry and the ever-increasing competition are driving digital ad spend on marketplaces. Thus, Amazon's advertising business is growing at a rapid pace, especially as it diversifies its ad products across its ecosystem.
Advertising on Amazon comes with both opportunities and challenges. As a result, sellers need a strategic and flexible advertising plan to stand out in an overcrowded market. They also need to stay adaptable in the fast-changing marketplace reality.
Need help? Hire an Amazon marketing agency
As an eCommerce business, one of the best things you can do is hire an amazon marketing agency. By doing so, you can take advantage of their expertise and experience in the amazon marketplace. Additionally, an agency can help you with things like product listing optimization, pay-per-click advertising, and amazon seller support.
There are a few things to keep in mind when hiring an amazon marketing agency. First, you want to make sure that the agency has experience working with eCommerce businesses and amazon sellers. Additionally, you want to inquire about their services and ask for case studies or testimonials from past clients. Finally, be sure to ask about their pricing structure and what is included in their services.
Hiring an amazon marketing agency is a great way to take your eCommerce business to the next level. By taking advantage of their expertise and experience, you can maximize your sales and profits in the amazon marketplace.
Get help marketing on Amazon from Wealth Ideas Agency
Looking for help driving results with your Amazon marketing strategy? Let Wealth Ideas agency help you! We've been driving stellar marketing results for over 10 years and have all the expertise you could ask for when marketing your Amazon store.
With our Amazon marketing services, you'll get help with all the tactics listed above and more! You'll even be assigned a dedicated account representative who will keep you up to date on everything we do for your Amazon campaigns.
To get started with us, just contact us online today!
Let us be your Amazon marketing agency
There are a lot of marketing agencies out there. So why should you choose us to be your Amazon marketing agency?
Well, first of all, we know the ins and outs of Amazon marketing. We can help you create a campaign that will reach your target audience and help you boost your sales.
Secondly, we are a full-service agency. This means that we can handle all aspects of your Amazon marketing, from creating the campaign to executing it.
Lastly, we are committed to our clients. We will work closely with you to make sure that your Amazon marketing campaign is a success.
So if you are looking for an Amazon marketing agency that can help you boost your sales, contact us today. We would be happy to help you grow your business.