Content generation is a crucial aspect of digital marketing and communication strategies. However, creating high-quality, informative articles can be time-consuming and challenging. This is where AI-Writer steps in
What is AI Writer?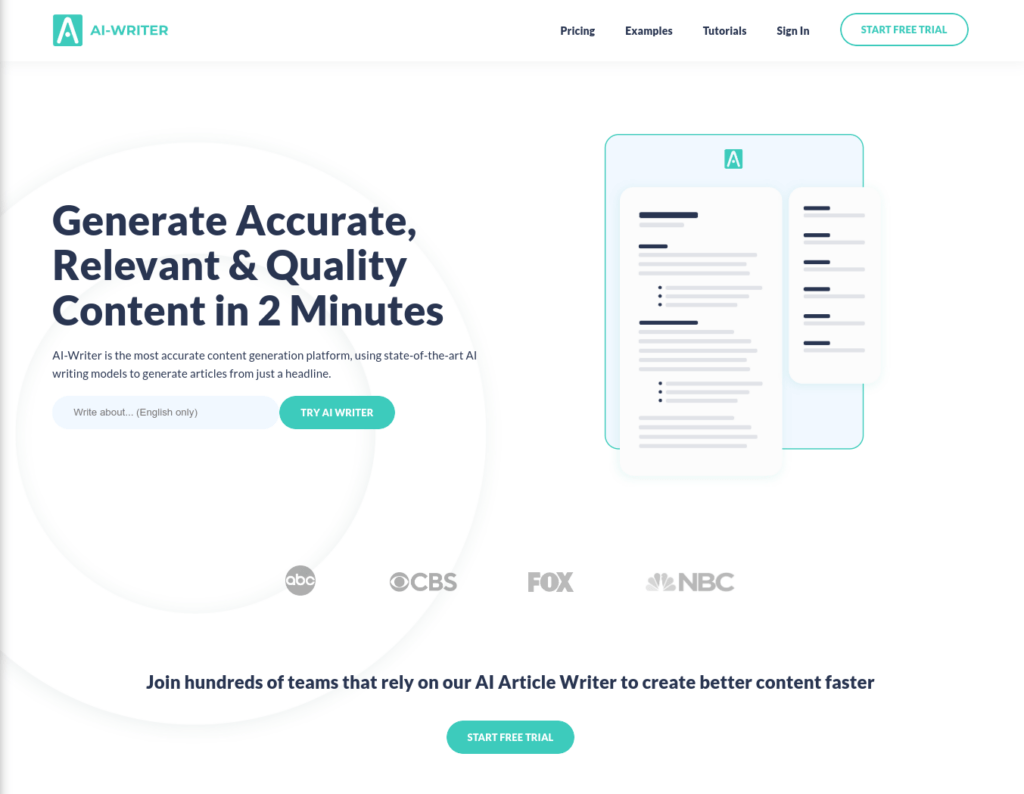 AI-Writer is an innovative content generation platform that utilizes state-of-the-art AI writing models to generate articles with accuracy and reliability. In this blog post, we will explore the features and benefits of AI-Writer, uncovering how it revolutionizes the way we approach content generation.
State-of-the-Art AI Writing Models
AI-Writer stands out for its utilization of advanced AI writing models. By leveraging cutting-edge natural language processing algorithms, AI-Writer ensures that the generated content is accurate, reliable, and of high quality. The AI models have been trained on vast amounts of data, enabling them to understand context, generate coherent sentences, and deliver informative articles. This ensures that the content produced by AI-Writer is on par with human-written articles.
Accurate and Reliable Content
One of the key strengths of AI-Writer is its commitment to accuracy and reliability. The platform generates content that is based on verified information, providing users with a solid foundation to build upon. While the AI models assist in content creation, AI-Writer emphasizes the importance of factual accuracy and encourages users to verify the information before publishing. This ensures that the content produced is not only engaging but also trustworthy and credible.
Time and Effort Savings
AI-Writer helps users save valuable time and effort in the content generation process. Instead of spending hours conducting research and writing from scratch, users can leverage AI-Writer to generate well-structured articles within minutes. The platform offers a range of topic options, allowing users to specify their desired content and niche. This feature enables content creators to focus on other crucial aspects of their business or content strategy, ultimately increasing productivity and efficiency.
Customizable Content
AI-Writer provides users with the ability to customize the generated content according to their specific requirements. Whether you need to tweak the tone, adjust the length, or add specific details, AI-Writer allows for easy customization. This flexibility ensures that the content aligns with your brand voice and caters to your target audience.
Enhanced Creativity and Inspiration
AI-Writer serves as more than just a content generation tool; it can also spark creativity and inspiration. By providing users with a foundation of accurate and reliable information, AI-Writer stimulates new ideas and perspectives. The generated content can serve as a starting point for further exploration, enabling users to expand on existing topics, generate fresh angles, or explore new avenues for their writing.
Collaborative Capabilities
AI-Writer supports collaboration among content creators, editors, and stakeholders. The platform allows for seamless content sharing, feedback exchange, and version control. This feature ensures smooth communication and coordination, making it easier to work together on content projects. Whether you're part of a team or collaborating with freelancers, AI-Writer simplifies the collaborative content creation process.
AI Writer Pricing
AI Writer has three plans to choose from.
Each has a monthly fee and offers tiers of tools and services.
All plans provide the following:
AI text generator
SEO editor
Text rewording
Subtopic discoverer
API access
Publish to WordPress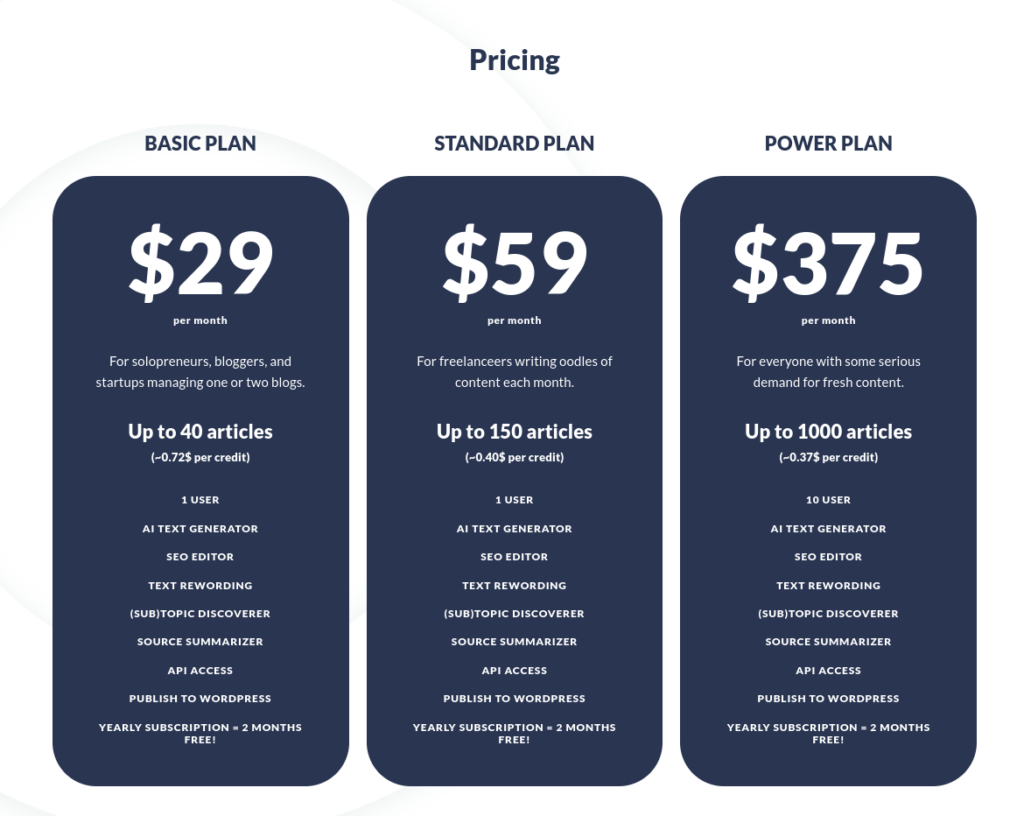 AI Writer has three paid plans:
Basic: $29/month
Standard: $59/month
Power: $375/month
And as mentioned earlier, there's a free trial you should experiment with!
Conclusion
AI-Writer represents a significant advancement in content generation. By harnessing the power of state-of-the-art AI writing models, AI-Writer delivers accurate, reliable, and high-quality content. The platform's commitment to factual accuracy and its emphasis on verifying information provide users with confidence in the content they generate. With AI-Writer, content creators can save time, enhance their creativity, and collaborate seamlessly. Embrace the power of AI and unlock your content generation potential with AI-Writer.