Chiropractic Marketing Agency
Get Ahead Of Your Competition With Innovative Digital Marketing Solutions For Your Chiropractors.
Chiropractic care is becoming increasingly popular as an alternative treatment for chronic pain. As a result, the chiropractic industry is growing steadily and is expected to continue its growth in the years to come. More and more patients are turning to chiropractic services as an alternative to traditional treatments such as medications and surgery.

Chiropractic care is a holistic approach to health. It focuses on the relationship between the spine and the nervous system, and how this relationship affects overall health. Chiropractors use manual adjustments and other techniques to adjust the spine and other joints in the body. This helps to reduce pain, improve mobility, and improve overall health.

The benefits of chiropractic care are well-documented. Studies have shown that chiropractic care can help reduce pain, improve mobility, and improve overall health. It can also help reduce the need for medications and surgery.
The chiropractic industry is an ever-growing field of healthcare, and its value has been steadily increasing in recent years. In 2017, the industry was valued at $12.26 billion, and it is estimated that there will be over 80,000 chiropractors in the country by the end of 2020.

Despite these promising forecasts, current chiropractors are facing challenges brought about by several factors. The increasing competition in the industry is making it difficult for chiropractors to stand out and attract new patients. Additionally, the rising cost of healthcare is making it difficult for chiropractors to stay competitive in terms of pricing. Finally, the increasing number of insurance companies that are not covering chiropractic services is making it difficult for chiropractors to get the necessary reimbursement for their services.

In order to remain competitive, chiropractors must focus on providing quality care and services to their patients.
As a business owner, it is important to focus on marketing in order to maintain a steady stream of patients. Some factors that affect your business are out of your control, but you can make an effort to promote your business. An effective marketing strategy will help you reach more potential customers and grow your business. If you are not experienced in marketing, you can hire a digital marketing agency to assist you.
Wealth Ideas Agency is an award-winning agency that creates customized marketing strategies that drive leads and sales for your chiropractor business. We offer a complete suite of marketing services including SEO, web design, pay-per-click ads, and social media management.
What is a Chiropractic Marketing Agency?
A chiropractic marketing agency is a specialized firm that offers marketing and advertising services tailored specifically to chiropractors and chiropractic clinics.
These agencies focus on helping chiropractic practices increase their online visibility, attract new patients, and effectively communicate their services to their target audience.
What Does a Chiropractic Digital Marketing Agency Do?
A chiropractic digital marketing agency provides a range of services to help chiropractic practices establish a strong online presence and grow their patient base:
Website Development and Optimization: Creating or optimizing chiropractic websites to ensure they are user-friendly, visually appealing, and informative.

Search Engine Optimization (SEO): Improving the website's visibility in search engine results by optimizing content, keywords, and technical aspects to attract organic traffic.

Local SEO: Focusing on local search optimization to help potential patients find the chiropractic practice when searching for services in their area.

Pay-Per-Click (PPC) Advertising: Running targeted online advertising campaigns to drive traffic and attract potential patients through platforms like Google Ads.

Social Media Marketing: Developing and managing social media profiles to engage with the local community, share informative content, and establish the practice as an authority.

Content Creation: Producing blog posts, videos, infographics, and other content to educate patients about chiropractic care and related health topics.

Online Reputation Management: Monitoring and managing online reviews to maintain a positive online reputation and build trust with potential patients.

Email Marketing: Sending out newsletters and updates to stay connected with existing patients and inform them about new services or promotions.

Local Listings Management: Ensuring accurate and consistent information across online directories and platforms to improve local search visibility.
What Makes a Top Chiropractic Marketing Agency?
A top chiropractic marketing agency possesses several key qualities:
Chiropractic Industry Knowledge: Understanding of chiropractic practices, terminology, and patient needs is crucial for effective marketing strategies.

Digital Marketing Expertise: Proficiency in various digital marketing techniques, from SEO and PPC to social media and content marketing.

Local Focus: Expertise in local SEO and community engagement to attract patients from the practice's geographical area.

Personalized Strategies: The ability to tailor marketing strategies to the unique goals and target audience of each chiropractic practice.

Data-Driven Approach: Using analytics to measure the effectiveness of campaigns and making data-driven adjustments for optimal results.

Transparent Communication: Providing clear and open communication with clients, explaining strategies, results, and progress.
Why is a Chiropractic Digital Marketing Agency Important?
A chiropractic digital marketing agency is essential for several reasons:
Online Visibility: With the majority of patients searching for healthcare services online, a strong online presence is crucial for attracting new patients.

Specialized Expertise: Chiropractic marketing agencies understand the specific challenges and opportunities within the chiropractic industry.

Effective Targeting: They can tailor marketing efforts to reach individuals who are actively seeking chiropractic care.

Time and Resource Efficiency: Outsourcing marketing efforts allows chiropractors to focus on providing quality patient care.

Data-Driven Results: Agencies use data and analytics to refine strategies and ensure marketing efforts are generating tangible results.
How to Get Started with a Chiropractic Marketing Agency
Research: Look for agencies with experience in chiropractic marketing. Check their portfolios, case studies, and client reviews.

Initial Consultation: Schedule a consultation with potential agencies to discuss your practice's goals and needs.

Strategy Discussion: Collaborate with the agency to create a customized marketing strategy that aligns with your practice's values and target audience.

Budget Planning: Determine your budget for marketing services and discuss pricing options with the agency.

Implementation: Once you've selected an agency, work closely with them as they implement and monitor the marketing strategies.
Why Hire One of the Best Chiropractic Marketing Agencies?
Industry Expertise: Top agencies have in-depth knowledge of the chiropractic field, allowing them to craft strategies that resonate with patients.

Effective Results: Reputable agencies have a track record of delivering measurable results in terms of website traffic, patient inquiries, and conversions.

Optimal Resource Utilization: They optimize your marketing budget, ensuring it's invested in the most effective strategies.

Latest Trends: They stay updated with the latest digital marketing trends, ensuring your practice is utilizing cutting-edge techniques.

Patient-Centric Approach: The best agencies focus on patient needs and preferences, creating strategies that resonate with potential patients.

Time Savings: Outsourcing marketing efforts frees up your time to focus on patient care and practice management.
Partnering with a top chiropractic marketing agency can significantly enhance your practice's online presence, patient acquisition, and overall growth.
We Offer Professional Chiropractic Marketing Services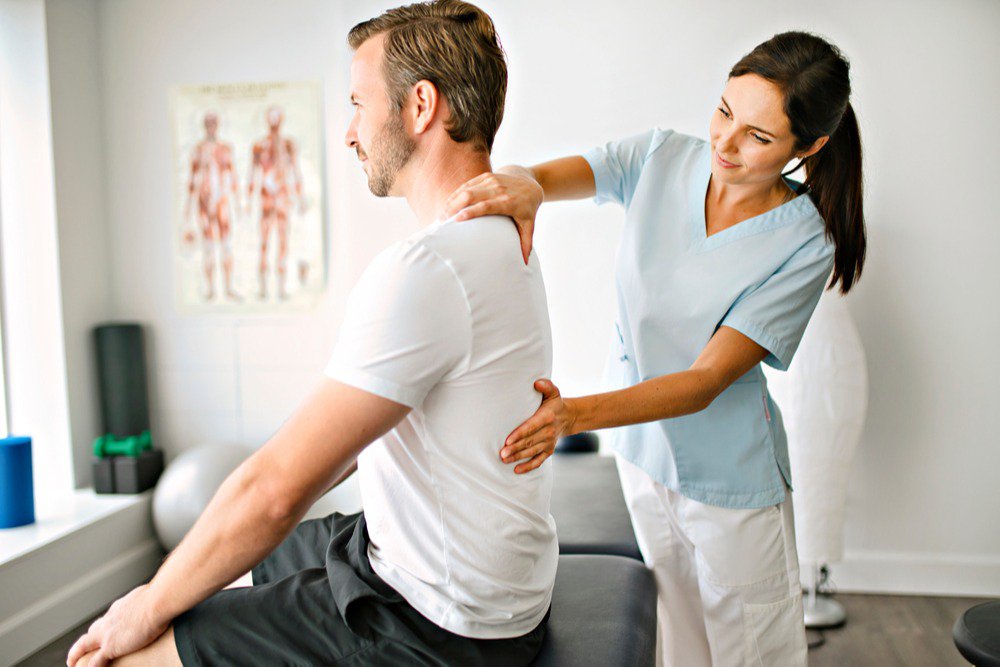 We take care of the day-to-day campaign management and improvement of your chiropractor marketing campaigns, leaving you free to concentrate on running and expanding your business. 
Our dedicated chiropractic marketers take responsibility for your marketing campaign and experience to get the most from your marketing budget:
✔️  To write compelling ad copy to maximize your click-through rates
✔️  To create effective and targeted landing pages to boost sales conversion
✔️  To analyze the performance of the ads constantly, tweaks to maximize results
✔️  To monitor bids, to ensure you pay as little as possible per click
✔️  To continuously optimize and review  ads performance to make sure Ads continue to work for you
Let Us Be Your Chiropractor Advertising Agency
Are you looking for a chiropractor marketing agency that can help you reach your business goals? Look no further than Wealth Ideas Agency! We are a full-service marketing agency with a focus on helping chiropractors grow their businesses. We understand the unique needs of chiropractors and are dedicated to providing the best possible services to help you succeed.
Our team of experienced professionals has the knowledge and expertise to create effective marketing campaigns that will reach your target audience and help you achieve your goals. We specialize in creating custom campaigns that are tailored to your specific needs. From website design and social media marketing to search engine optimization and email marketing, our team has the skills and experience to help you reach your goals.
At Wealth Ideas Agency, we understand that every business is unique and has different needs. That's why we offer personalized services and support to ensure that your marketing campaign is successful.
As a revenue-driven chiropractor marketing agency, we're all about driving results.
Real, tangible results that triple your ROI and ROAS.
If you're looking to market your chiropractor business online, let us help you.
Our team of experienced online marketers can help you create a comprehensive online marketing strategy that will help you reach your target audience and grow your business.
Don't throw away money on ads that don't work.
We'll create a tailored PPC campaign that actually delivers traffic, clicks & results!
Benefits Of Working With An Award Winning Chiropractic Marketing Agency
There are many benefits of working with an experienced chiropractic marketing agency.
Working with an experienced chiropractic marketing agency can be a great way to improve your practice and reach new patients. With their expertise in the field, they can help you create a comprehensive marketing strategy that will help you increase your visibility and reach your goals.
Here are just a few of the benefits of working with an experienced chiropractic marketing agency.

First, an experienced marketing agency can help you create an effective marketing plan that will target your ideal patient demographic. They will be able to use their knowledge of the industry to create strategies that will help you reach the right people and get your message out. They can also help you create content that will engage potential patients and help them understand the value of your services.

Second, an experienced marketing agency can help you stay up to date on the latest trends and technologies in the industry. They can help you create a website and social media presence that will make it easier for potential patients to find you and learn more about your practice.

Some Benefits Of Our Chiropractor Advertising Service
Chiropractor Digital Marketing Services
Achieve Sustainable Growth With a Strategic Online Strategy
Marketing a chiropractor business can be challenging, but it's not impossible! our chiropractor digital marketing experts will help create a marketing strategy for your brand and give your business what it needs to succeed.
Why Choose Wealth Ideas Agency as Your Chiropractor Digital Marketing Agency
When it comes to choosing a digital marketing agency for your chiropractic practice, there are many options available. But if you want the best results and an experienced team that truly understands the unique needs of the chiropractic industry, Wealth Ideas Agency is your top choice.
Wealth Ideas Agency has been providing digital marketing services to chiropractors for over 7 years now. We understand how important it is for a practice to be found online in order to reach potential patients and grow their business. That's why we offer comprehensive solutions tailored specifically for our clients' individual needs – from website development and SEO optimization, all the way through content creation and social media management.
Our team consists of highly skilled professionals with extensive experience in various aspects of digital marketing – web design & development; SEO & SEM; PPC advertising; content writing & strategy; email campaigns etc., making us uniquely qualified when it comes down to helping you get noticed by potential customers online! With our help, you can build a strong presence on search engines such as Google or Bing as well as increase traffic coming from other sources like Facebook or Twitter pages/ads, etc. This will not only increase new patient leads but also improve customer retention rates due to higher engagement levels with existing ones too!
At Wealth Ideas Agency we believe that every client deserves personalized attention so they can get the maximum benefit out of their investment in us – which is why each project begins with an initial consultation where we discuss goals/objectives before moving forward into the implementation phase (which includes regular progress updates). Furthermore, our commitment doesn't end once project completion either – ongoing support provided whenever needed helps ensure long-term success!
So don't hesitate any longer: contact us today to see what makes Wealth Ideas Agency stand out among other Chiropractor Digital Marketing Agencies around the world!
We Drive Your Business Success With Our Innovative Digital Marketing Solutions.
At Wealth Ideas Agency, we take our time to study our clients, their industry, and competitors. We do this because we want our chiropractic digital marketing company to provide relevant and industry-tailored solutions that will bring you the best possible benefits. Whether you want to grow your customer base or achieve 5-star online reviews, we are here to help.
At Wealth Ideas Agency, we strongly believe … no actually we know — that working with us can shape the future of your business for the better.
Here are our 4 reasons why ….
Our Results Turn To Testimonials That Speak For Us
The guys who run Wealth Ideas Agency are gurus when it comes to marketing on the web. That's why we trust them with our work.
Helped me get my business up and running with some great marketing tools. Definitely will be keeping this great company in mind for future boost.
Our Goal Completions from organic searches increased by 250%, Impressions 285% and we saw an incredible 478% increase in clicks with their guidance. Would highly recommend. They took the time to really understand our audience and ensure we were meeting and exceeding our goals.
These guys are by far the best marketing guys I have worked with and know, they do everything they say...no BS.
4x ROAS from a $10K/month ad spend. Melissa had been through five different agencies before coming to us and was highly skeptical that we could generate results. Using our unique process we were able to generate 4x ROAS within four months.
The whole team is very creative and energetic. They prove that only experts can take care of your business to the next level.
Chris and his team have done a great job in helping us meet our SEO and website optimization goals. They communicate clearly and frequently. We appreciate their knowledge and expertise!
My fear in writing this review is that my competition might find out about Wealth Ideas Agency! Chris has been maximizing the SEO and Google Ads account spend for my companies website for the last 4 years. His knowledge and diligence have paid off for our company handsomely.
With our chiropractic marketing service, there is not a lot you need to think about.
Our services include everything you need to run a fully optimized digital marketing campaign. 
There is only 1 quick step you need to follow.
1. Fill out the short form below.
And we'll be in touch with you.
Chiropractor Marketing Blog Post
Chiropractors give treatment to about 35 million Americans every year.
If you are interested in growing your chiropractic business, using effective chiropractic marketing ideas will help you to do that.
Creating a positive experience with each client that comes your way will help promote your business and boost clients' waiting lists.
Increasing the awareness of your chiropractic service can sometimes be challenging if you are not a marketer.
The best idea to use is effective chiropractic promotional strategies we are going to reveal in this blog post.
Chiropractor Marketing Frequently Asked Questions
Some Frequently Asked Questions We Get