Digital Marketing For Real Estate Companies
Generate High-Quality Real Estate Leads and Increase Your Sales. Discover the full suite of digital marketing services for real estate companies offered by Wealth Ideas Internet Marketing Agency.
If you are looking for a real estate digital marketing agency that can provide services from online advert creation to marketing your property all over the internet, then Wealth Ideas Agency is the perfect choice.
Wealth Ideas Agency has been providing top-notch services in this field since its inception and it continues to be one of the leading agencies today. The team at Wealth Ideas Agency consists of experienced professionals who have years of experience in creating effective campaigns and strategies for their clients. They understand how important it is for businesses to stay ahead in an ever-changing market, so they work hard to ensure that their clients get maximum exposure on various online platforms including websites, social media channels, blogs etc.
Our agency offers a wide range of services such as website design & development; SEO optimization; content writing & editing; email automation & newsletters; paid advertising campaigns (Google Ads); social media management (Facebook/Twitter/Instagram); video production & promotion etc., helping your business reach potential customers quickly and efficiently across multiple channels simultaneously with minimal effort required from your end. Additionally, we also offer custom solutions tailored specifically towards meeting individual client's needs or objectives which makes them even more attractive than other similar service providers out there.
In addition, what sets us apart is our commitment to success – no matter how big or small your project may be, they will always strive to deliver results within agreed timelines while ensuring quality standards remain uncompromisingly high throughout! So if you want results-driven digital marketing solutions delivered by experts who understand this industry inside out – look no further than Wealth Ideas!
Professional Real Estate Digital Marketing Campaign Management
We take care of the day-to-day campaign management and improvement of your real estate marketing campaigns, leaving you free to concentrate on running and expanding your business. 
Our dedicated real estate marketers take responsibility for your marketing campaign and experience to get the most from your marketing budget:
✔️  To write compelling ad copy to maximize your click-through rates
✔️  To create effective and targeted landing pages to boost sales conversion
✔️  To analyze the performance of the ads constantly, tweaks to maximize results
✔️  To monitor bids, to ensure you pay as little as possible per click
✔️  To continuously optimize and review ads performance to make sure Ads continue to work for you
Let Us Be Your REal Estate Advertising Agency
As a revenue-driven digital marketing agency, we're all about driving results.
Real, tangible results that triple your ROI and ROAS.
If you're looking to market your real estate brand online, let us help you.
Our team of experienced online marketers can help you create a comprehensive online marketing strategy that will help you reach your target audience and grow your business.
Don't throw away money on ads that don't work.
We'll create a tailored PPC campaign that actually delivers traffic, clicks & results!
Benefits Of Working With An Experienced Real Estate Advertising Agency
Working with an experienced real estate advertising agency can be a great way to ensure success in the real estate market. An experienced agency can provide a wealth of knowledge and resources to help you make the most of your marketing efforts.
Here are some of the benefits of working with an experienced real estate advertising agency:

1. Expertise: An experienced real estate advertising agency will have a deep understanding of the real estate market and can provide valuable insights into the best ways to reach potential buyers. They can also provide advice on the types of campaigns that are most effective and how to optimize them for maximum impact.

2. Cost-Effective: Working with an experienced real estate advertising agency can be a cost-effective way to reach potential buyers. An experienced agency can help you create campaigns that are tailored to your budget and can provide valuable advice on how to maximize your return on investment.
Some Benefits Of Our Real Estate Advertising Service
Real Estate Digital Marketing Services
Achieve Sustainable Growth With a Strategic Online Strategy
Marketing a real estate business can be challenging, but it's not impossible! our real estate digital marketing experts will help create a marketing strategy for your brand and give your business what it needs to succeed.
Why Choose Wealth Ideas as Your Real Estate Marketing Agency
We Drive Your Business Success With Our Innovative Digital Marketing Solutions.
At Wealth Ideas, we take our time to study our clients, their industry, and competitors. We do this because we want our real estate digital marketing company to provide relevant and industry-tailored solutions that will bring you the best possible benefits. Whether you want to grow your customer base or achieve 5-star online reviews, we are here to help.
At Wealth Ideas Agency, we strongly believe … no actually we know — that working with us can shape the future of your business for the better.
Here are our 8 reasons why ….
Our Results Turn To Testimonials That Speak For Us
The guys who run Wealth Ideas Agency are gurus when it comes to marketing on the web. That's why we trust them with our work.
Helped me get my business up and running with some great marketing tools. Definitely will be keeping this great company in mind for future boost.
Our Goal Completions from organic searches increased by 250%, Impressions 285% and we saw an incredible 478% increase in clicks with their guidance. Would highly recommend. They took the time to really understand our audience and ensure we were meeting and exceeding our goals.
These guys are by far the best marketing guys I have worked with and know, they do everything they say...no BS.
4x ROAS from a $10K/month ad spend. Melissa had been through five different agencies before coming to us and was highly skeptical that we could generate results. Using our unique process we were able to generate 4x ROAS within four months.
The whole team is very creative and energetic. They prove that only experts can take care of your business to the next level.
Chris and his team have done a great job in helping us meet our SEO and website optimization goals. They communicate clearly and frequently. We appreciate their knowledge and expertise!
My fear in writing this review is that my competition might find out about Wealth Ideas Agency! Chris has been maximizing the SEO and Google Ads account spend for my companies website for the last 4 years. His knowledge and diligence have paid off for our company handsomely.
With our real estate marketing service, there is not a lot you need to think about.
Our services include everything you need to run a fully optimized campaign. 
There is only 1 quick step you need to follow.
1. Fill out the short form below.
And we'll be in touch with you.
Real Estate Marketing Blog Post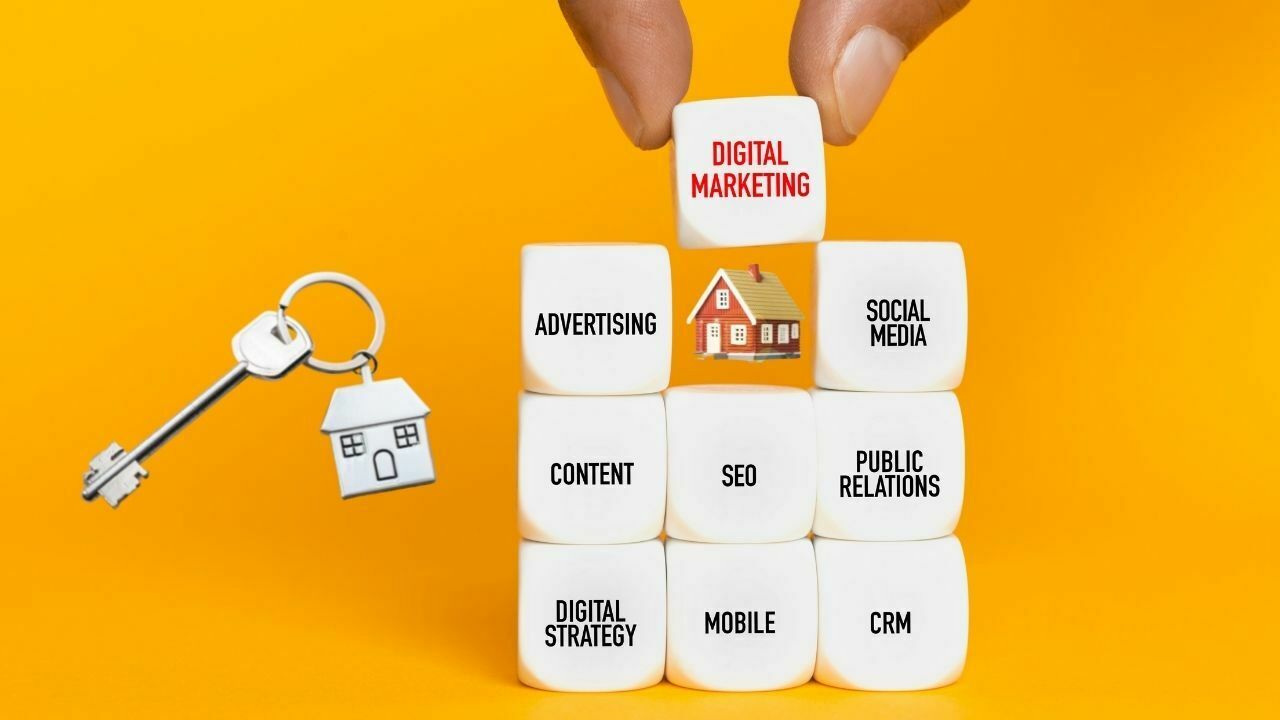 Real estate agents and developers need to market their properties in order to sell or lease them. This can be done through a variety of channels, including online, print, and word-of-mouth. 
Real estate developers are always looking for ways to maximize their marketing efforts in order to reach the widest possible audience.
There's no denying that every business owner wants to attract new customers. After all, without customers, businesses would quickly go under.
Real Estate Marketing Frequently Asked Questions
Some Frequently Asked Questions We Get
Real estate marketing is the process of creating and executing a plan to sell property, usually through the use of advertising, promotions, and public relations.
The goal of real estate marketing is to generate interest in a property and to get potential buyers to take action, such as scheduling a showing or making an offer.
Real estate marketing can be a complex undertaking, and there are a number of different strategies that can be used to market a property.
In most cases, the best approach is to use a combination of different marketing techniques to reach the widest possible audience.
We are glad you asked, simply use the contact form above to get in touch with us and we'll take it from there.